(Video editing = Reporter Woo Han-na)
[청주=내외뉴스통신] Reporter Choi Joong-ho
Chungbuk Cheongju FC, the first professional soccer team in Cheongju City, held an inauguration ceremony on the 3rd at the Grand Auditorium of the Cheongju Arts Center.
About 1,000 guests and guests attended the inauguration ceremony, including Cheongju Mayor Lee Beom-seok, Chungcheongbuk-do Governor Lee Woo-jong, Chungcheongbuk-do Chairman Hwang Young-ho, Cheongju City Chairman Kim Byung-guk, National Assembly Members Do Jong-hwan, Jeong Woo-taek, Byun Jae-il, and Lee Jang-seop, and Chungbuk Cheongju Pro Football Club CEO Kim Hyun-joo and the athletes.
Chungbuk Cheongju FC unveiled the new club emblem and uniform, introduced Choi Yoon-gyeom as the first coach and the players, and held a team flag delivery ceremony.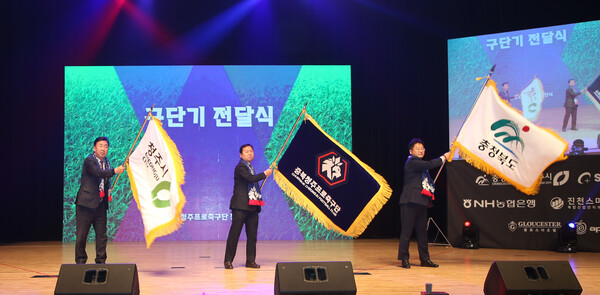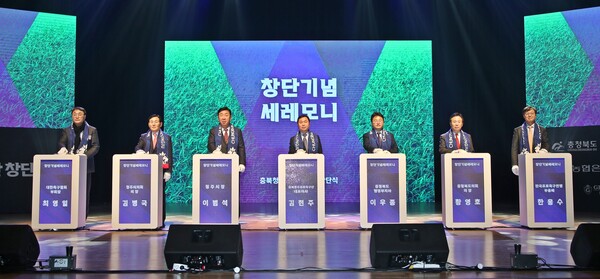 In addition, Chungbuk Cheongju FC also unveiled the club slogan, 'Blue speed, red passion This is Our Time'.
Also, based on the vision (VISION) of 'Korea's best box-office team that breathes with fans' and the mission (MISSION) of 'a prestigious club in Cheongju, Chungcheongbuk-do that harmonizes with the city and the people', the club announced its five goals.
The team's goals are ▲attracting the most spectators in K League 2 ▲attracting the most sponsors in K League 2 ▲winning the K League 2 FAN FRIENDLY Award ▲promoting to K League 1 within 5 years ▲Becoming the best youth club in Korea.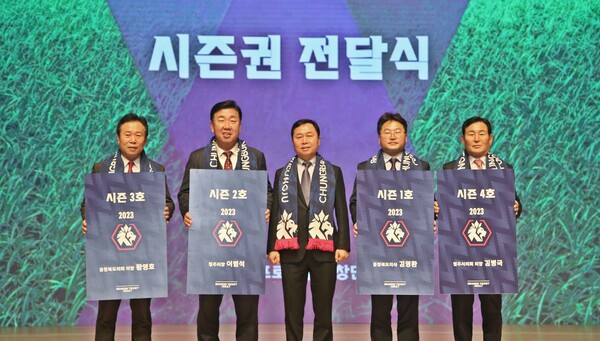 On this day, Mayor Lee Beom-seok purchased a season ticket for Chungbuk Cheongju FC in 2023 and prayed for Chungbuk Cheongju FC's success.
Mayor Lee said, "Thanks to the endless support of the football-loving provincial and citizens, we are finally able to launch the first professional soccer team in Cheongju, Chungcheongbuk-do." By doing so, we expect to become a prestigious club representing the world beyond the domestic stage."
Domestic and foreign news communication, NBNNEWS
Article URL: http://www.nbnnews.co.kr/news/articleView.html?idxno=729173