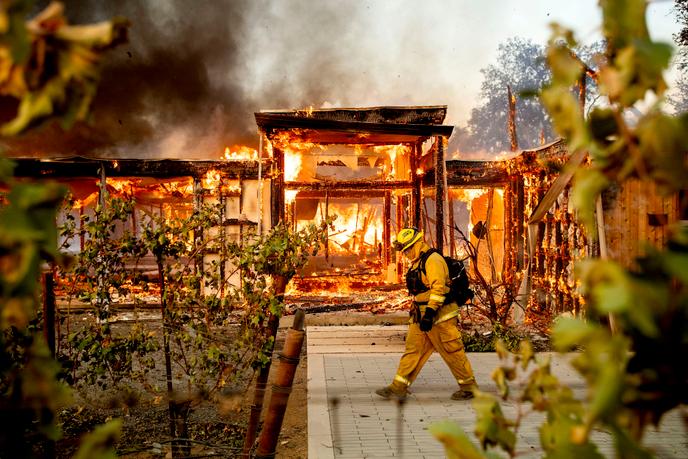 Typhoons, floods, forest fires … At least 15 natural disasters linked to climate change caused destruction costing more than a billion dollars in 2019 and seven of them at least 10 billion, according to one compilation by a British NGO.
"Extreme weather, fueled by climate change, hit all populated continents in 2019, resulting in the death and displacement of millions of people and causing billions of dollars in damage", underlines the British NGO Christian Aid in a study published on Friday, December 27.
Article reserved for our subscribers

Read also
The economic impact of climate change worries
Based on the compilation of data available in open source (UN or state structure reports, scientific studies, press), the NGO lists 15 events which caused more than a billion dollars (900 million euros) of damage.
$ 25 billion in damage in California
Seven of these disasters have even caused damage estimated at more than 10 billion dollars (9 billion euros): the floods in the north of India and typhoon Lekima in China (10 billion each); Hurricane Dorian in North America (11.4 billion); the floods from June to August in China (12 billion); floods in the Midwest and southern United States (12.5 billion); Typhoon Hagibis in October in Japan (15 billion) and forest fires in California from October to November (25 billion).
Article reserved for our subscribers

Read also
Fires, toxic fumes, heat waves: the hellish Australian summer
"Each of these disasters has a link with climate change", note the authors. For example, in Argentina and Uruguay, where floods caused 2.5 billion damage in January, the affected areas experienced rainfall five times greater than the average, one year after experiencing severe drought. Variations that are accentuated with climate change, and drier soils which worsen the consequences in case of heavy rain.
Another example, Cyclone Idai, which devastated Mozambique's second city in March, was, according to scientists, reinforced by the warming temperature of the Indian Ocean, while rising sea levels worsened the floods that l 'followed. Same phenomena at work for cyclone Fani in India and Bangladesh in May, with damage estimated at more than eight billion dollars.
Two events responsible for the vast majority of deaths
Christian Aid stresses, however, that"In no way do the financial figures give a global vision" the extent of these disasters, particularly the consequences for the population.
Taking into account the human lives lost, the NGO stresses that "The overwhelming majority of deaths were caused by only two events" (the floods in northern India, 1,900 dead, and Idai in Mozambique, 1,300 dead), recalling that the poorest people are paying the highest price for the consequences of climate change.
"In contrast, financial costs are higher in wealthy countries and Japan and the United States experienced the three most costly events", according to the report.
Article reserved for our subscribers

Read also
Between the powerlessness of the COP and the urgency to act for the climate, the contrast is spectacular
In mid-December, the Swiss reinsurer Swiss Re had in a first annual estimate estimated at 140 billion dollars the economic losses linked to natural disasters and human disasters in 2019, against 176 billion in 2018.