| Sponsored |
Photo printing is the best way to preserve your memories. However, old images tend to fade over time and are often damaged. You can't fix them, but you can easily improve their quality digitally. In this article, you will find 8 best photo restore programs that you can use on your PC. First, we'll show you software designed specifically for restoring damaged pictures, then we'll introduce some versatile photo editors that offer useful tools for repairing old photos. Now let's see which program is right for you.
1. PhotoGlory
PhotoGlory is the best photo restoration software for Windows users. It is a beginner-friendly program that is rich in restoration tools. The app lets you remove smudges, smudges, tears, and other photo damage with just one click. With its comprehensive toolkit at your fingertips, you can effortlessly color a black and white image, add captions, apply 3D LUTs, and color correct with Curves like a pro. You can also use the adjustment brush to make changes locally. Also, PhotoGlory has a batch edit mode that lets you edit all your photos at once.
PhotoGlory has an intuitive interface, so you can use this software even without any experience. Compared to its competitors, this older photo restoration program is remarkably cheap – you can purchase the license for $19.25.
AI colorization
One-Click Photo Restore
Support batch editing
2. AKVIS Retoucher
AKVIS Retoucher is another photo restoration program for PC. Here you can get rid of date stamps and remove damage such as smudges and scratches. You can also use it to erase even bigger objects like wires. Moreover, AKVIS Retoucher will help you reconstruct missing parts of an image by analyzing the environment.
There are several pricing plans, ranging from $87 to $154. AKVIS Retoucher also has a free version, but its functionality is quite limited.
Restoration of missing parts
Easy stain removal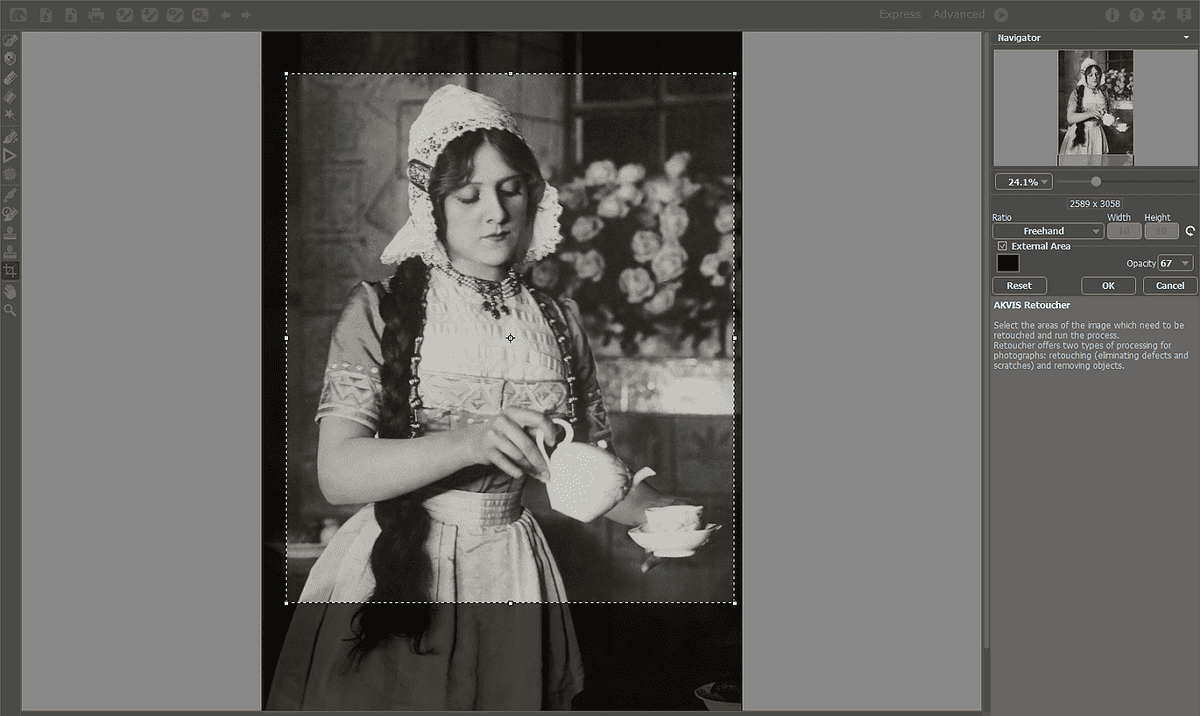 3. SoftOrbit Photo Editing
SoftOrbit Photo Retoucher is a handy computer program packed with restoration tools. For example, you can quickly get rid of grain and denoise your photos. The Photo Restoration program for Windows also offers several selection tools that will help you precisely erase smudges, scratches, and tears. There are also features like resizing, cropping, image colorization, blur removal, etc.
The lifetime license will cost you $39.99 for personal use and $119 for business use. You can also purchase a monthly subscription which ranges from $14.99 to $19.99.
Doesn't take up much space
Large choice of selection tools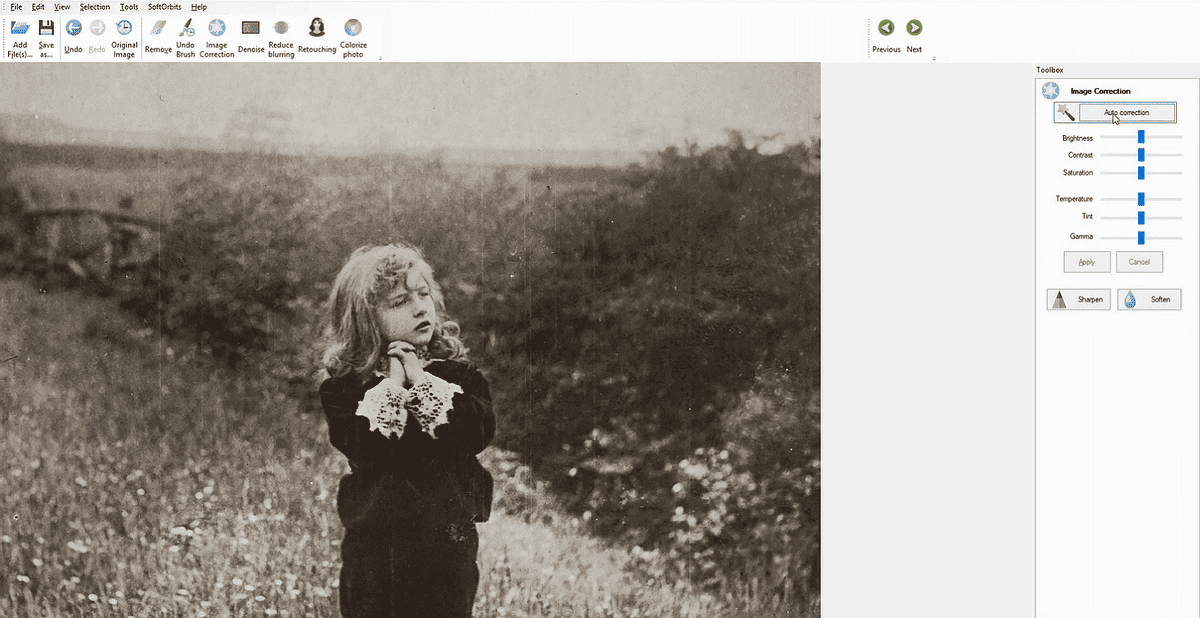 4. VanceAI photo restorer
To clean your photos from creases and tears, you can use VanceAI Photo Restorer. It is an old photo restoration software that will allow you to automatically remove image damage and improve the quality of portraits. VanceAI Photo Restorer has a desktop version and an online version available.
With this program, you can restore photos, crop them, change aspect ratio and convert grayscale images to color. Before saving the edited image, you can also adjust the quality, choose a file format, and change the DPI. VanceAI Photo Restorer is compatible with Windows 10 and 11.
Automatic tools
Friendly user interface
Adjustable export settings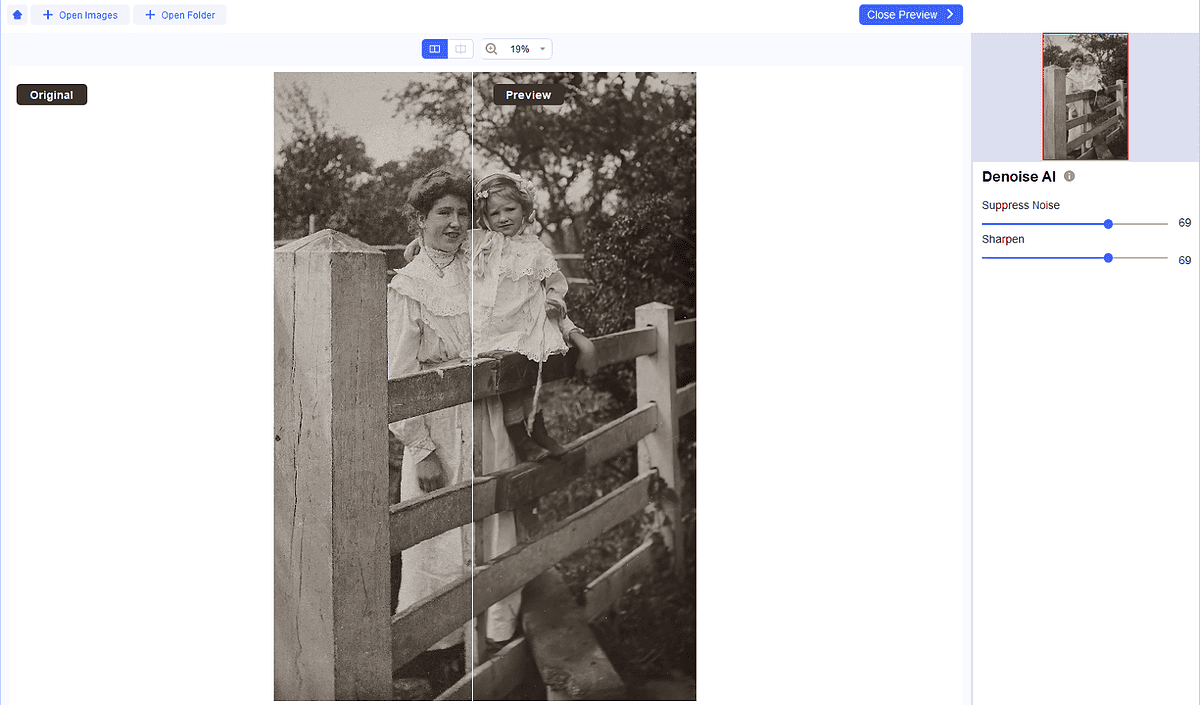 5. MyHeritage
MyHeritage is quite a popular tool for repairing old family photos. The program may seem confusing at first, but it will help you edit an image in several ways. For example, if the colors in your image have faded over time, MyHeritage will restore the original colors. It can also sharpen faces in your old photos if they aren't sharp enough.
MyHeritage does not have a desktop version, but you can use the online restore tool. However, you will need to log in to edit your images on this platform. Its use is free, but only for the restoration of 10 images.
Fast food
Improved portrait quality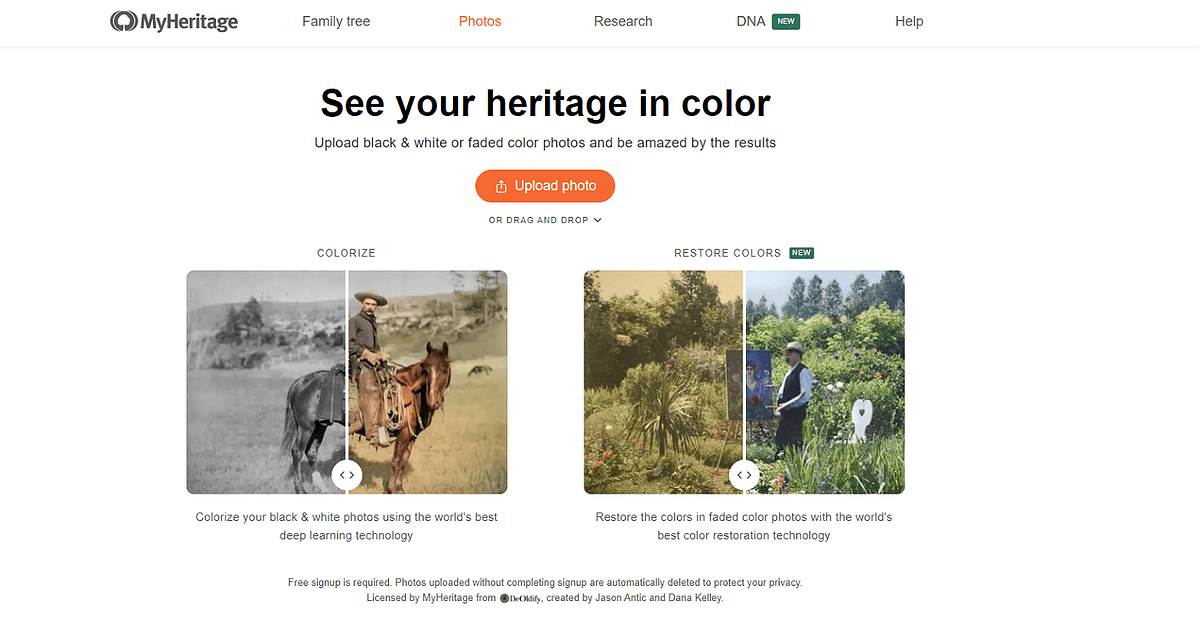 6. Luminar Neo
If you wish to have more control over the editing process, you should take a look at Neo Lighting. It has a wide variety of tools, such as an adjustable clone and stamp tool, which will help you remove photo damage with the utmost precision. Colors can also be corrected using color correction sliders and filters. Luminar Neo is regularly updated, so you can try out even more features later.
But this PC photo restoration software uses a lot of RAM and is not suitable for those who have little experience with image manipulation applications. You can get Luminar Neo with a one-time purchase that gives you a lifetime license.
Accurate photo restoration
Advanced layer management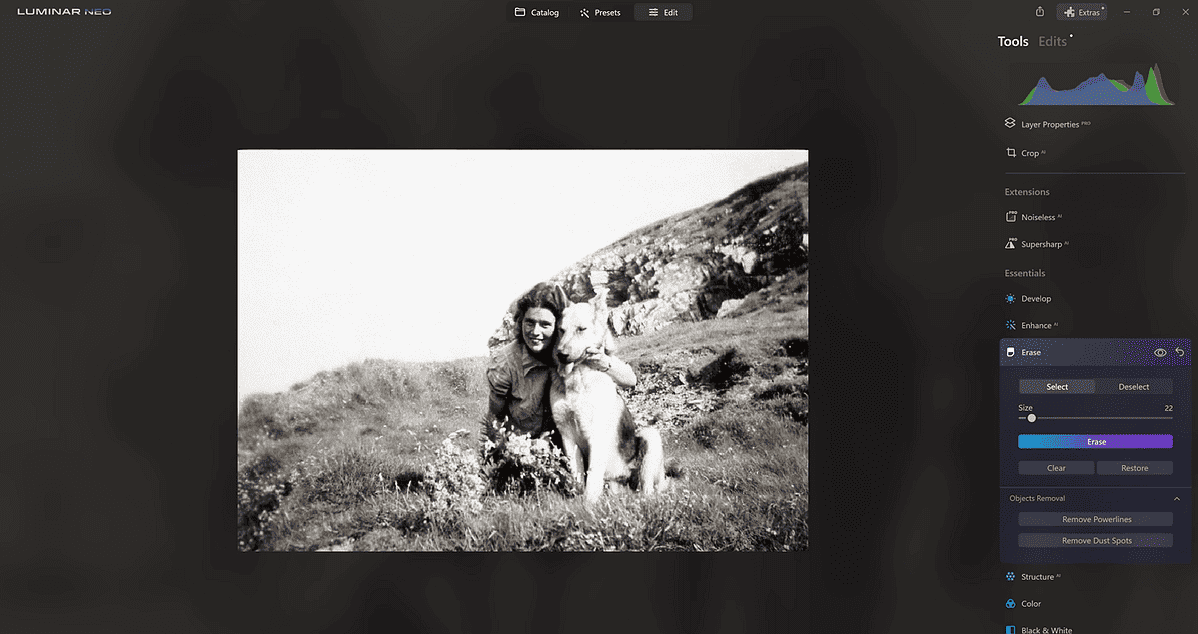 7. PhotoWorks
PhotoWorks is a feature-rich photo restoration software that contains everything you could need to improve old photos. For example, you can quickly undo damage with easy-to-use object removal tools, sharpen images, and retouch portraits. PhotoWorks also lets you color correct photos automatically and manually – whether you're pressed for time or in the mood for creative experimentation, the app is sure to come in handy. If there is dust or grain, you can easily denoise the image with a quick slide. You can also apply a vignette or one of over 200 effects to give the old photo a new look.
Moreover, PhotoWorks is a lightweight photo editor, so it can work even on older computers. This user-friendly program is available for Windows 11, 10, 8, and 7. You can try it for free and purchase its license for just $19.25.
Interface intuitive
Fast Workflow
RAW support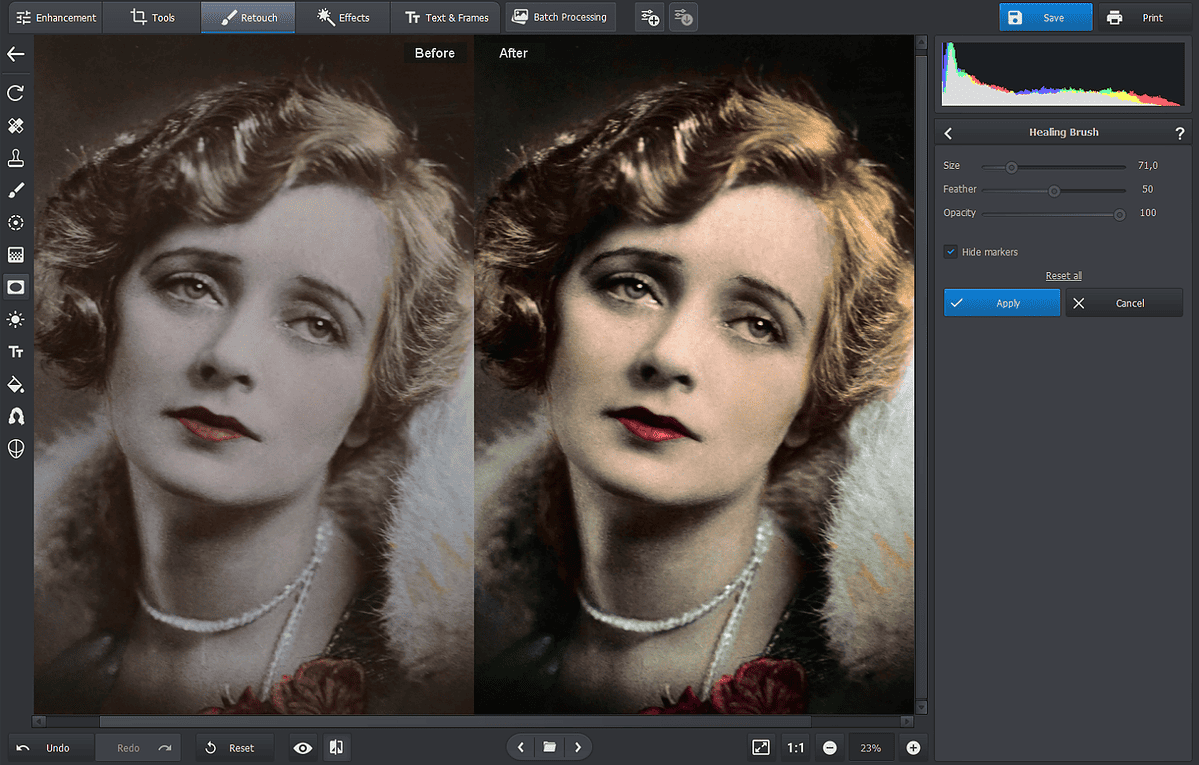 8. Affinity Photo
Another photo editor you can try is Photo Affinity. It has a large set of selection tools and brushes necessary for restoring old images. There are all sorts of image manipulation features – cropping, color grading, dodging, burning, and more. It also has advanced export settings – you can save the edited photo in a range of popular formats, change the size, choose the pixel format and save the adjusted settings as a preset for your future projects.
You can download this Windows photo restore software and experience its features during the 30-day free trial. However, Affinity Photo is rather expensive – the Windows version will set you back $69.99. This program will also require a steep learning curve as it is designed for professional photographers.
Professional-grade features
Layer-based editing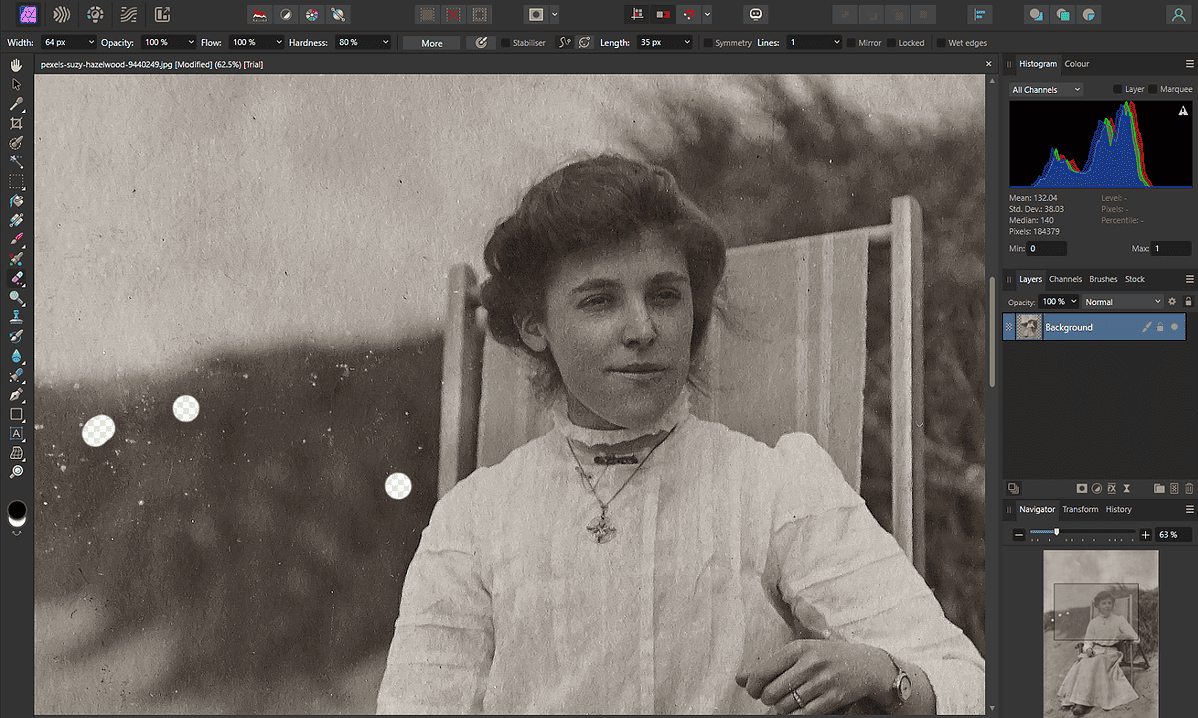 Conclusion
Now you know the 8 best programs for Windows that will help you restore even badly damaged photos. We've introduced software for every budget and skill level. So scan your favorite photos and enhance them with one of the restore apps right now.