France and French Polynesia attempted, Thursday 1is and Friday July 2, to turn the page of the 193 nuclear tests carried out between 1966 and 1996 in Moruroa and Fangataufa, in the Tuamotu archipelago. The President of the Republic, Emmanuel Macron, the ministers of health, memory and overseas spoke in Paris to the delegation Reko Tika (straight, true speech, in paumotu, the language of the Tuamotu), led by the President of French Polynesia, Edouard Fritch.
It all started with a book, Toxic (Puf, 15 euros, 192 pages), published in March. This investigation into the French nuclear tests in Polynesia was written by a researcher, Sébastien Philippe, and a journalist from the investigative media Disclose, Tomas Statius. According to them, "France knew precisely the risks and impacts of its tests (…) hidden under the seal of secrecy, for more than thirty years " and "This original lie still poisons the public debate in Polynesia". Vincenzo Salvetti, the director of military operations at the Office of the Commissioner of Atomic Energy, said that the authors of this book had shown "Lightness, bias and lack of scientific rigor".
Read also
In thirty years, France has carried out 193 nuclear tests in Polynesia
In the absence, regretted by the Polynesians, of the Minister of the Armed Forces, Florence Parly, her Minister for Memory and Veterans, Geneviève Darrieussecq, refused to recognize State lies, and dismissed any idea of ​​a pardon of France. A few hours later, however, the Head of State assured that France would assume its responsibilities. That is to say, better compensate the community and the victims of nuclear power. It should be more precise when it comes to French Polynesia, scheduled for July 25 to 28.
"Perpetual asymmetry"
But many Polynesians no longer believe in the word of the state. For this reason, the two main anti-nuclear associations and the independence party, spearheading the fight against the tests, boycotted the round table. They even organized another, Thursday in Papeete, before bringing together nearly 3,000 demonstrators on Friday, to commemorate the first nuclear fire, Aldebaran, carried out in Moruroa on July 2, 1966.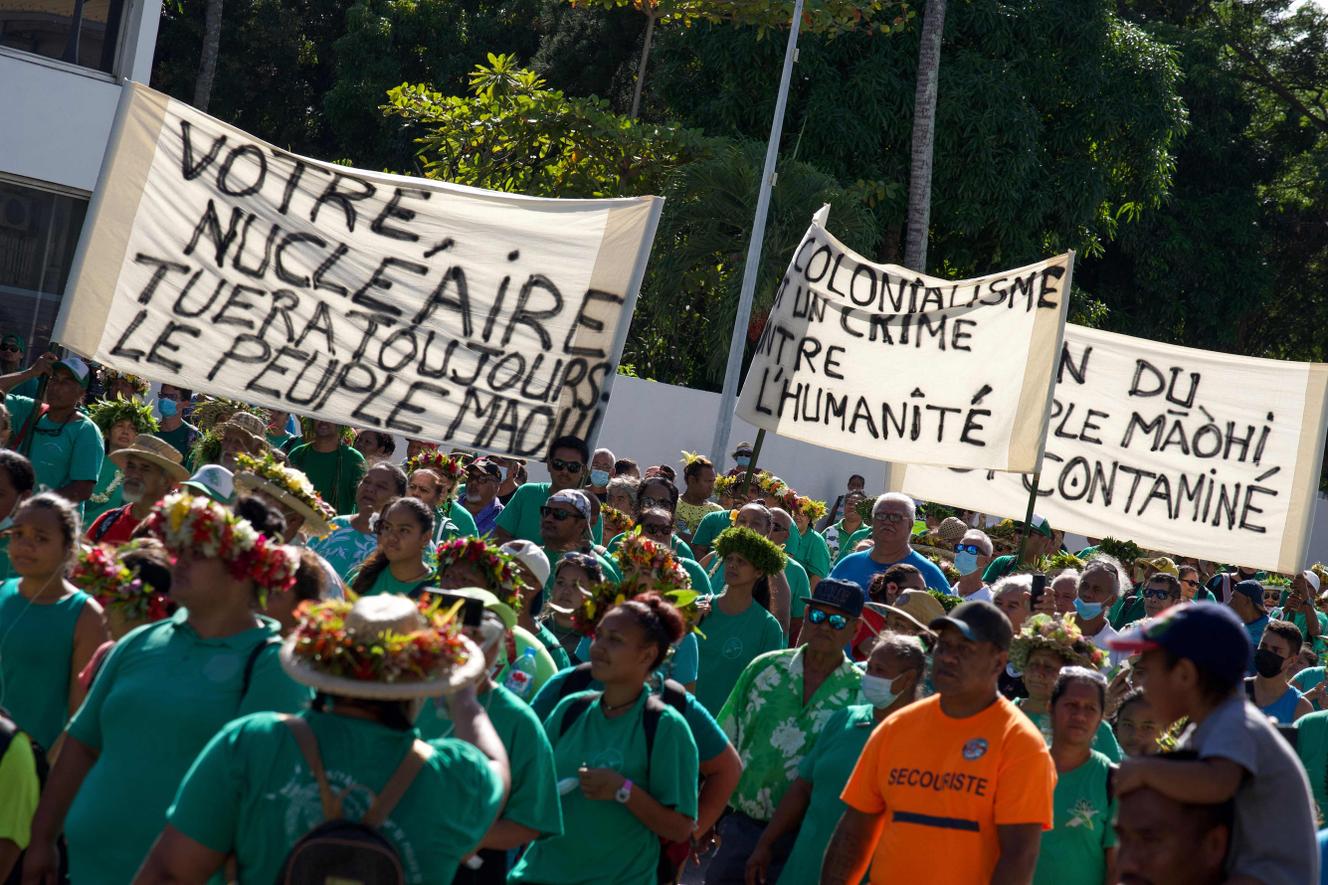 For France, the challenge is to regain the confidence of the Polynesian population, and to forget several decades of failed communication. "There is a perpetual asymmetry in the information and in the precautions that are taken in relation to testing. You can see a conscript extremely well aware of the nuclear danger, being deceived by the institution at times; you can see Vulture pilots voluntarily exposing themselves to greater doses than any other Polynesian resident, but you also have, obviously, lies, which are not always absolutely cynical: there is part of these lies. ignorance or a very different risk culture ", explains historian Renaud Meltz.
You have 50.68% of this article left to read. The rest is for subscribers only.