Guillermo D. Rueda / [email protected]
"Now is the time for resilience and empathy. Whoever does not have these two issues resolved will be the one who will need more psychological and psychiatric consultations ".
Says Dr. Marcelo L. Guimaraenz, specialist in cardiology and intensive care and head of the Cardiovascular Emergency Unit of the Hospital Privado del Sur.
"If one translates what resilience means, it is banking what is coming. And with empathy you have to try to understand the other, "he adds.
"We are lazy (sic) there. But since before the pandemic, what happens is that now he was exposed, "he says.
"Without a doubt, this health crisis that we are going through is a great challenge for those of us in this place, in the sense of continuing to lead by example," he says.
"Those two words (for resilience and empathy) must be marked in the head. And the most veteran, from this place of health, we are responsible for bringing peace of mind to others ", he adds.
Dr. Guimaraenz (Guima) has been in the trench since the start of the pandemic. Or long before. That is why he also contracted Covid-19 and acquired the license to talk about the subject from within, when most patients with heart conditions have their hearts in their mouths, precisely because of the risks that a contagion entails.
This theme diverts from Guimaraenz.
"Lack of communication is also another disease," he says, fulfilling the dream of every journalist who longs for the title of the note to be resolved. But let's go with the explanation.
"This virus is not new; is over 10 years old. There are many strains, between 7 and 10 and now we refer to one in particular: the one that produces Covid-19. She has been known for a long time ", he defines.
"It is not the first time that the coronavirus appears in the world, the difference is that now it has exploded as a pandemic. That is why the most important thing is to report in the best possible way, "he clarifies.
"It has happened to me, personally, from people who have had panic episodes, who have not left the house even without having comorbidities; and vice versa ", he says.
Dr. Guimaraenz says the key is to explain what is being communicated.
"People should know that it is a pathology where you have to take clear care, that there are not many: distancing; do not get together in groups of more than 20 people; be outdoors; wash your hands and so on. And this must be based on the real numbers ", he assures.
"What is said, and it is real, is that mortality is low and that people at risk have to be taken care of," he adds.
"But is the uncertainty real?"
—The uncertainty exists, and partially, but not good communication.
"The Minister (Fernán) Quirós, of Health of CABA, does not say the same as his peers (officials). Your message is clear and concise.
"The uncertainty can be put in two points of view. It is a pandemic, it is a virus from many years ago that, now, is presented aggressively worldwide, but there are treatment alternatives to develop. It is also known that it has low mortality and that one gets to know it as time passes.
"Out there it is more difficult to convey this and, above all, because the people who should report it do not do it properly.
"That is, I could act from panic or from the tranquility of the current reality, beyond uncertainty. The reality is that it is a virus that mutated, that in some places the outbreaks have shown high contagion, but also less lethality. We will have to prepare for this.
"Information is important to reduce fear in people; neither more nor less. As in all areas of life ".
—The imprecision of the deadlines also creates uncertainty …
"We return to communication." One could say that this is just beginning and also when it ends. But in the middle we are learning to handle the pathology; to know which are the complications and to select which patients are at risk and which are not.
"A vaccine is going to arrive at some point and there are other therapies underway, because otherwise it would seem that it is the first pandemic that the world faces. I say, yes, with certainty, that it is the pandemic of the networks and the largest accumulation of information.
"Because if we go to the time of tuberculosis; of polio or AIDS, when there was no excess of information, I don't know which is worse. This I ask myself at 55 years old.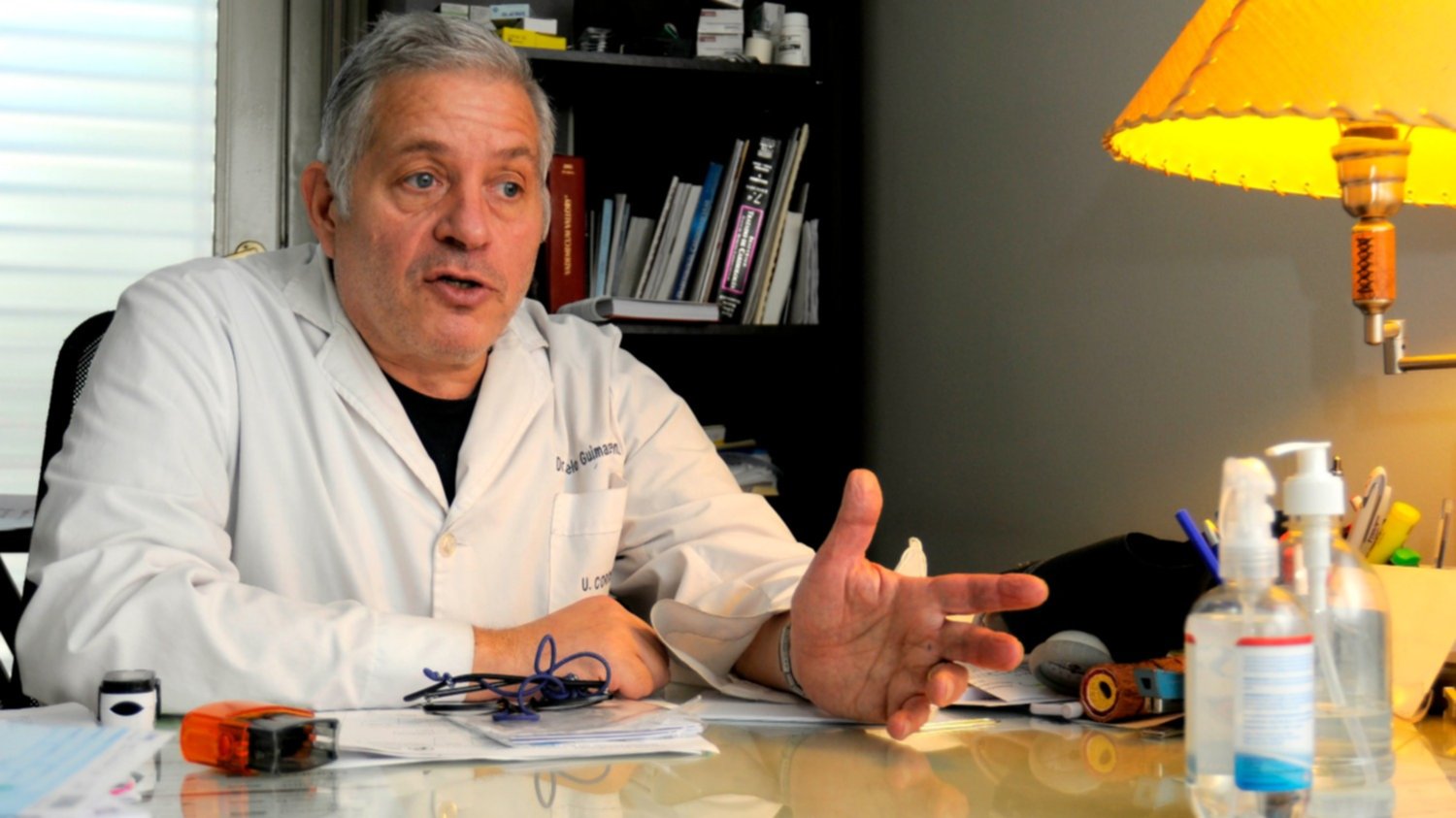 "Today, with just one network, you can make a mess in a minute. This I am not going to clarify to a journalist. If you don't use rationality and common sense and think things through 25 times, which is what happens to many of us sometimes because we don't know, or can't, stop, it confuses us. I think it happens there too ".
"Is that not minimizing the coronavirus?"
-No. I am on the field, I never stopped, I worked more than ever in this pandemic and also in my service, which are cardiovascular emergencies.
"I helped the intensive care and coronavirus people on the floor. That is why I was also infected and I was hospitalized for six days. I know what I am talking about because I was not hiding in my house ".
"How was that process?"
—The first day I had a loss of smell, perhaps a little saturation and, more than anything, fatigue.
"What happens when you are a doctor is that you think you are going to get complicated. So I waited for the days to pass and stayed in a room like in (the film) Caught with no way out. They only saw me through a camera and, so that no one from the infirmary entered, I took the controls and then passed them ".
"What was your feeling?"
"At first I was afraid." Yes. Because he knew about the pathology and had cared for patients who later went on to intensive care. But I waited the five days to know if it complicated me or not. When they passed I said to myself: 'Zafé'.
"But when you are hospitalized it is not the same as when they give you a positive PCR and they tell you: 'Stay at home; rest well; I slept for a while; One day you will have 37.8º (temperature) and nothing else.
"I imagine it must be no different than when you have a coronary angioplasty or go through the process of a colon tumor. I suppose.
"That is, since the beginning of the pandemic you have been in the Private of the South …
"My base is here." Without Covid or with Covid (smiles).
"Still infected, he was still on top of those who work in the Coronary Unit. Until my colleagues had to remove me from the WhatApps group so that I could recover calmly ".
"I don't stress working where I work"
"I'm a doctor, and I like it, because I feel like it helps. Working where I work is not stressful for me, "says Dr. Guimaraenz.
"But because of the pandemic, and what I say is not new, 80% of young people have depressive symptoms. And not to mention the elderly and a high-risk group that was locked up between 9 and 10 months, some with foundation and others not. But here the discussion would be very long ", he clarifies.
—When the pandemic ends will we be grateful for the work that health workers do?
-The society?
-Clear.
-No. In the same way that the president (for Alberto Fernández) gives a speech for trucker day and praises them, and does not do the same for doctor's day, the vast majority of people will not consider it.
"But that doesn't bother me; I do it because I am interested in medicine. I keep admitting that, perhaps, it influences someone younger. That is what I think; I know it is tremendous, but real ".
Dr. Guimaraenz graduated from the National University of La Plata. He is a specialist in cardiology and intensive therapy and head of the Cardiovascular Emergency Unit of the Hospital Privado del Sur de Bahía Blanca. He did two residencies: one for intensive therapy, at the Regional Hospital of Mar del Plata, and another for cardiology, at the Institute of Cardiology of the Hospital Español de Buenos Aires.
The professional is 55 years old, married and has daughters aged 20, 19 and 17.
Regarding the future, Dr. Guimaraenz leaves some concerns.
– What will happen to the patients who have cardiovascular diseases and, for fear of the coronavirus, the proper controls were not carried out?
—In Capital Federal, 70% fewer coronary anglioplasties were performed; 30% fewer hospitalizations for arrhythmia and 40% fewer hospitalizations for heart failure, being a disease more complex than the coronavirus.
– What can the coronavirus cause at the cardiovascular level in acute patients?
—It will be seen with time; there are few details.
– What can the coronavirus cause at the cardiovascular level in chronic patients?
—I follow this especially because it is my case: we still have to retrace the path. You know what to do in terms of controls; Now, what will happen in the future is very difficult to determine.
.