relationships and community
Screaming and collapse dominated the wife, who kept crying out to save her husband, after he was infected with the black fungus in vain, for more than 22 years that Mrs. Jihan Rabie, from Tanta, wife of Ahmed Shehata, a representative of maintenance tools, lived together, which resulted in the birth of two sons, who are their support in life, Before the situation turned against them due to Corona, which ended with the husband's struggle with black fungus.
Ahmed Shehata, 50, spent two periods of isolation in a hospital, after being infected with the outbreak, receiving the protocol as his health deteriorated.
For more than a month, during which "Ahmed" received treatment, he gradually improved from the symptoms of corona, before he was surprised by a dangerous symptom, which he could not know, and he was unable to realize.
Unbearable pain in the eye, severe redness, and then a darkening of the eye that he did not perceive seeing, until he could not perceive things around him.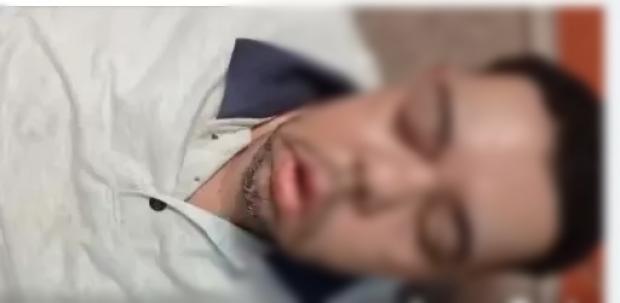 His eye is bleeding and the doctors don't know how to diagnose him
"Jihan," the wife of the injured, confirms, during her interview with "Hun," that her husband is sick with heart, diabetes and pressure, which affected his immunity greatly during his infection with the Corona virus: "After he recovered from it, he showed fatigue and a tumor in his face, he took injections for treatment and we did not know what this is." But then, his eyes started bleeding, and the doctors did not know how to diagnose him."
Loss of sight in one eye and weakness in the latter
The deterioration of the health condition, the failure of doctors to diagnose, and the refusal of hospitals in Tanta to receive him, were sufficient reasons for the suffering of "Ahmed", who continued to suffer until he lost his sight completely in the right eye, and he began to feel fog and cloudiness in the second eye: We went to the second hospital, and they said it had fungi, and the other one too, and we knew about this black fungus issue, and there was no doctor capable of diagnosing it at first with us, and you think of it as infections from Corona."
Eye removal solution
A great distress from the injured's family, to transfer him to a hospital, has become abuzz on social media, according to "Maya Sabri," one of his relatives: "They actually took him to a hospital and there they said the case was too late, so they had to transfer him to a private hospital, they collected her money, and there they said an operation was needed."
The wife of the injured, weeping, confirmed that the doctors were already preparing to remove the eye: "They have collapsed, because the removal of the fungus is very late, but we can catch the second eye."
The wife and mother of the children pleaded for help to save the other eye, remove the fungus from it, and even a compensatory planting: "Oh, Lord, someone can hear us, and we have reached someone who helps us want a compensatory eye and jaw implant."
.