A computer failure of the CDN service provider Fastly It has caused dozens of communication media (national and international) to suffer technical problems, so that their portals cannot be accessed correctly.
The word CDN is short for Content Delivery Network, that is, a content distribution network. Many websites and many media use external servers to free up their own servers: for example, they upload their images to a CDN and this will take care of bringing those photos to the user's device. The system would be similar to the cloud in which many users store data to free up space on their devices.
Among the affected national media are The World, Five Days, Expansion, The Newspaper, or the sports Brand, As o Sport. Regarding international newspapers The New York Times o Financial Times they have connectivity issues right now.
Big technology companies have also succumbed to the failure of the IT provider and the giant's website. retail Amazon is down, as is Twitter, Twitch, Spotify or Pinterest.
According to the affected media themselves, there is no explanation for the failures that cause their web pages to be inaccessible. The country, one of the affected media, reported that the service provider has detected the problem and that it is already working to solve the damages caused.
Around 2:00 p.m. Spanish time, the Spanish and international media have gradually recovered their normal activity and their web pages have been accessed without problems.
Fastly has a page enabled where you can check the performance of your platform in real time and in all world regions it operates with problems.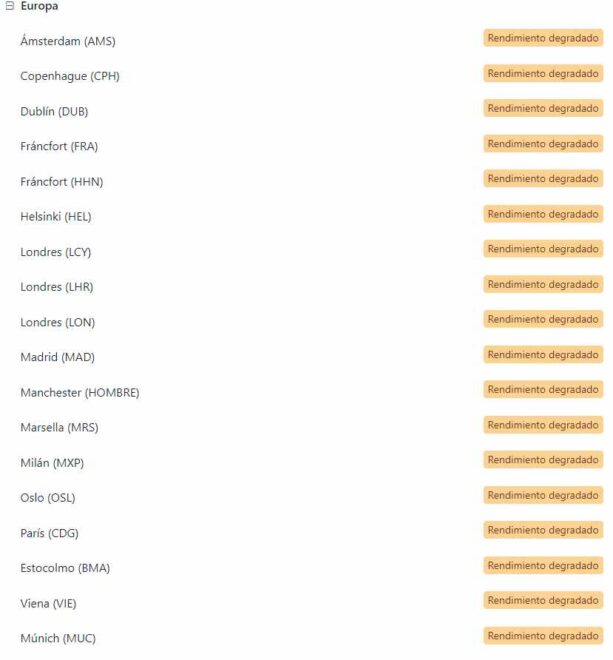 Stock market crash … after a big rise
Fastly is an American company that operates in the American financial markets. In pre-opening hours, before the day begins in the American country, the company collapses more than 6%.
A few hours before the computer error occurred, Fastly it closed 7.17% higher with the stock price above $ 50. This year is not being especially good for the interests of the company on the stock market since since the beginning of 2021 it has plummeted by 51%.