Samsung Electronics declared 'emergency management' in business areas such as TVs, smartphones, and household appliances. Overseas business trips and global marketing events were drastically reduced, and various expenses were reduced by about half. Analysts say that even Samsung Electronics, the country's largest company, has begun to tighten its belt as the economy enters a full-fledged recession due to the 'triple high' of high prices, high exchange rates, and high interest rates.
According to the industry on the 8th, Samsung Electronics made the transition to an emergency management system official through a notice titled 'Emergency management system transition in the DX (device experience) sector' posted on the company intranet on the 7th. The DX division started to cut costs on a large scale from that day. It has decided to reduce by more than 50% the operating expenses and related business trips for exhibitions or events held overseas, including the world's largest electronics show 'CES 2023'. It plans to cut travel expenses by half by replacing overseas business trips with video conferencing. It also suggested guidelines not to use data from market research agencies or consulting companies when establishing management plans and strategies. The cost of consumables such as office supplies was also ordered to be reduced by 50% compared to this year.
Samsung Electronics sees the economic situation as an 'unprecedented crisis'. Analysts say that amid deepening inflation, uncertainty in the financial market is heightening. An official from Samsung Electronics said, "Sales of products such as TVs and home appliances continue to be sluggish," and "It is difficult to expect a quick recovery in sales." According to FnGuide, a financial information company, Samsung Electronics' next year's operating profit consensus (average of securities firms' estimates) is expected to be 33.38 trillion won, a decrease of about 29% from this year.
JY, who started 'crisis response' right after the personnel transfer… "Reduce costs and increase future investment"
High interest rates, high exchange rates, supply chain disruption, and contraction of the consumer market. This is the reason Samsung Electronics enumerated while formalizing the transition to an 'emergency management system'. As the business environment worsens day by day, even Samsung Electronics' top executives, who have gone through all the hardships, are in a state of 'super nervous'. Due to rapidly increasing financial costs and inventories, a sense of crisis is weighing on Samsung Electronics, saying that 'if no special measures are taken, future investment engines may be damaged'. The transition to an emergency management system is analyzed as a quick crisis response measure by Samsung Electronics Chairman Lee Jae-yong to instill tension in the organization and at the same time secure future investment funds.
Declaration of emergency management after drastic replacement of vice president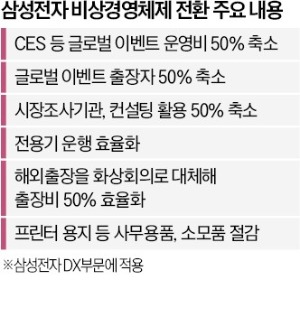 According to the industry on the 8th, Samsung Electronics has recently taken a series of crisis response measures that lead to a new 'large number of vice president-level executives' and 'announcement of an emergency management system' in the past week. The atmosphere of transition to an emergency management system was detected from the 'regular president's personnel appointment' conducted on the 5th. While maintaining the CEO system of Han Jong-hee and Kyung Gye-hyun, Samsung Electronics explained that it was a "decision in consideration of the severe management reality."
In terms of personnel at the vice president level, many of the heads of the development office and strategic marketing office, who are said to be second-in-command in major business divisions based on those born between 1964 and 1965, resigned as second-line managers. Inside Samsung, it was said that the purpose of 'reducing labor costs' was strong along with the generational change.
The emergency management system operation plan, which was officially notified to executives and employees of the DX (Device Experience) division on the 7th, is also focused on cost reduction. 50% reduction in operating costs and business trips for global events such as the world's largest IT and Consumer Electronics Show (CES) and Europe's largest Consumer Electronics Show (IFA), 50% reduction in the use of market research and consulting companies, 50% efficiency in travel expenses by replacing overseas business trip video conferencing, paper for printers, etc. It is omnidirectional enough to remind people of the 'Saemaul Undong', such as saving office supplies and reducing office lighting time.
137% surge in financial costs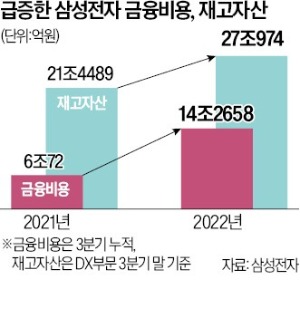 The business environment surrounding Samsung Electronics is deteriorating day by day. This is why the transition to an emergency management system cannot be seen as an 'overaction' by senior management to simply reduce costs.
Due to inflation and geopolitical crises, the consumer market for Samsung Electronics' flagship products, such as smartphones, TVs, and home appliances, froze. From the beginning of this year to the end of the third quarter, the cumulative operating profit of Samsung Electronics' DX division (smartphone, TV, home appliances, network, etc.) was 11.9 trillion won, up 20.4% (2.84 trillion won) from the same period last year (13.93 trillion won). plummeted Market research firms are predicting that "the market next year will be worse than this year."
Macroeconomic indicators such as the high exchange rate (strong dollar) and high interest rates are also cited as factors that increase the burden on Samsung Electronics. Samsung Electronics' cumulative financial expenses in the third quarter of this year were 14.2658 trillion won, a 137.5% increase from the same period last year (6.072 trillion won). Financial costs include derivatives losses, foreign currency translation losses, and interest expenses.
It is also a concern that the economic situation of emerging countries, which are Samsung Electronics' major markets, is deteriorating in the aftermath of a strong dollar and high interest rates. As of the end of September, Samsung Electronics' DX division's inventory assets stood at 27.974 trillion won, an increase of 12.8316 trillion won in a year.
The 'global supply chain anxiety' that has become a constant since Corona 19 is getting worse day by day due to the effects of China's Corona 19 blockade and war. A high-ranking official from an economic organization said, "Next year's business environment is highly likely to get worse," and "Samsung Electronics' emergency management could continue for a considerable period of time."
Emphasis on "expanding future investment"
Samsung Electronics plans to use the cost savings to invest in future businesses. Even in the announcement of the emergency management plan, it was clear that it would not reduce the amount of investment, saying, "Investment in preparation for the future will be expanded." Samsung Electronics executives are known to have advised Chairman Lee Jae-yong, "In times of crisis, we must spare no investment in new businesses." Chairman Lee is also said to have given guidelines saying, "We need to find various business opportunities and focus on future investments."
Accordingly, Samsung Electronics' DX division plans to spare no funds for investment in research and development (R&D) to discover new businesses, attract overseas S-class talent, and develop overseas markets. It is also planning to actively engage in mergers and acquisitions (M&A) that can create synergies with existing businesses or help discover new businesses. A high-ranking Samsung official explained, "Actively investing in preparation for a booming period even in a crisis is Samsung Electronics' DNA and success equation that applies regardless of semiconductor or set."
Reporters Jeong Ji-eun/Bae Seong-soo/Hwang Jeong-soo [email protected]