Game news Assassin's Creed Valhalla Siege of Paris: Vikings date their assault for second DLC
For this summer, the Vikings have not really planned to relax since they plan to resume, thirsty for conquest, their expeditions to France, or should we say Francie, and to attack the city of Paris .
That's it, the longships are ready to welcome the second DLC ofAssassin's Creed : Valhalla and, through original narrative content, you will experience the journey of Eivor and his companions towards France to conquer the city of Paris.
This journey will be notably punctuated by many events and fascinating quests to one of the most memorable, but also one of the most painful, battles in the history of the Vikings.
The assault on Paris is therefore set for August 12. Paris siege will introduce original content, such as weapons, equipment, abilities and other skills, and will mark the return of the Black Box feature, or infiltration missions in which you can choose how you want to execute your target.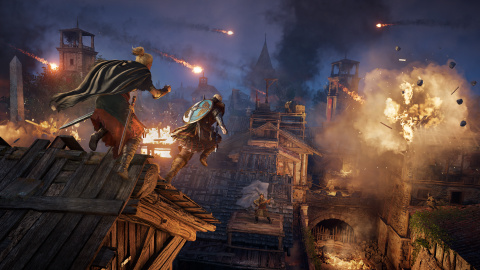 In parallel with the exit of the extension, all players will be able to discover, from July 29 until August 19, the event "The Sigrblot Festival", which will mark the start of the season. On the program: verbal games, tournaments, Orlog games, exclusive quests and new rewards.
The video above also gives you a first glimpse. Note that for this event, players must have reached England, completed one of the early narratives, and developed their colony to level 2.
The second DLC ofAssassin's Creed : Valhalla, Paris siege, will be available to all Season Pass holders or for individual purchase, at a price of € 24.99, from August 12 on Xbox Series X|S, Xbox One, PS5, PS4, PC and Stadia.
In the meantime, to immerse yourself in the atmosphere of this journey and this immense battle, a first musical extract, "Hásæti", composed by Stephanie Economou is already available for listening here. The title refers to Old Norse which translates to "Seat of Honor", ​​a track full of spirituality and depth. The full soundtrack will be available on the day of the expansion's release.
By Jinxeb, Writing jeuxvideo.com
MP