U.S. stocks rose after the opening turbulence on Tuesday (29th). Driven by bank stocks, the Dow Jones Industrial Average opened up more than 170 points, and the gains subsequently converged within a hundred points. The S&P 500 index rose 0.2% and climbed to a new high. Nasdaq After the composite index and Feiban opened slightly lower, they rebounded by 0.08% and 0.3% before the deadline.
After the Federal Reserve (Fed) abolished the dividend and treasury stock restrictions, large banks have announced additional dividends. Morgan Stanley (Da Mo) (MS-US) Also announced that the Q3 dividend will be doubled, and the implementation of up to 13 billionU.S. dollarTreasury stocks. Before the deadline, Morgan Stanley rose nearly 3%, and Goldman Sachs (GS-US) Rose 1%, JPMorgan Chase (Motor) (JPM-US) Rose 0.4%.
Bank of America (BAC-US) Wells Fargo Bank (WFC-US) Fell 0.4% and 0.9% respectively.
Recently, the threat of the Delta variant virus has intensified. European countries including Germany, the United Kingdom, and Portugal, as well as Asia-Pacific countries such as Thailand, Malaysia, and Australia, have taken restrictive measures to actively prevent the spread of the virus. The market will continue to pay attention to whether the epidemic is disrupting key supply chains again. Leading to the postponement of the global economic recovery.
Dragged down by the epidemicAustralian dollarWait for the risky currency to fall,U.S. dollarThe index rebounded to above 92,U.S. dollarThe strength formed resistance to gold prices. On Tuesday, it fell to a new low of more than one month, and the monthly decline was the largest in more than four years.
The 10-year U.S. Treasury yield was basically stable, rising slightly to 1.499% before the deadline.
In the economic data, the imbalance between supply and demand continues to lead to high housing prices in the United States. In April, the S&P/Case-Shiller National House Price Index increased by 14.6% annually, which is the highest in more than 30 years. The 20 largest city house price index and the 10 largest city house price index increased by 14.9 per year respectively. And 14.4%, also broke through multi-year highs.
After the US Federal Court dismissed the antitrust lawsuit, Facebook (FB-US) Market value returns to 1 trillionU.S. dollar, It was down 0.2% at the opening on Tuesday. After UBS lowered its target price, Tesla fell nearly 1% before the deadline.
As of 21 o'clock on Tuesday (29th) Taipei time:
The Dow Jones Industrial Average rose 153.04 points or 0.45%, temporarily reporting 34436.31 points
The Nasdaq Composite Index rose 11.22 points or 0.08%, temporarily at 14511.73 points
The S&P 500 Index rose 8.48 points, or 0.20%, to 4,299.09 points temporarily
Fees and a half rose by 10.26 points, or 0.31%, to 3333.40 points temporarily
TSMC ADR fell 0.45% to 119.07 per share U.S. dollar
The 10-year U.S. Treasury yield rose to 1.499%
New York light crude oil rose 0.74% to 73.45 per barrel U.S. dollar
Brent crude oil rose 0.67% to 75.18 per barrel U.S. dollar
Gold fell 1.47% to 1,754.50 per ounce U.S. dollar
U.S. dollarThe index rose 0.34% to 92.185 points
Focus stocks:
Facebook (FB-US) Fell 0.18% in early trading to 355.01 U.S. dollar。
The US Federal Court on Monday (28th) dismissed the Federal Trade Commission (FTC) and the multi-state attorneys general's antitrust lawsuit against Facebook, saying that the FTC provided insufficient evidence to prove that Facebook has dominant market power. The aforementioned lawsuit alleges that Facebook's acquisition of Instagram and WhatsApp in 2012 and 2014 stifled industry competition.
Boeing (BA-US) Rose 1.58% in early trading to 243.75 U.S. dollar。
With the recovery in demand for air travel, United Airlines (UAL-US) Announced an order for 200 737 Max from Boeing, including 150 737 Max 10 and 50 737 Max 8.
Tesla (TSLA-US) Fell 0.83% to 682.99 in early trading U.S. dollar。
UBS (UBS) on Tuesday set Tesla's target price from 730 U.S. dollar, Down to 660 U.S. dollar, Said that as competition with European and American peers intensifies, Tesla's leading advantage in the Chinese electric vehicle market may shrink.
Today's key economic data:
The US April S&P/Case-Shiller 20 Big Cities House Price Index reported an annual growth rate of 14.9%, up from 13.4% of the previous value
The annual growth rate of the S&P/Case-Shiller National House Price Index in the United States in April was 14.6%, which was 13.3% before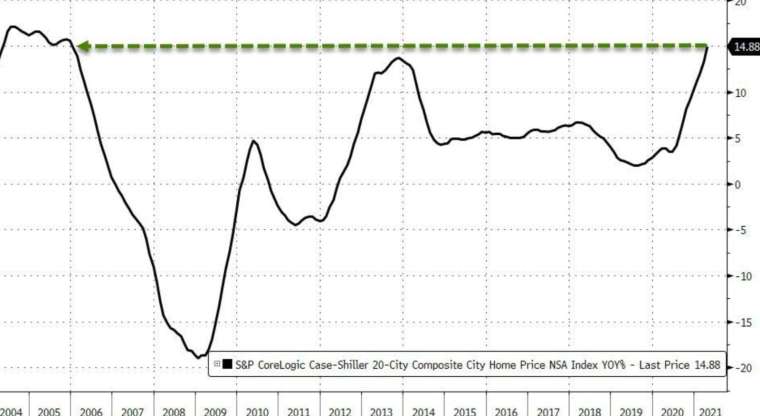 At 22:00 Taipei time, the Consumer Confidence Index of the US June Chamber of Commerce will be announced, which is expected to be 119.0 and the previous value is 117.2
Wall Street analysis:
Chris Gaffney, President of TIAA Bank Global Markets, said that after the June interest rate meeting, the market's worries about the Fed's turning to the eagle have revived. However, observing the comments in the past few days, the market has regained confidence in the Fed and believes that the Fed will not intervene. Action, the stock market will continue to move in a good direction.
As the economic recovery matures, Gaffney believes that the stock rotation from growth stocks to value stocks will happen again, and some cyclical stocks will once again gain market favor.
Marko Kolanovic, chief strategist at JPMorgan Chase & Co., said that the Delta variant virus has become a potential threat to reinflation. Considering the progress made in vaccination in developed economies, the economic impact may be limited. As for countries with low vaccination rates, it may cause the problem of delayed recovery.
CoreLogic deputy chief economist Selma Hepp said that due to relatively favorable mortgage interest rates and the continuous growth of household income, the ratio of mortgage payments to household income has remained low. Although the increase in house prices has reached a new high, the risk of falling prices has been much lower than The level before the epidemic and the summer of 2006.