The wait on board is painful and the news is not cheerful. Docked in the port of Yokohama, southwest of Tokyo, the Diamond princess is the main source of contamination with the new coronavirus outside of China. The Covid-19 epidemic infected 218 passengers who were hospitalized, including 44 cases announced Thursday, February 13. Ten are in serious condition. One of the four Frenchmen on board, Michel Vittori, 80, was infected, his wife confirmed to RTL on Friday.
The ship initially had 3,711 passengers and crew members. The virus could have been transmitted by a Hongkongais who had embarked for part of the voyage on January 20, from this same Japanese port, and unloaded on 25 in Hongkong. He was coughing but had not consulted the infirmary on board and it was only six days later, in a hospital in the former British colony, that he was diagnosed positive. For more than a week after its departure, the passengers, some of whom were potentially carriers of the coronavirus, continued to share their meals in the same restaurants and attend the same shows.
Article reserved for our subscribers

Read also
Coronavirus: concerns aboard the "Diamond-Princess", quarantined cruise ship in Japan
New cases appear daily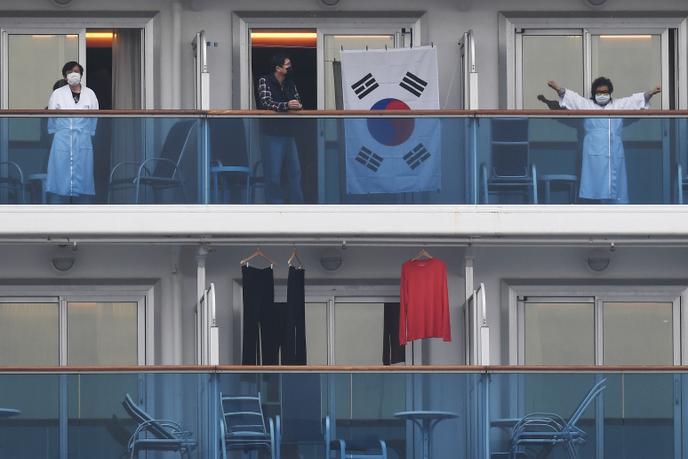 The ship has been docked in Yokohama since February 3 and a quarantine period has been declared on board. It should theoretically end on February 19 but it is hard to imagine that the passengers could actually be released on this date when new cases among them appear daily.
The ex-vacationers are locked up in their cabins, without knowing whether the new cases are previous contaminations passing the incubation period or new transmissions within the framework of this sanitary closed session. "I am starting to think that being on the ship is more risky because we are all confined nearby. It is difficult to know if we are not re-exposed to the virus ", entrust to World Californian Sarah Arana, eleven days locked in her cabin – with a balcony, a relative chance.
Passengers are reduced to observing on the terminal platforms the ambulances and medical personnel in white coveralls taking the contaminated. With variable flow levels, they have access to the Internet and share their endless days on social networks: photos of the dishes the crew brings them, sudokus and toys for children that are distributed, their cabins more or less cramped according to the budget they had been able to devote to their cruise, exercises and entertainment by which they try to kill time. British retirees Sally and David Abel share in their live Facebook videos their joy at having a dehumidifier delivered, but most of all their fear of being separated if one were to be affected.