The latest benchmarks of Apple's upcoming M2 Max CPU have leaked, which will feature 12 cores and show up to a 20% improvement over the M1 Max. Apple's M2 Max CPU, which will target the next generation of high-end MacBook models, offers more performance-per-core and performance-per-watt than the existing M1 Max chip.
For the high-end segment, the M2 Max CPU won't be the best in Apple's lineup, as that spot will still be occupied by Apple's M2 Ultra CPU, which will launch later in 2023.
In all respects, the Apple M2 Max CPU will offer a total of 12 cores, an increase of 2 cores compared to the M1 Max's maximum of 10 cores. We're not yet sure what the specific performance and efficiency core configurations will be. The base frequency of the CPU is 3.54GHz, and it is equipped with a 4MB L2 cache. There's also 96GB of onboard memory on this particular Mac. As for the maximum clock, according to the Geekbench report, the chip peaks at around 3.7 GHz.
The CPU of the Apple M2 Max scored 1889 points and 14586 points in the single-core and multi-core tests. In comparison, the Apple M1 Max scored around 1,750 points in the single-core test and 12,200 points in the multi-core test. This gives the M2 Max a 10% increase in single-thread and multi-thread performance over the previous-generation CPU, which is a nice bonus. But this result is only from an early leak, which means there is still room for improvement, and we can presumably see more good results in the final benchmarks.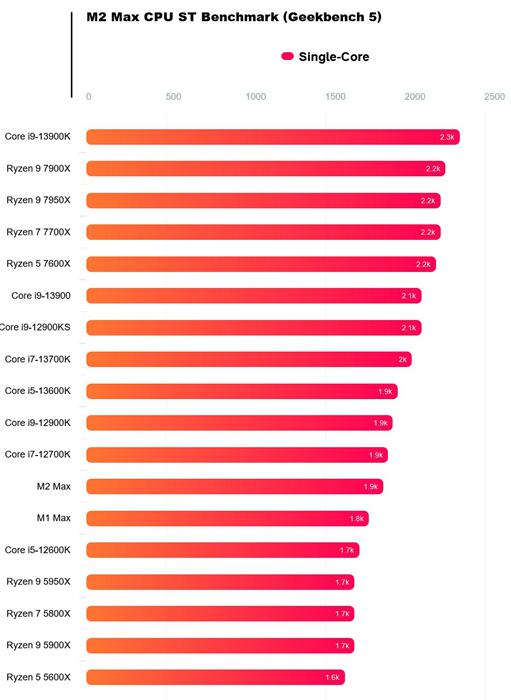 When compared to some modern CPUs like Intel's Core i9-13900K "Raptor Lake" and AMD's Ryzen 7000 "Zen 4", the Apple M2 Max gets crushed in both single-thread and multi-thread numbers because of these high-power The single-core performance of the desktop CPU can exceed 2000 points, and it can exceed 20,000 points in the multi-thread benchmark. Apple is likely to show off its energy-consumption advantages in front of these chips, and the M2 Ultra will be as close to a modern x86 in terms of performance as possible.