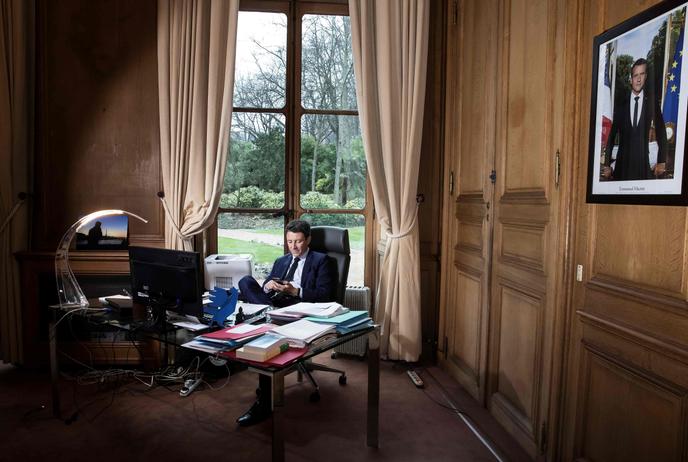 One after the other, they leave the country room, boulevard du Montparnasse, the reddened eyes of those who have barely slept and cried a little. Secretary of State Marlène Schiappa is hiding behind thick sunglasses in the middle of winter. Gilles Le Gendre, the patron of the majority in the National Assembly, disappears without a word, face closed. MP Olivia Grégoire stops for a few moments in front of journalists to "Give all your support to Benjamin". Suddenly, a car with tinted windows emerges from the underground parking lot. Inside, Benjamin Griveaux tries to escape view.
Article reserved for our subscribers

Read also
"There was really no other solution": from the dissemination of intimate photos to the renunciation of Benjamin Griveaux
An hour before the crisis meeting, Friday, February 14, the former minister made a point of recording a last message in front of the cameras of Agence France-Presse and BFM Paris. "For more than a year, my family and I have been subjected to defamatory statements, lies, rumors, anonymous attacks, the revelation of secret private conversations as well as death threats, he says. As if that were not enough, yesterday, a new stage was crossed ", He adds, referring to the dissemination of intimate videos on the Internet. Face this "Torrent of mud", these "Ignoble attacks", "I decided to withdraw my candidacy for the Parisian municipal election". Her voice chokes.
Consecration
Two years that he had been preparing for it. From mid-2018, the government spokesperson did not hide his views on the Town Hall. According to him, the sinking of the classic right and resentment towards the socialist mayor, Anne Hidalgo, opened a space for La République en Marche (LRM) in Paris. Didn't the capital acclaim Emmanuel Macron in the presidential election?
For this graduate of Sciences Po and HEC, who participated in the campaign of Dominique Strauss-Kahn at the socialist primary in 2006, had a first field experience in Chalon-sur-Saône (Saône-et-Loire), then worked the creation of the En Marche! in 2015, becoming mayor of Paris would be a consecration. A coronation, at only 42 years old, after having been a simple secretary of state in Bercy then government spokesman.
Also read the portrait published in 2019:
The ambitious Benjamin Griveaux
Of course, other ambitious macronists are in the ranks. But Benjamin Griveaux is one of the closest to Emmanuel Macron himself, and he can count on the support of other "DSK boys" who surround the president, such as Stanislas Guerini, Ismaël Emelien or Cédric O.