How to face Biden, Moon Jae-in who follows China and has a crush on North Korea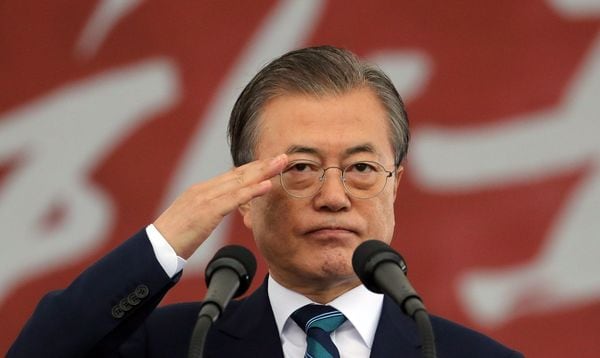 (Masatoshi Muto: Former Ambassador Extraordinary and Plenipotentiary to South Korea)
US President Joe Biden chose Japan's Prime Minister Yoshihide Suga as the first face-to-face summit, and South Korea's President Moon Jae-in as the second party in East Asia. This is because the background is the recognition that it is necessary to reestablish and strengthen the trilateral cooperation system between Japan, the United States and South Korea in order to face North Korea and strengthen the position of the United States.
Japan has confirmed cooperation with the United States, including the Taiwan issue, and Japan-US relations are solid.
However, the problem for the United States is South Korea's Moon Jae-in Government, which continues to hold back North Korea over North Korea's nuclear and human rights issues and cannot take a resolute position against China's violations of international law. At the US-ROK summit meeting held on the 21st, if President Moon Jae-in's stance does not change, the US may have to reconsider its relationship with South Korea.
In addition, Japan-South Korea relations remain cold.
How far can South Korea approach from an important policy position for Japan-US-Korea cooperation, how far can the United States tolerate South Korea's own routes, and whether Japan-South Korea relations will begin to improve in terms of Japan-US-Korea cooperation? I would like to predict these points.
Will successive talks between Japan and the United States be a clue to restore relations?
The United States is seeking to restore Japan-US-Korea cooperation, which has been stagnant due to the conflict between Japan and South Korea. The best proof is that President Biden will meet with President Moon Jae-in on the 21st. Therefore, we are steadily preparing to attract South Korea to Japan, the United States, and South Korea.
In April, the Presidential Office and Cabinet Office Security Office Chairman's Meeting was held on the 2nd, and the Joint Chiefs of Staff Meeting was held on the 29th. Since the beginning of this month, the Foreign Ministers'Meeting has continued on the 5th, followed by informal contact by top intelligence agencies on the 12th, and the Defense Ministers' Meeting will be held at the Asian Security Council (Shangria Dialogue) from June 4th to 5th. There is a high possibility of being struck.
.