COVID-19 information center reveals new clusters in 5 provinces, while Bangkok found 2,700 new cases today, Department of Disease Control Expect the situation in Bangkok will get better in 4-6 weeks
Today (25 July 2021), the Center for Covid-19 Situation Administration (OCC) revealed 2,700 new cases in Bangkok, including the cumulative number of infections from April 1 – 27. June 2021 of 132,055 people, while 140 clusters to be monitored in Bangkok and 1 new cluster found in Thung Khru Auto parts factory
in the provinces Found a new cluster in 5 provinces:
Stainless steel equipment factory, Krathum Baen District, Samut Sakhon Province, 127 infected
Chicken processing factory, Phanat Nikhom district, Chonburi province, 11 infected
Ban Fueng Fah Orphanage, Pak Kret District, Nonthaburi Province, 8 infected
Auto parts factory, Plaeng Yao District, Chachoengsao Province, 22 infected
Auto parts company, Pluak Daeng District, Rayong Province, 21 infected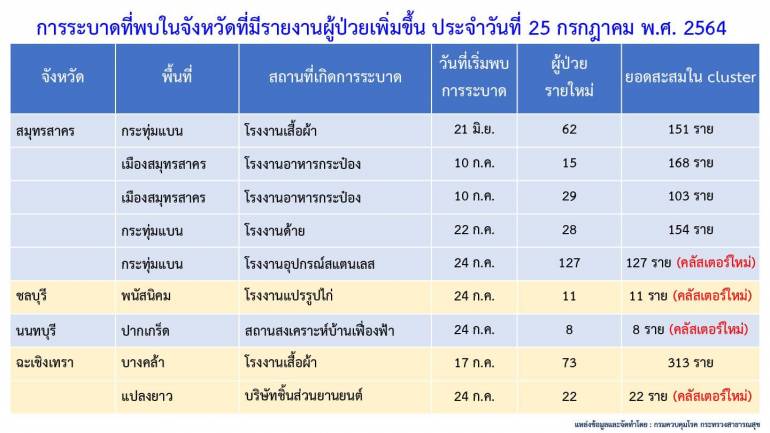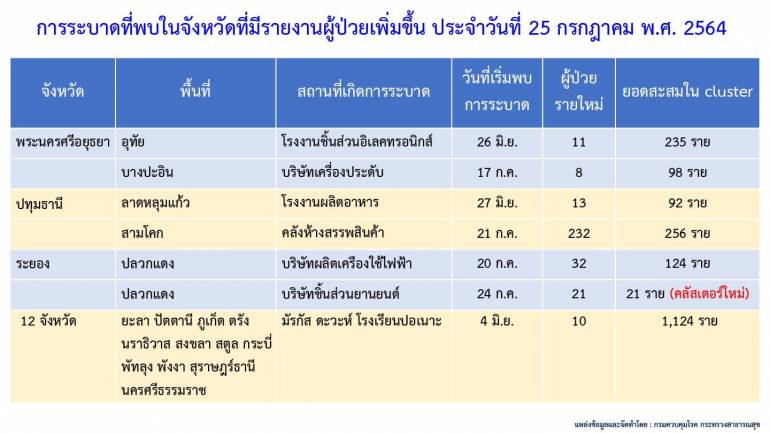 Bangkok has the highest number of infected 2,700 people.
The 10 provinces with the highest number of new cases are still Bangkok, with 2,700 infected people 2. Samut Sakhon 1,081 people 3. Samut Prakan 1,056 people 4. Chonburi 795 people 5. Nonthaburi 585 people
6. Chachoengsao 571 people 7. Phra Nakhon Si Ayutthaya 379 people 8. Pathum Thani 339 people 9. Rayong 322 people 10. Nakhon Pathom 308 people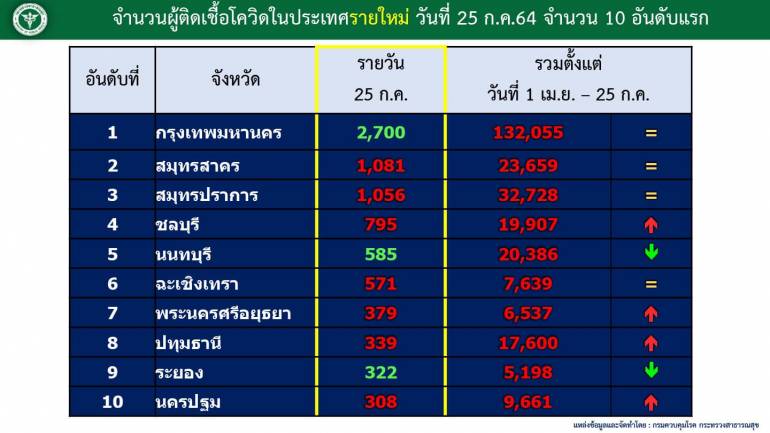 Covid-19 is expected to improve in Bangkok in 4-6 weeks
while Dr. Chakrarat Pittayawong-anon Director of the Division of Epidemiology, Department of Disease Control, predicts that Thailand will have the number of Covid-19 cases. increase in the provinces in Bangkok There may be a better trend in 4-6 weeks from accelerating vaccination. Now more than 50 percent of the population has been vaccinated.
For bed problems treat the red and yellow groups. In the past, the capabilities were quite limited. and even increase the number of beds But the production personnel did not catch up. may have to bear the burden of distributing personnel to work in different places Therefore, the number of beds cannot be increased as desired. In the past, the distribution of patients to the domicile has helped to alleviate the workload of personnel in Bangkok considerably.
Related news
The Ministry of Public Health has allocated "Pfizer" to medical personnel at least 5 hundred thousand doses.
.