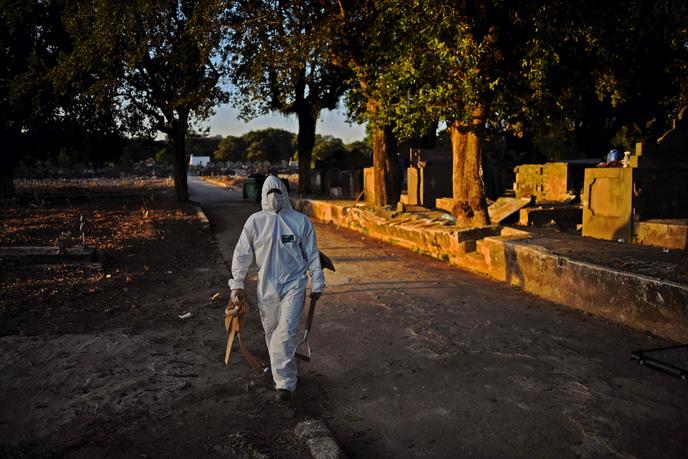 Brazil became, Friday May 29, the fifth country having recorded the most deaths of the coronavirus, with 27 878 ​​deaths. The South American giant had a new day with more than a thousand deaths (1,124 in 24 hours), and a record number of contaminations, with 26,928 in a day, bringing the total to 465,166.
Globally, the coronavirus pandemic has claimed at least 362,028 lives since its onset in December in China, according to an assessment by Agence France-Presse (AFP) from official sources on Friday evening. Over 5,862,890 cases of contamination have been officially diagnosed in 196 countries and territories. Since the count carried out the day before, 4,693 new deaths and 114,436 new cases have been recorded worldwide.
The countries most bereaved by the epidemic are:
The United States with 102,798 deaths for 1.7 million cases,
the United Kingdom with 38,161 deaths for 271,222 cases,
Italy with 33,229 deaths (232,248 cases),
France with 28,714 deaths (186,797 cases),
Brazil with 27,878 deaths (465,166 cases),
and Spain with 27,121 deaths (238,564 cases).
As the daily death toll continues to rise Brazil, a Sao Paulo hospital has developed new technology that can dramatically increase the screening capacity for the sorely needed coronavirus. With next-generation sequencing, genetic analysis developed by the private Albert Einstein reference hospital identifies the ribonucleic acid (RNA) of the virus.
Article reserved for our subscribers

Read also
Brazil, the new epicenter of Covid-19
The main advantage of this innovative method is that it can analyze 16 times more tests in one go than the virological RT-PCR method, the most widely used today. With six machines put into service in June, the hospital will be able to perform 9,000 additional tests per day, in addition to the 2,000 RT-PCRs currently performed. "This revolutionizes screening in Brazil, allowing mass testing, on a much larger scale and at a lower cost, without the need to import products"says Sidney Klajner, president of the hospital, which has filed an international patent for the technology. Currently, the number of confirmed cases of Covid-19 in Brazil is largely underestimated.
Besides Brazil, the epidemic is not giving way to Chile, where the death toll has now reached 944 and the number of infected 90,638, according to the latest official figures. In 24 hours, 3,695 cases of coronavirus were registered in the South American country of 18 million people, and 54 people died from the disease. The capital Santiago, which is home to 7 million inhabitants, concentrates more than 80% of contamination. The occupancy of beds in intensive care is 90%.
In Uruguay, which has a total of 816 infected people, President Luis Lacalle Pou is in quarantine after having been in contact with an official who tested positive for coronavirus, the services of the presidency reported in a press release.
Donald Trump breaks up with WHO
The President has said that the relationship between his country and the World Health Organization, which he has accused since the start of the pandemic, has been too lenient with Beijing, has ended. "We will (…) redirect these funds to other urgent and global public health needs that deserve them", he said.
Read also
Donald Trump announces that the United States ends its relationship with WHO
Relaxation of containment measures continues
Little by little, containment is being reduced across the world. So in Turkey, the mosques were reopened to collective prayers after more than two months of ban.
The restaurants and hair salons of Los Angeles, main outbreak of Covid-19 in California, have been allowed to reopen provided sanitary measures are implemented. In restaurants, the seating capacity will have to be reduced by 60% and the counters will remain closed to allow the application of physical distance, which will also be used in hairdressing salons.
Article reserved for our subscribers

Read also
The coronavirus, a new element of the "cultural war" in the United States
The Governor of the State of New YorkAndrew Cuomo said he plans to partially lift containment for New York City the week of June 8, provided public health indicators are satisfactory. This easing would initially concern only part of the economy, mainly construction and manufacturing.
Impossible a few days ago, a first plane carrying Europeans, around 200 employees and their families, to the China took off from German Frankfurt Airport. A second plane will depart from Frankfurt for Shanghai on June 3.
Conversely, the president Senegalese Macky Sall once again extended the state of emergency declared on March 23 until the end of June, to date accompanied by a night curfew.
Angela Merkel refuses Donald Trump's invitation to the G7
Angela Merkel refuses to go in person to a G7 summit in the United States in June, as proposed by US President Donald Trump, because of the coronavirus pandemic, said Steffen Seibert, spokesperson for German Chancellor on site Friday Politico. She is the first G7 leader (Japan, Canada, United Kingdom, France, Germany, Italy) to formally decline this invitation. M's ageme Merkel, 65, who is also the Prime Minister of Japan's Prime Minister Shinzo Abe, puts him at higher than average risk.
IMF Extends Major Lines of Credit to Peru and Chile
To cope with the economic ravages of the epidemic, the International Monetary Fund has extended two lines of credit over two years to Peru and Chile. "The board of the International Monetary Fund approved today [jeudi] a two-year agreement with Peru " covering 11 billion dollars (9.9 billion euros) and relying on a device of the institution called modular credit line, the IMF said in a statement. He then announced a flexible line of credit of 23.93 billion dollars (21.55 billion euros) for Chile, in a separate statement.
Article reserved for our subscribers

Read also
Coronavirus in Chile advances and fuels social anger
In mid-May, residents of the capital of Chile (Santiago) had defied compulsory confinement to demonstrate and claim food aid, while the onset of the epidemic has caused unemployment and hunger in the neighborhoods to explode. poorer.
Our selection of articles on the coronavirus
Find all our articles on the coronavirus in our section
On the epidemic
On deconfinement and its challenges