Chinese badminton women's doubles team Chen Qingchen (left) and Jia Yifan (right). (Flip from Weibo)
Zhu Peiyu Comprehensive Report / Japan
The Tokyo Olympic Games kicked off fiercely. Yesterday (27), the Chinese badminton women's doubles Chen Qingchen and Jia Yifan played against South Korea's Jin Zhaoying and Kong Xirong. In the end, the Chinese team defeated South Korea to advance to the top 8; and Shi Mingjin, a well-known ball critic, made a point. "Chen Qingchen protested that his opponent South Korea screamed too loudly when he hit the ball. After the protest failed, he even uttered a countermeasure. When he scored, he kept shouting "I X" and "I'm going to your X." The whole game was full "The sound of swearing" made him call it "one of the weirdest scenes in the history of the Olympics." There were also Weibo netizens who edited it into a movie that caused heated discussion, and even published an article called "A beautiful Chinese language." And Chen Qingchen himself Post an explanation on Weibo.
"The weirdest scene in the history of the Olympics" Chinese badminton players actually cursed swear words throughout the game?
Shi Mingjin on FacebookPostSaid, "Yesterday's Olympics saw one of the weirdest scenes in Olympic history. Chinese women's badminton doubles player Chen Qingchen protested that the opponent's South Korean team shouted too loudly when they hit the ball. After the protest failed, he even vocally countered. She shouted "I X" and "I'm going to you X" when scoring. The whole game was her swearing voice."
The relevant game scenes were edited and put on by Chinese netizens.Weibo, He even wrote "Recording some beautiful Chinese words in the badminton field", which sparked a lot of discussion. Netizens also commented in favor of Chen Qingchen, "I am a double standard. I don't feel annoyed by China calling like this, but I think it's pretty cute. It's fun. If the other person shouts like this, I'll be annoyed. I will also say whether there is quality and competition spirit." Another netizen said that they may be yelling "Watch out", "Watch out is Careful English can be understood as reminding the opponent to watch the ball on the court."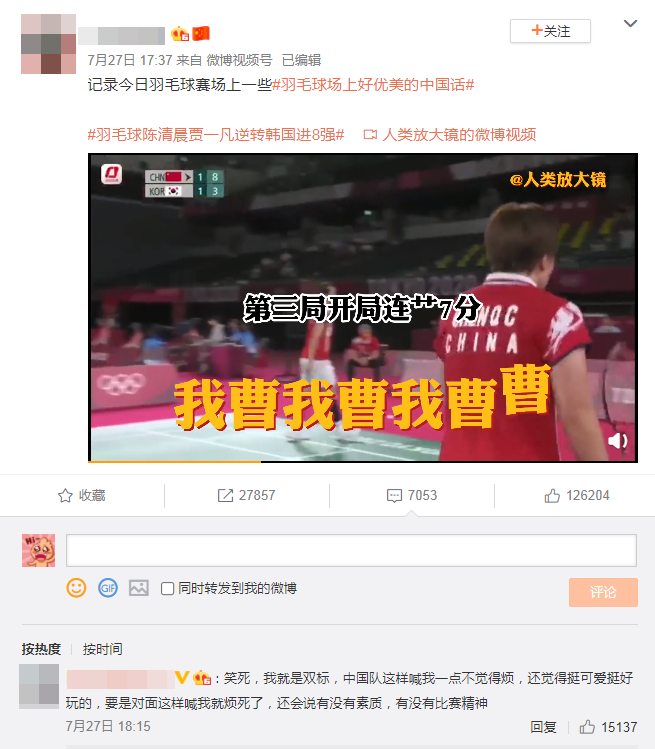 (Flip from Weibo).
In this regard, Chen Qingchen himself also posted an explanation on Weibo, "I am sorry that everyone has misunderstood. I am actually just bragging about my winning momentum. It may be that it is not very good. It caused everyone to misunderstand and I was frightened. Thank you for your support. I will also adjust my pronunciation, and I will try my best to focus on the next game and go all out without regrets."

(Flip from Weibo).
News source: China TV News
.