Egil Skurdal (25) realized that something was seriously wrong when he woke up with major hearing problems.
– Right now I am in my biggest nightmare, and am very worried about the future, says Egil Skurdal (25) to VG.
Skurdal is a musician and comedian, and has, among other things, been the "Love Island" voice on TV 2. He has also made a song for Harm and Hegseth on VGTV, and was going into a role on "Senkveld". In addition, he has a music show on YouTube.
– I had worked hard on several large projects over a few weeks. All arrows pointed upwards. Then I wake up half deaf in the left ear, and with violent tinnitus in both ears. I knew right away that this was very serious.
Two days earlier he had made his debut «Senkveld» with a song for Øde Nerdrum.
– Obviously there were too many big deals at once for an adequate Oslo boy, and I am on sick leave indefinitely. The idea is that I still have to come back in a few weeks, if possible.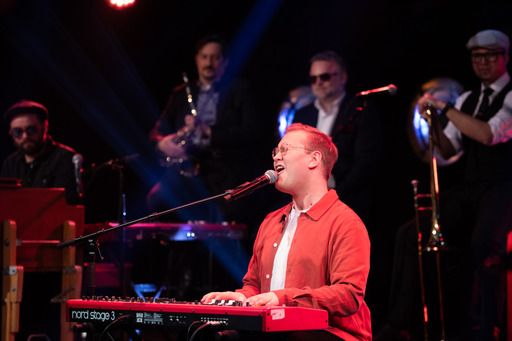 – A great sorrow
The condition is called sudden deafness. He is now being treated with cortisone tablets and pressure treatment at Ullevål hospital.
– I got treatment quickly, so there is some improvement. But I have been told that I will most likely never be completely well again, something that is difficult to take in, and a great sadness.
Sudden deafness or sudden hearing loss is a condition that can occur completely without warning. It often affects only one ear, and can be due to head injuries, infections or a small blood supply due to a lot of stress or tension.
Skurdal has been informed that the chances of improvement vary.
– There are no documented effective treatments, but I have been put on cortisone tablets that will alleviate any inflammation in the inner ear. I also receive pressure treatment, where you sit under high pressure and inhale oxygen to be able to increase blood supply to damaged cells and tissues. The body can also repair itself in several cases, he says.
Want a change of attitude
Skurdal has had problems with his ears before, and now he wants to be open about how it is.
– I have struggled with hearing for many years, but never been completely open about it. Poor hearing is severely stigmatized and consistently seen as an old man's disease.
Now he wants to remove the shame and show that young people can also have poor hearing.
– Many thousands of young people live with tinnitus and hearing loss, but there is little talk about it. We must remove the stigma. Wearing glasses is fashionable, but wearing a hearing aid is a shame. Attitudes need to change here.
The 25-year-old is still trying to keep his spirits up. He hopes he is back soon, so he can delight and engage both himself and others with music and humor.
– Life is short, they say. So here it is just to get up and start "bidding" again.
See the song he composed for Vegard Harm and Morten Hegseth below: