Interview with IMF Director Heo Jang… "Inflation is likely to fall to the 1% level again next year"
International Monetary Fund (IMF) Executive Director Huh Jang said that if the government's 'Korean-style fiscal rules' are delayed, international credit rating agencies' trust in Korea's efforts to improve fiscal soundness may be weakened.
Director Huh said this in an interview with reporters accompanying the G20 finance ministers meeting held in Washington DC, USA on the 12th (local time).
He said, "In general, credit rating agencies first consider actual fiscal indicators such as the national debt ratio and fiscal balance when evaluating national credit ratings, so the effect of the enactment of fiscal rules on the national credit rating is limited. Considering the interest and expectations that have been shown in the introduction, there is a risk that trust will be weakened if the introduction is delayed."
The amendment bill to the National Finance Act to introduce the 'Korean-style fiscal rules' submitted to the National Assembly at the end of December last year by the Ministry of Strategy and Finance has not yet crossed the threshold of the National Assembly.
The main point of the amendment is to control the national debt ratio to within 60% of gross domestic product (GDP) and the consolidated fiscal balance to within -3% of GDP every year from 2025.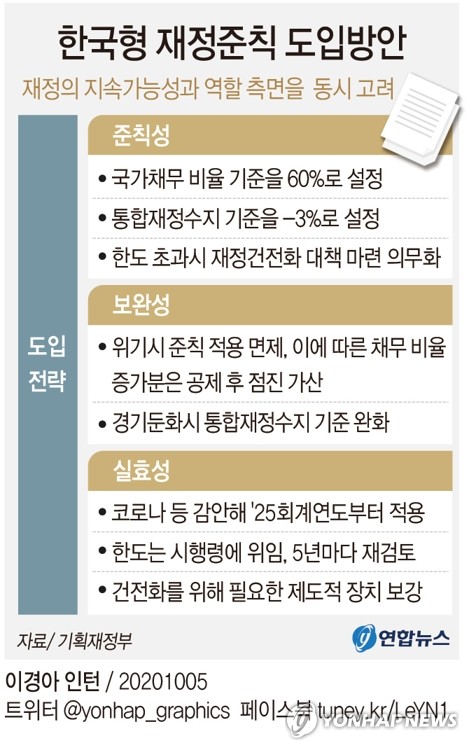 Director Huh explained that the IMF assessed that, although the national debt has increased significantly in the process of the Korean government's response to COVID-19, it is still at a stable level compared to other countries.
However, he added, "Systematic financial stability management is necessary in preparation for an aging population in the future, and we welcome the introduction of fiscal rules."
Regarding the impact of the fourth wave of COVID-19 on the Korean economy, he said, "The recovery of consumption may be delayed due to the recent increase in confirmed cases, but we are analyzing that the impact of quarantine measures on economic activities has been reduced compared to the initial stage of Corona 19." answered.
The International Monetary Fund (IMF) maintained its growth forecast for the Korean economy this year at 4.3%, the same as in July, in the World Economic Outlook released on the same day.
The economy is expected to grow by 0.1 percentage point next year to 3.3%.
Regarding this, he added, "I thought that the increase in vaccination and the second supplementary budget would act as a positive factor as consumption increased in the fourth quarter, but the slowdown in economic growth of the world economy and trading partners could act as a negative factor," he added.
Regarding the price problem, he said, "It has recently risen due to temporary supply disruptions and rising energy and food prices, but considering the idle labor force of the economy and the GDP gap compared to potential growth, it is expected to drop to the 1% level again next year." .
Regarding the 'With Corona' that the government is promoting next month, he said, "The IMF also does not predict that Corona 19 will not disappear completely just by supplying a vaccine."
Regarding the case of Hengda Group, a Chinese real estate developer, he said, "So far, the impact on the Chinese real estate development industry and financial market has been limited, and it is believed that the Chinese authorities have policy measures to prevent the situation from worsening."
/yunhap news