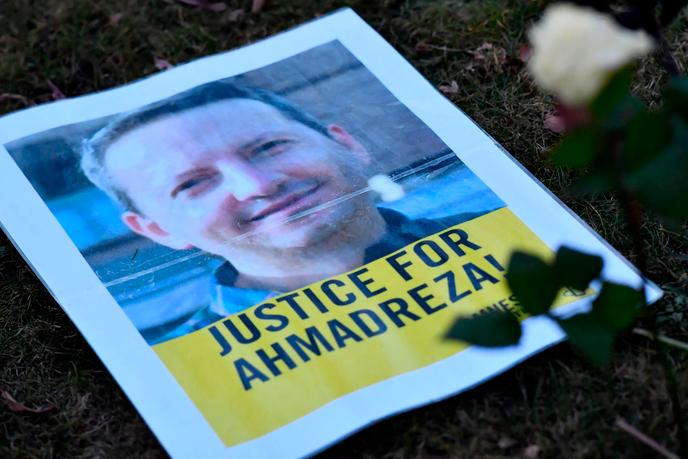 The Belgian authorities obviously wanted a trial as quickly as possible, in Antwerp, where were to be tried, from Friday 27 to Monday 30 November, four people suspected of having wanted to commit a bloody attack against the Iranian opposition, in Villepinte, in 2018 A quick and discreet trial – like the long investigation – to avoid media coverage that the Iranian regime, directly implicated, would have little appreciated. In reality, Tehran seems to have taken the lead by announcing, a few days before the trial which will involve one of its "Diplomats", the death sentence of Ahmad Reza Jalali.
This doctor and professor of Iranian origin is 49 years old and has dual Swedish and Iranian nationality. He was teaching at the Flemish Free University of Brussels before being arrested in 2016 in Tehran, where he was taking part in a mission. Belgian universities and Amnesty International mobilized to demand his release.
Article reserved for our subscribers

Read also
Villepinte attack foiled: Iranian agents before Belgian justice
Mr. Jalali is accused of having given information to the Israeli Mossad on the two Iranians involved in Tehran's nuclear program, Masoud Ali Mohammadi and Majid Shahriari, both murdered in 2010. He is allegedly subjected to torture. made a confession. In an earlier letter, he wrote that he refused to work for the Iranian service. On Tuesday, November 24, he called his wife, who lives in Sweden, to announce his transfer to Evin prison, controlled by the Iranian Ministry of Intelligence and Security (MOIS) – which oversaw the organization of the aborted Villepinte attack. Mr. Jalali could be executed within a week.
The hypothesis of blackmail
Blackmail, before the probable conviction of the four people tried in Antwerp? This is what the Belgian authorities think – without officially admitting it. The Minister of Foreign Affairs, Sophie Wilmès, called for a suspension of the execution. Deputies are calling for a summons, even expulsion, of the Iranian ambassador.
Article reserved for our subscribers

Read also
Iran releases Anglo-Australian researcher in exchange for three Iranians detained in Thailand
During the investigation, diplomat Assadolah Assadi, stationed in Vienna and commissioning the operation in Villepinte, threatened Belgium with reprisals. He has also received several visits from diplomats from his country. The Belgian authorities, who do not confirm this fact either, have been approached with a view to an exchange of prisoners.
This case and others shed light on the way Iranian intelligence services operate, which construct a scenario, arrest people and force them to confess. The case of British-Iranian Nazanin Zaghari Ratcliffe, an employee of the Thomson Reuters Foundation, illustrates another facet of this strategy. She was sentenced to five years in prison for " spying " and "Attack on national security" and her judge announced in 2018 that she would not be released until the UK settled its debt with Iran. This debt, which amounts to some 450 million euros, is linked to a contract to buy tanks that London did not honor after the Islamic revolution of 1979.