Test concert for corona study
Experiment at the Tim Bendzko concert: are major events possible again soon?
In order to minimize the risk of corona outbreaks, major events are prohibited until at least October. Is it possible to restart afterwards? A test concert with Tim Bendzko in Leipzig should help with the risk assessment.
Can major events take place in times of Corona or is the risk too high? And if so, how can it work? A concert experiment by the University Medical Center in Halle should bring new knowledge. On Saturday, the researchers collected data at a concert by pop star Tim Bendzko in Leipzig – several thousand visitors volunteered to help.
In Germany, such major events are actually prohibited until the end of October. But this concert served science, it was part of the "Restart-19" study. According to the medical professionals, the aim of the study is to develop a mathematical model that is intended to help assess the risk of such an event with regard to a corona outbreak.
Test concert for science

2210 fans had initially registered – too few. Because the doctors originally speculated with 4,200 participants, the deadline had been extended several times. Spontaneous registrations were also possible. How many test subjects were actually in the hall at the end was initially unclear.
Those who were there had to get involved in a very special concert experience. Because in the experiment, the focus was not on Bendzko's appearance, but on the behavior of the visitors. How do you move? Where is the risk of infection particularly high? How are aerosols distributed in the room?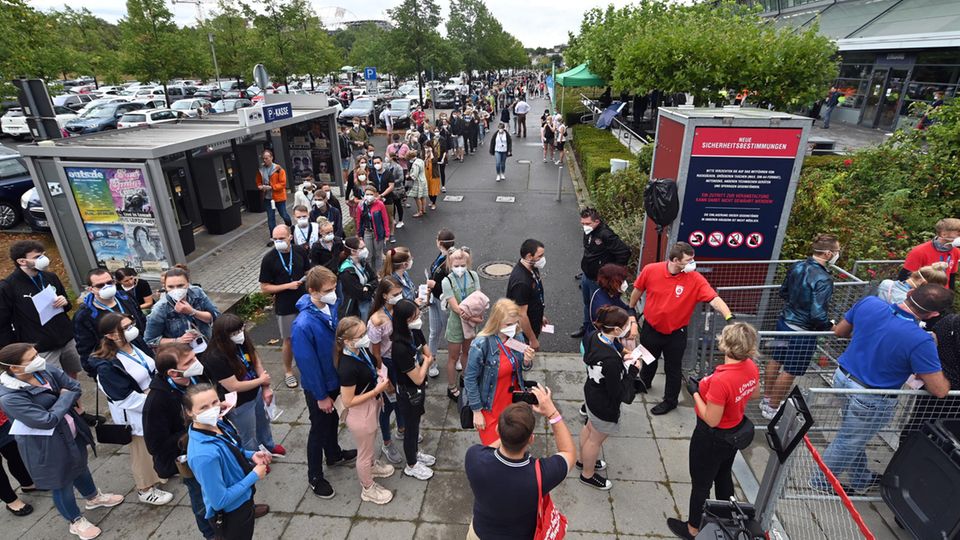 In order to prevent the test concert from becoming a superspreader event itself, the participants had to adhere to extensive safety precautions. Every volunteer had to be tested for Covid-19 in advance. But of course that was not all. The researchers worked with sensors and fluorescent disinfectants, among other things.
No admission without a corona test

It started in the morning. Before the subjects were allowed into the hall, a fever was measured. Then they got so-called contact tracers. These tracers document the paths that the visitors take during the concert.
With the help of the disinfectant, the researchers want to read which surfaces are touched particularly often by the concert goers. Corona-compliant distance and hygiene measures are to be developed later. In addition, all visitors had to wear an FFP2 mask while in the hall.
Tim Bendzko gave three concerts that day, each time only about 20 minutes. The test concert was the first live concert in the Leipzig Arena since March. The large-scale test is being financed by the federal states of Saxony and Saxony-Anhalt. The results should be available in autumn.