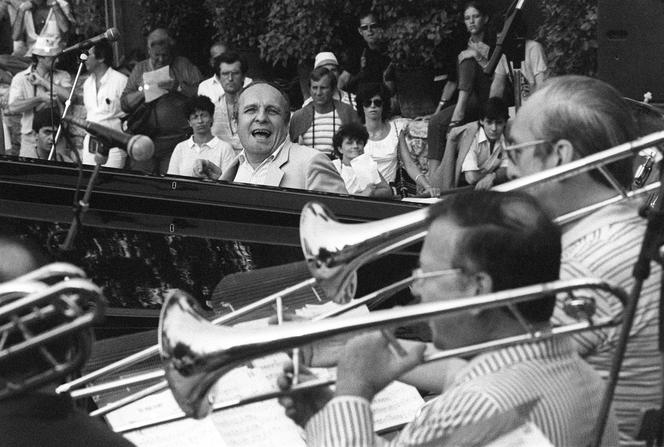 He is the author of numerous film scores such as that of Borsalino. Jazz pianist, conductor and composer Claude Bolling died at the age of 90, his entourage announced Wednesday, December 30, to Agence France-Presse. Mr. Bolling, who suffered from various pathologies, died on Tuesday at Saint-Cloud hospital, west of Paris.
Born in Cannes on April 10, 1930, he left Paris for Nice during the Occupation. There, he followed the teaching of Marie-Louise "Bob" Colin, pianist, trumpeter and drummer in one of the many popular female orchestras in the interwar period. She encouraged him to return to Paris, where he created his first orchestra at 16 and recorded his first record at 18.
Read also
Bolling opposes the use of his "Marseillaise" by the FN
A disciple of Duke Ellington, the famous American jazz composer, he created a big jazz band in 1956 that would last until the mid-2010s, an exceptional longevity. In France, he is considered a benchmark in the world of jazz. Among those who have passed in his large orchestra were renowned musicians such as his alto saxophonist Claude Tissendier.
A jack-of-all-trades artist
In the 1960s, Boris Vian, who nicknamed him "Bollington", opened the doors to variety and musical direction for many stars such as Brigitte Bardot, Juliette Gréco and Henri Salvador. He thus arranges the title La Madrague, famous song by Brigitte Bardot.
"Claude Bolling, my 'dubol' left taking with him my youth and sixty years of faithful friendship, joie de vivre, funny songs and a carefree bond", reacted Brigitte Bardot in a press release sent to AFP.
« "It's a day like any other and yet you're leaving", I sing it for you today with tears in my eyes. "
Article reserved for our subscribers

Read also
Indispensable arrangers of French song
He has composed film scores, the most famous of which are Borsalino (1970) by Jacques Deray, with Alain Delon and Jean-Paul Belmondo, but also The magnificent, Lucky Luke, or The Tiger Brigades.
This jack-of-all-trades has multiplied the experiences by marrying a jazz trio with a classical soloist. He composed and recorded in particular Suite for flute and jazz piano trio with the famous French flautist Jean-Pierre Rampal, a work that broke attendance records in the Billboard charts in the United States (530 weeks) and brought Claude Bolling to the stage of Carnegie Hall in New York.
Article reserved for our subscribers

Read also
Guy Marchand, Jeanne Moreau, Jamie Foxx … They also know the song