On the afternoon of the 9th, in the match between Korea and Sri Lanka in the second Asian qualifying round of the 2022 FIFA World Cup in Qatar, held at the Goyang Sports Complex in Goyang, Gyeonggi, South Korea's Sang-bin Lee turns around after scoring. 2021.6.9/News 1 © News1 Reporter Lee Seung-bae
Sangbin Sang-bin, a rookie born in 2002, who scored his debut goal in the A Match debut, said, "The next goal is the World Cup."
The Korean national soccer team (FIFA Ranking 39th), led by coach Paulo Bento, played 5-0 against Sri Lanka (204th) in the '2022 Qatar World Cup Asian Region 2nd Qualifier' held at 8 pm on the 9th at Goyang Sports Complex. won a great victory
Jung Sang-bin made a perfect debut by scoring a goal in the 32nd minute after being replaced in the 27th minute of the second half.
In an interview after the match, Jeong Sang-bin said, "I am grateful to coach Bento and the coaching staff who made me play the game. My fellow hyungs also helped me a lot. Thanks to that, I was able to score my debut goal without being nervous."
It was an honor to be selected for the national team right away at a young age, but it must have been a burden.
Jeong Sang-bin replied, "It would be a lie if I said there was no sense of weight. At first, I felt pressure, but after helping my hyungs and others around me, I had a lot of fun later."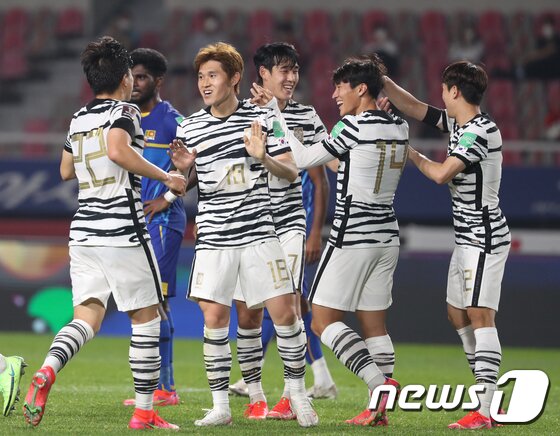 Jeong Sang-bin (second from the right) celebrates with his teammates after scoring a goal in the second half of the match between Korea and Sri Lanka in the Asian region's second qualifying round for the 2022 FIFA World Cup in Goyang, Goyang, Gyeonggi Province, on the afternoon of the 9th. 2021.6.9/News1 © News1 Reporter Wonyoung Song
Jeong Sang-bin, who scored the first goal in 19 years and 75 days, became the youngest scorer in Korean football history to be ranked 8th. Jeong Sang-bin said, "I didn't know such a record. I was bewildered when I heard that I was the youngest scorer in 8th place."
Fans who visited the Goyang Sports Complex on this day expressed their expectations with a lot of applause from the moment Jung Sang-bin was replaced.
Jung Sang-bin recalled, "I heard applause, but I was concentrating on the game, so it wasn't too loud." He recalled, "I only had the thought that I had to work hard to help the team."
After that, Jung Sang-bin said about the scoring scene and the content of the game, "When the cross came up, it rushed over and it passed over my head. Then, (Lee) Dong-kyung-hyung's shot luckily came in front of me and set my foot with the thought of just letting it go." The coach told us to take the opposing defense and then aim for the back, so we focused on doing what he ordered."
Jeong Sang-bin, who has already scored his debut goal at an age difficult to even make his A-match debut.
Jeong Sang-bin said, "Now, my next goal is to participate in the World Cup. I want to follow and play in the World Cup."
tree@news1.kr