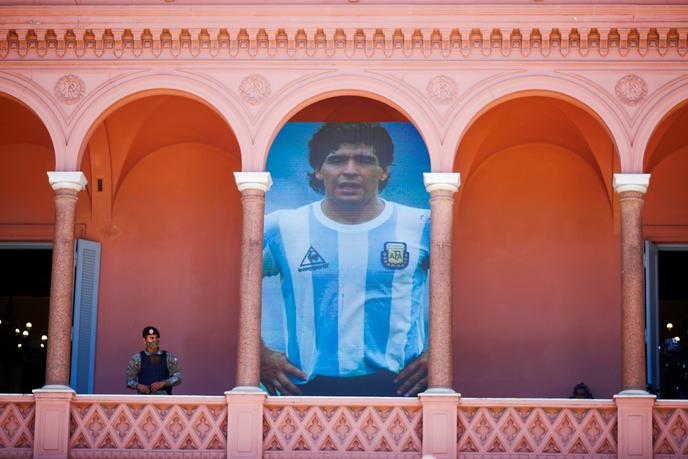 Four days after the death of Diego Maradona, his doctor is the subject of an investigation for manslaughter, announced Sunday, November 29, the prosecutor's office in San Isidro, near Buenos Aires. The former glory of Argentine football died on November 25, at the age of 60, of the aftermath "Secondary acute pulmonary edema and exacerbated chronic heart failure" at his home.
The police searched Sunday the office and the home of Doctor Leopoldo Luque in search of elements on possible professional negligence, according to the prosecution and images broadcast by television.
Read also
Argentina: investigation into possible negligence in the death of Maradona
This questioning of Doctor Luque, who had operated on Maradona for a head bruise earlier this month, does not automatically imply police custody or deprivation of liberty, these judicial sources told Agence France-Presse (AFP).
This investigation was triggered by statements from Dalma, Gianinna and Jana, three daughters from Maradona, on how the former footballer's heart problem was managed at his residence in Tigre, north of the Argentine capital.
"We are continuing the investigations by collecting testimonies, including those of members of the family" of Diego Maradona, said a judicial source in San Isidro. Doctor Luque, contacted by AFP, declined to comment.
No complaint has yet been filed
Diego Maradona had been operated on for a bruise on his head at the beginning of November, then seemed to have recovered well. The location of the residence where he was convalescing had been chosen so that he was close to his daughters. "The clinic had recommended that he go elsewhere to be hospitalized, but the family decided otherwise. His daughters signed his discharge from the hospital ", a family member said on condition of anonymity.
The day after his death, lawyer Matias Morla, friend of Maradona, denounced the fact on Thursday "That the ambulance took more than half an hour to get to the house where the 10 was" and warned that he would go " until the end ".
No complaint has yet been filed. "The investigation was opened because it is about a deceased person in her home and no one has signed her death certificate. This does not mean that there are suspicions of irregularities ", a judicial source said, on condition of anonymity.
The San Isidro prosecutor's office is awaiting the results of toxicological tests. He demanded the medical file as well as the recordings of the cameras of the district where Diego Maradona lived his last days. The 1986 world champion appeared very weak on October 30, the date of his last appearance, on his sixtieth birthday, to lead the training of his players at the club Gimnasia y Esgrima La Plata.
Article reserved for our subscribers

Read also
After the death of Diego Maradona, a chaotic day of tributes in Argentina