Original title: Differentiation!In the first five months of performance, the head-to-tail difference exceeded 64%, and some star new funds have not yet smoothed their losses
Countdown to the end of May!In the ups and downs of the A-share market, 3110 only took the initiative in the first May of this yearPartial equity fundThe average rate of return was 4.31%, surpassing the Shanghai Stock Exchange Index,Shenzhen Component Index、CSI 300which performed.Compared with only 30% in the first quarter when positive earnings, 50% in the first 5 months of this year actively partial stocksfundEven out the losses in the first quarter, 80% of the funds received a positive return.
However, while the active partial equity fund has a return rate of up to 46%, the worst-performing loss is 18%, with a head-to-tail difference of 64 percentage points.At the same time, the new funds issued in the first 5 months of this yearPerformanceThe divergence is also large, and some new star funds have not yet smoothed out the previous negative returns.
  The head-to-tail difference exceeds 64%
Compared with the downturn in February and March and the shock and rebound in April, the A-share "red May" overall showed a structural upside market, with the three major indexes rising.The data shows that as of May 28, this yearThe Shanghai Composite IndexAnd the Shenzhen Component Index rose 3.68% and 2.64%, respectively, and the CSI 300 rose 2.11%.Growth Enterprise Market IndexAn increase of 8.97%.
In this context, among the 3110 active partial equity funds (combined calculation of AC shares), compared with only 30% in the first quarter when they received positive returns,In the first five months of this year, 80% received positive returns, and 50% of active partial equity funds smoothed the losses in the first quarter.
According to the data, as of May 28, the best performer this year is still GF Value Leading A managed by Lin Yingrui, with a yield of 46.26%. Judging from the quarterly report holdings, the allocation is mostly under-valuation, pro-cyclical and other sector targets. The outstanding performance has also allowed GF Value Leader to obtain continuous subscriptions. In the first quarter of this year, it received 3.291 billion subscriptions. Excluding the 703 million redemptions during the period, the net subscription reached 2.588 billion. At the beginning of this year, the fund share was only 325 million copies.
It is followed by Guangfa Multi-Factor Management by Tang Xiaobin with a yield of 44.73%, followed by Baoying Advantage Industry managed by Xiao Xiao with a yield of 36.07%. There are also 44 active partial equity funds such as Golden Eagle Healthcare Industry A, Anxin Xinfa Optimum, Dacheng Emerging Industry, CEIBS Value Smart Return A, Dacheng Health Industry and other 44 active partial equity funds with a return rate of over 20%.
It is worth noting that while the rate of return is as high as 46% and 80% of the funds receive positive returns, there are some funds whose performance is relatively average. Data shows that in the first five months of this year, 612 active partial equity funds lost money, of which 479 funds lost less than 5%, 101 funds lost 5%-10%, and 32 funds lost more than 10%. For example, the Great Wall Dual Power and Oriental Cycle Optimum both have losses of 18%. From the perspective of position holdings, in addition to the heavy warehouse military industry, the reasons for the poor performance include frequent position adjustments, misplacement of the industry, and mistakes such as stepping out of structural quotations.
  New fund performance is highly differentiated
As of May 28, a total of 216 active partial equity funds with an issuance scale of more than 1 billion yuan have been newly established this year, and performance differentiation is the key word among them. In addition, the performance of some newly established sub-new star funds is also relatively average.
According to the data, as of May 28, the average return rate of 216 new funds established this year was 0.64%, and the return rate of 148 new funds has been positive since its establishment. Among them, the return rate of 3 funds has exceeded 10% since its establishment, and 13 funds have returned. The rate is over 5%.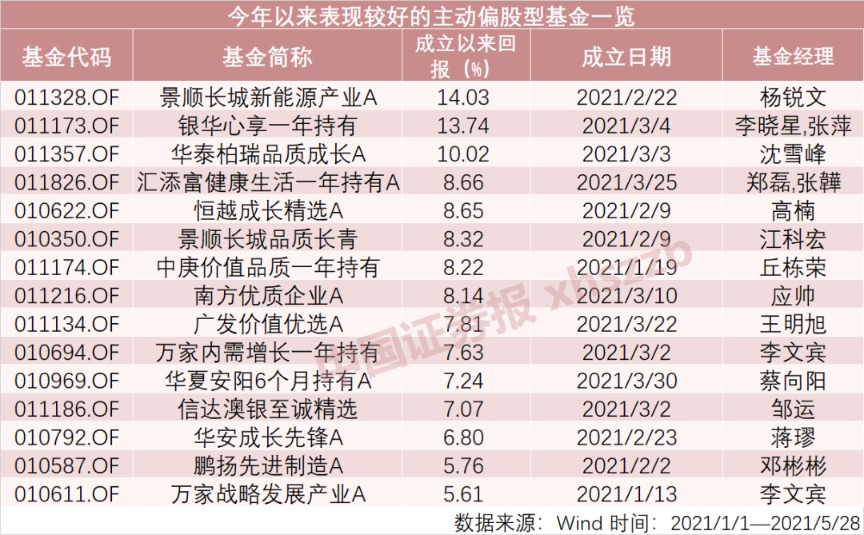 Specifically, the best performer is managed by Yang RuiwenInvescoGreat Wall New Energy Industry A, with a yield rate of 14.03%, was established on February 22 this year, with an issue size of 5.972 billion yuan; followed by Yinhua Xinxiang held by Li Xiaoxing and Zhang Ping for one year and Huatai Bairui quality managed by Shen Xuefeng Growth A, the above two funds have yielded 13.74% and 10.02% since their establishment on March 4 and March 3.In addition, Zheng Lei, Huitianfu Healthy Life managed by Zhang Wei holds A for one year, Hengyue Growth Selection A managed by Gao Nan, and Hengyue Growth Selection A managed by Jiang KehongInvescoSince the establishment of Great Wall Quality Evergreen, Zhonggeng Value Quality, which is managed by Qiu Dongrong, and the Southern Quality Enterprise A, which is managed by Qiu Dongrong for one year, the return rate has also exceeded 8% since its establishment. The above funds are generally established late, and the position opening period has also escaped the adjustment after the Spring Festival on time.
Among these new funds, the poorly performing funds were generally established in January and early February. The poor performers are China Merchants Xinghe Optimal 1-year holding and China Merchants Shengyang 3-month fixed opening, which have lost 11.83% and 11.40% since their establishment on February 1 and February 3, respectively, which are the best performers. For the new fund, the head-to-end difference reached 25%.
In addition, there is also E Fund's competitive advantage enterprise A, which was established on January 20 this year with a scale of 14.8 billion yuan; managed by last year's new star fund manager, the establishment of Guangfa Xingcheng A and 7.923 billion yuan respectively GF Chengxiang A; Star products such as Hui'an Equilibrium Optimal Mix, which suffered a severe setback in the market, have yet to smooth the losses.
(Source: China Securities Journal)
(Editor in charge: DF358)
Solemnly declare: The purpose of this information is to spread more information, and it has nothing to do with this stand.
.