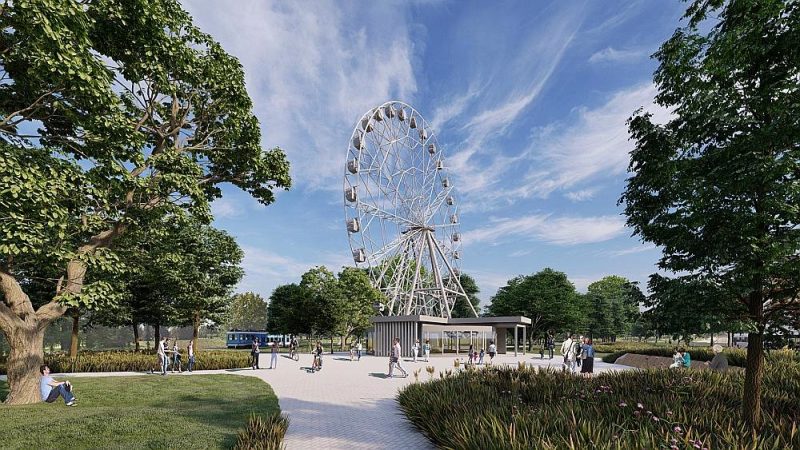 Ieva Ēvalde, "Latvijas Avīze", JSC "Latvijas Mediji"
While one part of the society wants the demolition of the Victory Monument, others see the potential for the development of attractions in the Victory Park.
Last summer, the Riga City Council decided to auction building rights for a 5700 square meter plot of land in the part of Uzvaras Park between Raņķa dambis and Slokas Street, but this year, at the beginning of August, the Riga City Construction Board conceptually supported a panoramic wheel for building within the auctioned plot. Yesterday, the winner of the auction, SIA "RPR operators", announced the planned investments in the project, promising to invest eight million euros in the development of the park recreation area, including the construction of a 65-meter-high panoramic wheel. The project could be implemented during 2022.
"It is clear that this is a new experience for us, but it would be like this for any Latvian company. That is why we have attracted leading experts in the construction of panoramic wheels from Europe, "says Dimitrijs Uspenskis, a member of the board of SIA RPR operators. Since 2019, the auction "RPR operator" together with architects and experts has been working on the development plans of the territory, as well as project sketches and visualizations.
"The Riga Ferris Wheel will be the largest in the Baltics and will operate all year round," promises Dimitrijs Uspenskis. "The wheel will have 30 cabs equipped with air conditioning and heating." Along with the creation of a panoramic wheel, the project developers promise to develop the surrounding area as well. There are plans to modernize the park's infrastructure by improving the lighting system, improving the paths, as well as placing benches and facilities.
The project implementers also reveal that the agreement with the Riga municipality includes the right to cut three trees in the territory, replacing them in three amounts. "It is currently planned to replant two beeches and cut down one birch tree, replacing five trees of rare and valuable species instead," the company said in a statement.
"No music is planned in the area of ​​the panoramic wheel, and the operation of the wheel itself, which is provided by German-made electric motors, is much quieter than the usual traffic noise," Dimitrijs Uspenskis tries to dispel the concerns of the residents. "So far, there has been inaccurate information about the location of the Ferris wheel – it will be more than 100 meters away from residential buildings, thus not obscuring the view of the green area."
The data of "Firmas.lv" show that SIA "RPR operators" was founded in 2018 and its share capital is 2800 euros. 90% of the company's shares belong to the Lithuanian company UAB "Mozavita", but 10% to Dimitrija Uspenski. Amusement and recreation parks are the only activity of this company.