In 'Eun-Young Oh Report', a client's wife revealed the wounds she suffered from her husband's domestic violence.


On the September 26th episode of MBC's 'Eun-Young Oh Report – Marriage Hell', Yoon Tae-yang (39 years old) and Moon Ji-eun (33 years old), who have been married for 5 years, appeared as a client couple.
On that day, after receiving the diagnosis of the first child, who was 5 years old, at the development center, my wife shed tears when she was diagnosed that her language ability was '11 months' level.
The wife drank alcohol and woke up her husband to talk. Ji-eun Moon told her husband, "What is the reason for the delayed development of the first child? When I was 6 months pregnant, my brother came to drink with me today. I drank until I drank and hit him until I hit him, and I can't forget that." .
However, the husband relentlessly replied, "Then there is nothing I can do about it."
My wife said, "I don't like coming in because my brother doesn't greet me. I hate it when I only drink alcohol because I remember that."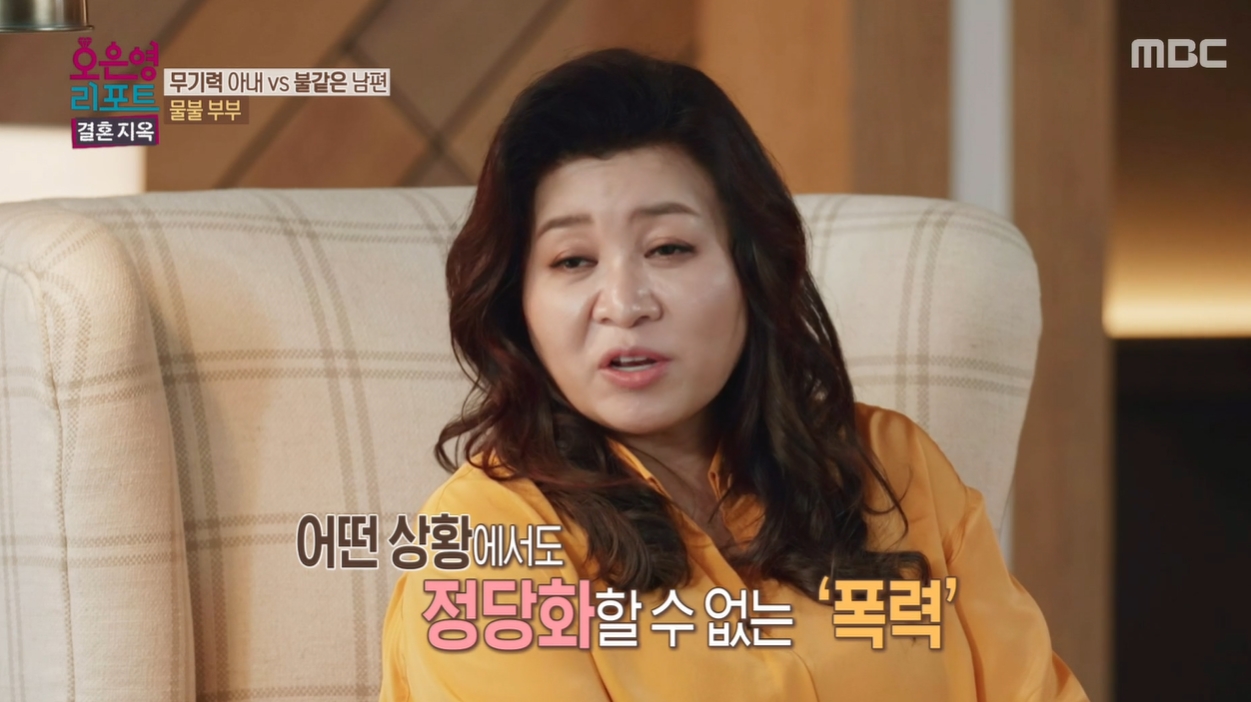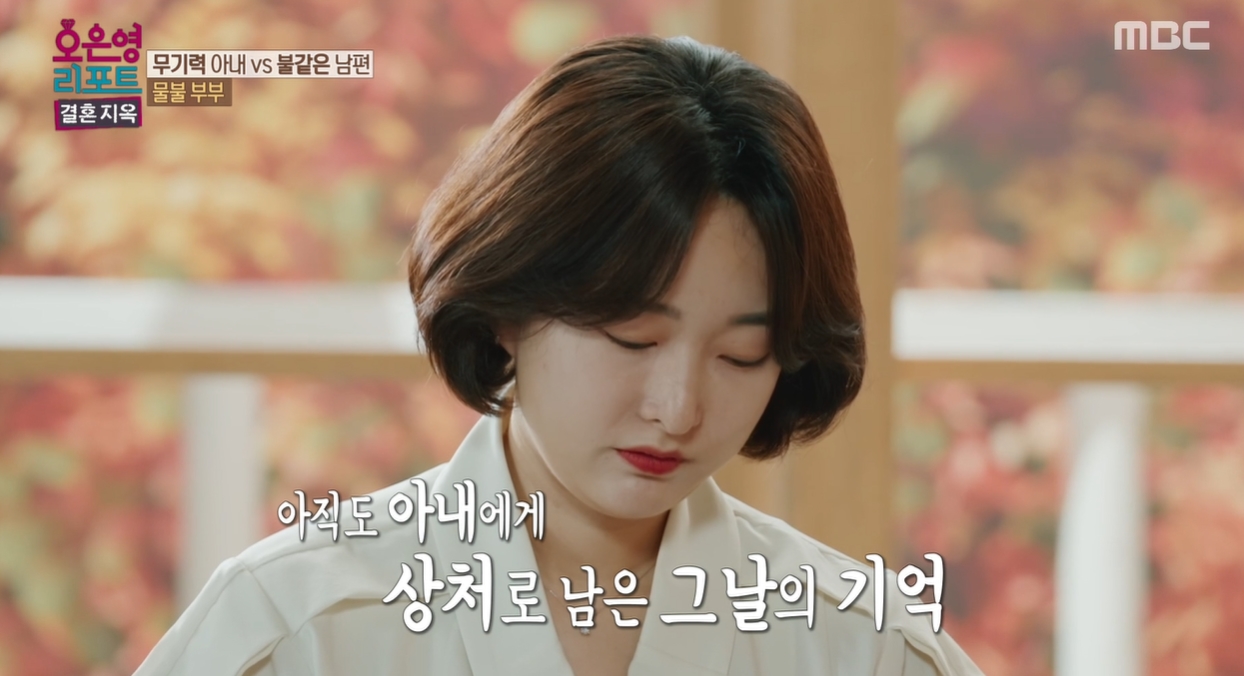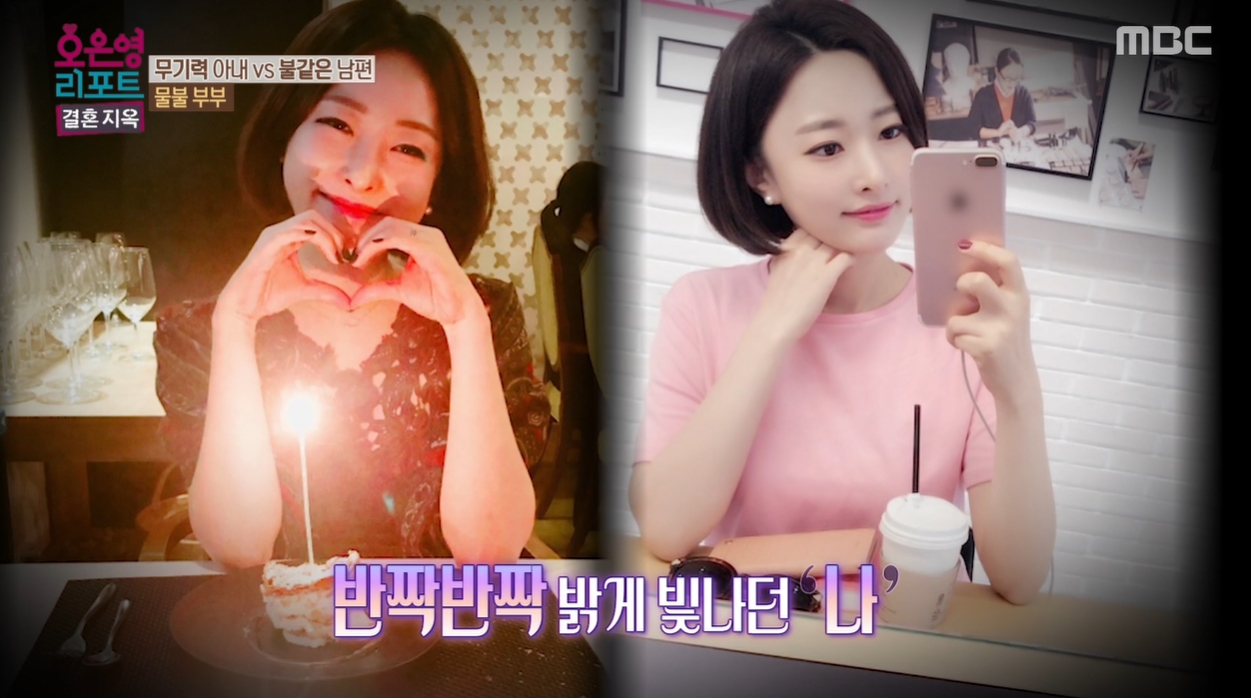 In an interview, the wife said, "It's not something we can just talk about in front of people. But if we and the couple can't solve this, it seems like it will happen again. If we can't look at us from a third person's point of view. And I personally felt like I was painting a broken wall even after I had been treating depression for quite some time. I don't think we should talk about it now."
Dr. Oh Eun-young said, "Actually, I worried a lot. Even watching this video, I still worry. Because no one has the right to hit anyone. Domestic violence is never tolerated even once. I have been thinking a lot about whether it is appropriate to do this. I have a strong will to resolve conflicts, so I am going to talk about it."
The wife confessed, "My husband apologized immediately, but I don't think he ever thought of divorce. Because he's the father of a child, I think we lived together."
He said, "It was the day before the wedding shoot because we had the wedding while we were pregnant. I was sensitive too, and my husband came in late at night after drinking. I'm pregnant and I'm nervous about filming, but I've become more sensitive to the drunken appearance. So I I sprinkled ice water on them and asked, 'Give me your cell phone! Are you having a meal with a real business partner?' I was 6 months pregnant and I was assaulted defenselessly while my stomach was out. I had a bruise on my face and I had already given up on myself mentally at that time. It's like," he cried.
The husband said, "It is true that I sincerely apologized because I was wrong. But I know I was wrong, but I can't resolve my wife's anger no matter what, and I have no choice but to repeat the fact that I was wrong."
When asked, "Is there still times when my husband is afraid of me?", the wife nodded her head.
Dr. Oh Eun-young said, "My family is the person I need to love and protect. However, it is very confusing and scary because the person I need to protect attacked me. A trauma occurs. The traumatic scene is repeated in the head. It is important for the person who left the trauma to deeply understand how much trauma it left behind. It is helpful to understand rather than get frustrated with the repeated story. The psychology of the wife in advance I checked it out and it's still there.
Dr. Oh said, "It seems that recovery from trauma is necessary. Pregnant women are not good at responding to violence because they have to protect the child in their womb. When they are exposed to violence, they feel a tremendous sense of helplessness. We can look into it for a number of reasons, but I think there is also this part."
In addition, Dr. Oh said, "My husband has a lot of energy and a strong vitality. If he is active and active, he may feel aggressive from the other side. You should be aware of that. And your husband is rational and logical. "You tend to focus on how to solve it. So there are times when the fire button is pressed after being patient. If you have spoken and spoken and the logical explanation doesn't work, it seems like the button is pressed and wobbly."
He continued, "A wife, on the other hand, is an emotional person. A wife is the type of person who wants to deal with her emotions first, and when that happens, she feels happy. From the wife's point of view, a logical husband feels that he is not cheap. It won't look like it," she said, and the husband nodded.
Dr. Oh also said, "Another anger button on my husband is alcohol. Whether there is one blackout after drinking alcohol, or an important thing the next day, I think there is a problem with alcohol even if you can't control it. Don't drink. Talking," he advised.
Taeyang Yoon said, "I try to stay away, but when the stress level goes over, beer pulls me like that."
Dr. Oh Eun-young said, "If you pull, you have to do something else. Drinking alcohol in a stressful situation is more of a problem."
Lastly, Dr. Oh Eun-young advised, "Your husband may have apologized, but he will have to apologize once more sincerely. And if the wife apologizes to her husband, accept it as an apology. It will be helpful for her as well."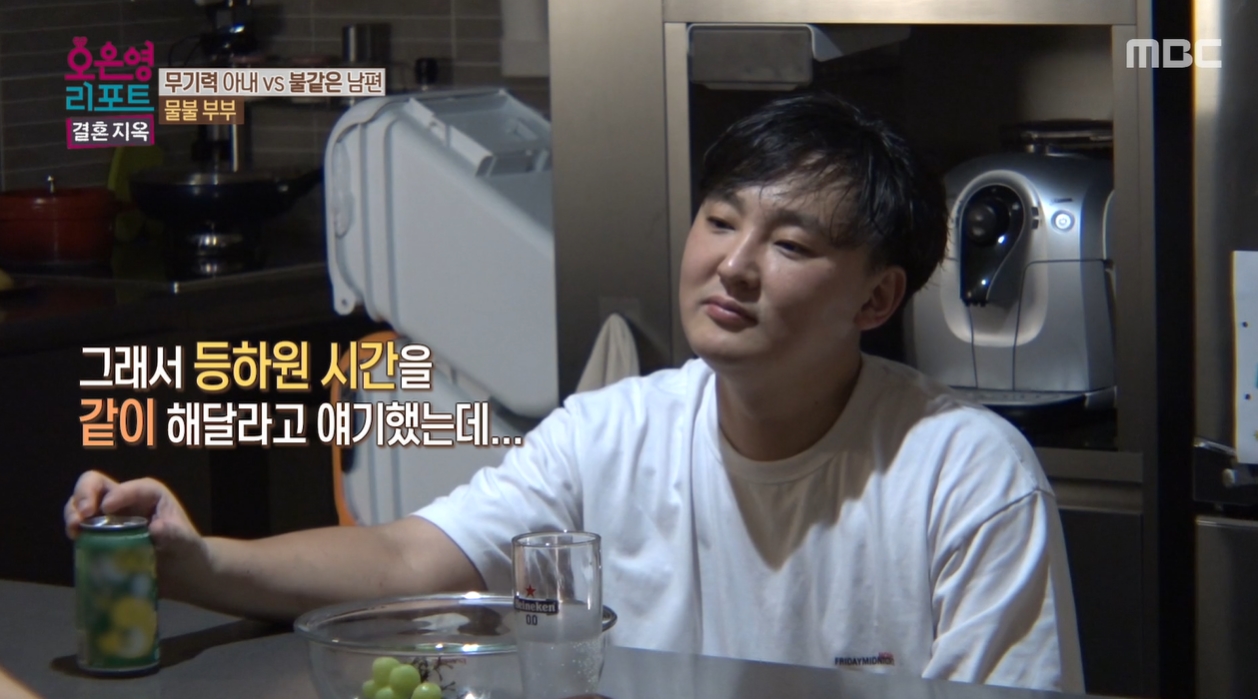 Meanwhile, 'Eun-Young Oh Report – Marriage Hell', which is aired every Monday at 10:30 pm, is a married solution of Dr. Oh Eun-nyeong, a national mentor.
Soyeon Lee / Screen capture MBC