2023-09-24 08:00:00
In the heart of Vancouver's Downtown Eastside, British Columbia has been rolling out safer drug supply programs for consumers for a little over two years. If, among experts, we agree on the repercussions, the experience nevertheless hangs by a thread. Foray into this overdose crisis.
In the street Hastings, a graffiti on the facade of a building stands out among the others. We can read there:safe supply or we die","text":"safe supply or we die"}}">safe supply or we die. In terms of the fight against overdoses, the slogan well sums up the issue at the heart of this debate on safe supply: life or death.
In this neighborhood, front-line responders can count up to 200 overdoses per day. Since the province declared a state of health emergency in 2016, and at a time when the chief coroner has counted nearly seven deaths per day associated with overdoses, the Downtown Eastside has become the symbol of the devastation associated with the toxicity of illegal drugs.
Dean Wilsonactivist with SOLDan association of drug users in Vancouver, says they see four or five acquaintances die every month due to a supply of toxic drugs.
We are not in a country ravaged by war […] it's not Ukraine, it's the Downtown Eastside. They are Canadian citizens and should be treated with more dignity.
A heroin addict for 52 years, sober for 18 months, he is one of those who campaigned for a safe supply and took advantage of the program implemented since July 2021 in British Columbia, following a federal pilot project launched in March 2020 in four provinces.
The program, where doctors prescribe hydromorphone to patients suffering from addiction as a substitute for fentanyl, is seen as a success by harm reduction stakeholders. For others, it is rather seen as an additional factor explaining the rise in overdoses.
I don't like the term "secure supply"explains moreover Dean Wilson. This is neither safe nor in supply. The activist deplores the politicization of the debate around the programs. This program has helped him, although he would like to see the authorities go further, by allowing doctors to prescribe not a substitute drug, but controlled fentanyl.
Dana Larsen founded Get Your Drugs Tested in 2019 in response to the overdose crisis in Vancouver's Downtown Eastside. The center is funded with profits from a magic mushroom shop.
Photo : Radio-Canada / Alexandre Lamic
It is because of this toxic supply that four years ago, the entrepreneur Dana Larsen founded Get Your Drugs Tested. The organization with a storefront Hastings prides itself on having completed 50,000 tests in four years, and being the busiest drug testing center in North America. The counter is open eight hours a day, seven days a week and receives samples from all over the world.
I started this organization because it was the right thing to dosays the activist for the legalization of drugs, who finances the organization with the profits from his magic mushroom shop. I am certain that we have prevented a large number of deaths and health problems […] we also created a certain responsibility in the market.
Inside, employees welcome consumers and carry out tests which only take a few minutes. We reach people who use stimulants a few times a year in festive settings as well as people who use drugs like opioids every day.explains Karine Lapointe, manager of the harm reduction component at Get Your Drugs Tested. We have a very wide range of users.
Karine Lapointe, a harm reduction worker in Vancouver, tests drug samples that clients bring to her to check their composition and the presence of fentanyl.
Photo: Radio-Canada / Francis Plourde
While center employees test samples for all drugs, users are most concerned about fentanyl.% or 75% fentanyl in their sample","text":"People don't necessarily know if there is 5% or 75% fentanyl in their sample"}}">People don't necessarily know if there is 5% or 75% fentanyl in their sample, explains Karine Lapointe. Too little fentanyl will lead to withdrawal symptoms, while too high a concentration will lead to an overdose.
This is where people put themselves at risk, because they don't know what they are consuming […] so by testing their samples, it gives them peace of mind.
The speaker nevertheless admits that in an ideal world, where the origin of drugs would be better controlled, Get Your Drugs Tested would not exist. It is precisely this door that has been ajar recently.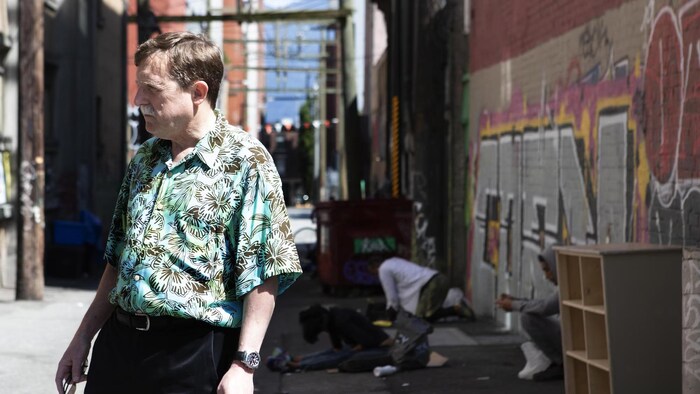 Hepatitis C and HIV specialist Dr. Brian Conway has worked in the Downtown Eastside for over 20 years. According to him, COVID-19 has led to a setback in progress made to reduce the number of overdose deaths in British Columbia.
Photo: Radio-Canada / Camille Vernet
At Dr. Urban Health Clinic Brian Conwayon the street Mainin front of the provincial court, the majority of patients suffer from addictions. [Ce sont] people with psychological and psychiatric problems who experience housing insecurity, food and financial insecurityhe said.
The doctor Conway is one of 719 clinicians in the province to prescribe an alternative to fentanyl through this program. There are doctors who don't want to do this at all, because it's stressfulhe explains. You cannot force a health professional to practice a type of medicine with which they are not comfortable.
This is why the doctor strives to raise awareness among the public and professionals of the impact of his interventions, which are carried out in partnership with patients.
At his clinic, at 2e floor of an old building, Dr. Conwaworks there in conjunction with stakeholders and a pharmacy located just below. In his office where patients parade one after the other, he cites as an example one of them, followed for three months. This one, we managed to control [sa dépendance] to opiates.
The doctor and his team first create a bond of trust by trying to resolve the most urgent problems, and in particular by offering gift cards in reward for follow-ups such as urine or blood tests. Incentives that allow patients to be engaged in the health system and, potentially, prescribed replacement drugs such as hydromorphone.
We hope that patients in withdrawal will choose to swallow hydromorphone instead of consuming street drugs, that's the principlehe explains. And in the right context, it seems to work.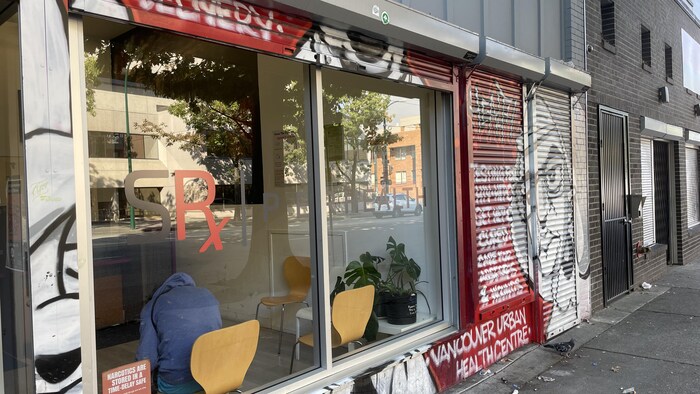 On the ground floor of Dr. Brian Conway's Urban Health Clinic is a pharmacy that specializes in providing safe drug supplies to patients in the Downtown Eastside.
Photo: Radio-Canada / Francis Plourde
The program also has its limitations, admits Dr. Mark Lysychynmedical officer of health at the health authority Vancouver Coastal. There aren't many drugs available to people that are true substitutes.he said. The dosage is not high enough to prevent withdrawal, so some people don't like the program.
Participants also sell hydromorphone obtained from a doctor on the street in order to obtain fentanyl. Others consider the program too medicalized for them. Not to mention access to participating clinicians, who are few in number outside the Downtown Eastside.
According to the provincial government, in July, 4,476 people received a prescription for opioid substitution drugs. However, the Ministry of Mental Health and Addictions estimates that 104,765 British Columbians suffer from opioid addiction.
The fear of a setback
Last May, Pierre Poilievre tabled a motion in Ottawa to put an end to substitution drug programs. To date, Health Canada has invested $100 million for safe supply pilot projects in four provinces.
According to the leader of the Conservative Party, the experiment proved to be a failure; Taxpayer money would have been used to fuel the overdose crisis due to the resale of substitute drugs on the streets. If the motion was defeated in the House, its effects are being felt in the community.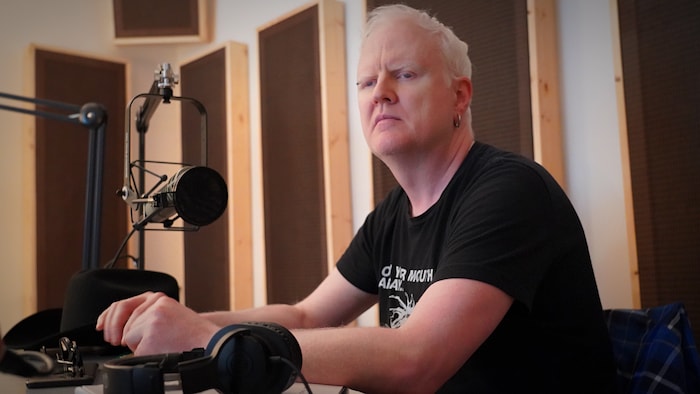 Garth Mullins is an activist and spokesperson for VANDU. He also hosts the podcast "Crackdown" about the overdose crisis.
Photo: Radio-Canada / Monia Blanchet
Pierre Poilievre and other right-wing politicians across the country have scared existing governmentsanalyse Garth Mullins.
Activist, journalist and former heroin user, now a methadone user, Garth Mullins anime le ballado Crackdown, on the war on drugs. The latter reaches around 20,000 listeners each month, including doctors, public health experts and politicians.
Governments are starting to retreat and trying to withdraw from these pilot projectshe laments. There are discussions in British Columbia to put an end to it.
It's obvious he doesn't understand the issues.judges Dr. Conway. Poilievre to visit the centers where the safe supply is prescribed, then to try to understand the issues that the people who receive the prescription face.","text":"I would encourage Mr.Poilievre to visit the centers where the "safe supply is prescribed, then try to understand the issues that the people who receive the prescription face."}}">I would encourage Mr. Poilievre to visit the centers where the safe supply is prescribed, and then try to understand the issues that people who receive the prescription face.
Most of the things we do prevent overdoses and deathsadds Dr. Mark Lysychyn. But the toxicity of the drug is too strong and we don't have enough resources.
He says even as British Columbia heads toward another record year for overdose deaths, the effects of cutting off safe supplies could be disastrous.
If we stopped the program, the number of overdoses would doublehe believes.
An audio version of this report is broadcast on the show All Terrain.
1695751437
#Faced #relentless #overdose #crisis #safe #supply #remains #challenge