Mai Omar chose an elegant short dress at the second engagement ceremony for actress Reem Sami.
The dress came from the Tutus Kurniati brand, which is located in Dubai. The dress has a short design, or you can add the long piece of fabric to it.
The look was coordinated by May, the Lebanese fashion coordinator Cedric Haddad, the makeup was We Ragheb, and the hair was styled by Mustafa Tantawi.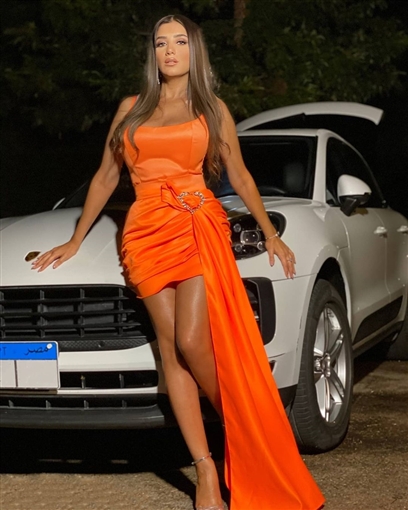 The price of the dress reaches 1889 dirhams, which is equivalent to 8 thousand Egyptian pounds. See the dress from its official website.
It is noteworthy that Muhammad Sami decided that the ceremony would be on two days, Thursday for the family and friends of the newlyweds, and today, Friday, the ceremony will be completed with the presence of all the artistic community, as Sami invited a large number of stars and stars to attend the second engagement ceremony.
Don't miss… Hind Rostom.. "Queen of Seduction" who hated her title.. Marilyn Monroe of the East.. everyone loved her and she retired for her husband
Read also
Was Farouk El-Fishawy the owner of the role of "Bisher Amer" in "Zezenia"? Nabil Al-Halafawi answers
Ayman Bahgat Qamar to the thieves of his songs: "Alam Baqy .. I will not create an account for the fellowship"
#fashion_police: Angham concludes her summer parties with a luxurious dress..inspired by Dalida's fashion
A follow-up attacking Ramy Sabry: "The success of your party is a curse from God." How did he respond?
.