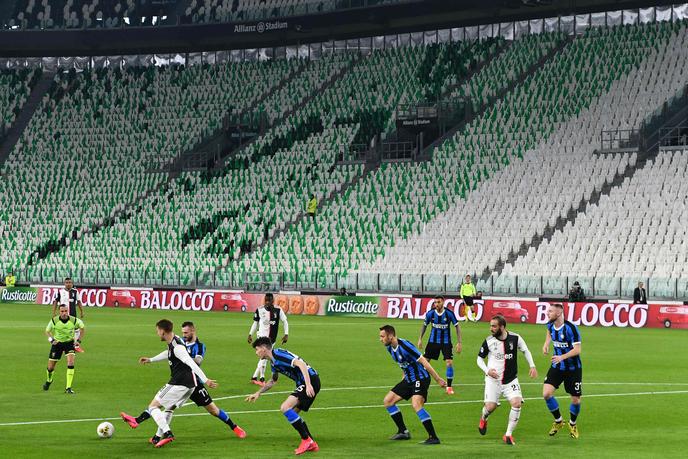 "Lower your salary". It could be the name of a new "challenge", as we have seen many flourish in recent days on social networks, in this period of confinement due to the coronavirus epidemic. In any case, it is a reality of the moment which is gaining momentum in the small world of football.
Who says championships at a standstill, says absence of box office receipts and, above all, possible, even probable, non-payment of part of the television rights. In this context, reducing the payroll – it represents between 55% and 65% of the budgets of large teams in Europe – is the lever on which clubs seek to play to preserve themselves financially.
The latest announcement came from Italy, where, like all other competitions, Serie A is at a standstill – it will be extended from April 3 until the end of April, the sports minister announced on Sunday. Juventus Turin announced on Saturday March 28 that it will not pay salaries to its players and coach Maurizio Sarri from "March to June". Expected gain: "90 million euros in the 2019-2020 financial year", estimated the management of the Bianconeri.
Read also
Italian rugby draws a line under the season, European sport still wants to believe in a recovery
According to Gazzetta dello Sport, however, two and a half monthly payments out of four will be deferred and paid to Cristiano Ronaldo and his teammates in the 2020-2021 financial year. The club said that if the season ended later than expected, players would be paid more than usual during the additional months of competition.
Device close to partial unemployment
If Juventus is the first Italian club to take such an initiative, it is part of an approach already adopted by other European teams. In Germany, players from Mönchengladbach, Bayern Munich, Schalke 04, Borussia Dortmund, Union Berlin … have agreed to pay cuts in recent days.
At FC Barcelona, ​​whose payroll is one of the highest in world football (around 510 million euros on an estimated budget of 840 million for this season), the players refused, according to the local press, a drop of 70% during the time of confinement, which the president wanted to impose, Josep Maria Bartomeu.
However, a reduction in wages has been made "In the context of a reduction in working time", announced the Catalan club on Thursday March 26. The extent of the pay cut has yet to be determined. It must give rise to discussions with the Ministry of Labor.
This measure is part of a system close to partial unemployment – for which Atlético Madrid has also opted – which is implemented in France. A system which several Ligue 1 clubs (PSG, Marseille, Monaco, Reims, Nice, Brest, Amiens, etc.) have chosen to use. It allows them not to pay social, wage and employer contributions (except CSG and CRDS). The players, themselves, receive 70% of their gross remuneration (around 84% net) and the State compensates within the limit of 4,850 euros.
"The danger is to have colossal disparities"
These different decisions are not to the liking of the players' representatives. "We are extremely concerned that a significant number of clubs, in more than half a dozen countries, have started to put [les joueurs] unemployed or cut wages unilaterally ", said Friday, March 27, the global union of professional footballers.
"The danger is to have colossal disparities. We have very heterogeneous situations, which require support ", also said, with regard to France, Sylvain Kastendeuch, the co-president of the National Union of Professional Footballers, in an interview with West France Wednesday March 25.
Fifpro presses clubs with " financial difficulties " of "Meet their national leagues to negotiate proportionate and fair arrangements". "We are hopeful of reaching global and collective agreements in order to get through this period with as little breakage as possible", says Sylvain Kastendeuch, discussions are underway with the Professional Football League.
In Italy, before the announcement of Juventus, a meeting was held Friday between representatives of the League and the union of professional footballers. The aim is to find a collective agreement for a reduction in wages of around 30%.
The situation and above all the uncoordinated solutions implemented led the International Football Federation to take up the matter. According to New York Times, she works at a " safety plan " and would like to establish a strict legal framework. With two options under consideration: postponing or lowering wages by 50%.
Ligue 1: "Not reasonable" to predict a recovery date
"Nobody is master of the calendar". Faced with the coronavirus epidemic, the president of the French Football Federation, Noël Le Graët judges " not reasonable " predict a date to resume competitions. But "Ending June 30 seems impossible", he conceded, Friday, March 27, in an interview with AFP.
"No one knows when the pandemic will end. We have to wait like all the other sectors ", Aleksander Ceferin, president of UEFA, the governing body of football in Europe, said in an interview with the Italian daily on Saturday. La Repubblica. "We have a plan A, B or C: start again in mid-May, in June or even at the end of June. Then if we don't succeed, the season is probably lost ". "There is even a proposal to end this season at the start of next season which would start a little later", however, he added.
"The goal is to resume as quickly as possible, but without any health risk for our spectators and our players", explains Mr. Le Graët. "It is not up to us to decide. We will not resume until authorization is given. " In this context, the elections for the presidency of the FFF, scheduled for the end of December, could be postponed by several weeks, or even "After" the 2021 Olympics, said Le Graët.