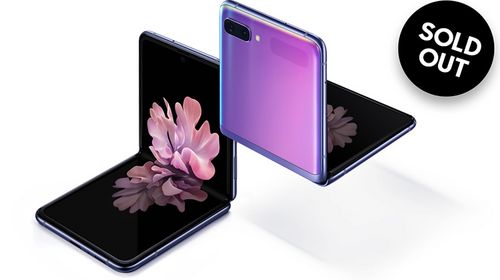 Hardly in stores, the shelves are already empty – the first foldable with a foldable glass display seems to be well received.
Samsung either delivered a mini-edition of its new foldable to Swiss stores last Friday or the demand was huge. Possibly both. In any case, the launch delivery in the Mobile Zone, Salt, Sunrise and Swisscom shops was sold out on the first day.
We already had the same effect in October 2019 with the Galaxy Fold 5G, which, despite a proud price of CHF 2,100, was set to provoked or real shortages on the first day. This time, too, the neophile smartphone community was not deterred by the price, the Galaxy Z Flip currently goes for CHF 1,500 over the counter.
Samsung takes this demand at the start of sales as an indication that the foldable technology will also prevail in Switzerland. We are of the same opinion, but less because of the first wave of sales, rather because of the look, the smart functions and, above all, because of the technology of the glass display and the new hinge that can be opened and closed.
This critical point has made a leap forward in design and technology. It remains to be seen whether this leap has grown over the long term in everyday life. According to Samsung, 200,000 folds should be possible without crunching and failures.
Assuming a service life of three years, a heavy user could open and close his smartphone almost two hundred times a day. Young target groups have not used the same smartphone for longer than two years, then they switch to the next generation. Therefore there is still enough scope to increase the folding frequency. If Samsung's forecasts are correct, the cell phone can be opened during the waking hours of 16 hours a day in the hard cadence of every four minutes without it falling apart.
,