Teenage girl Ginny from 'Ginny & Georgia' is baffling some viewers on Netflix.Image: Netflix
The series "Ginny & Georgia" became a hit after just a few days and is currently number one in the Netflix charts. In the first season, 15-year-old Ginny sometimes acts very impulsively, prompting the audience to ask questions – In any case, the teenager is probably not necessarily a role model. In the first episode, for example, she has sex with the boy next door, Marcus, although shortly before that, sexual intercourse didn't seem to be an issue for her.
On "Reddit" is now being debated extensively about the comedy-drama, with Ginny often in the foreground. Many viewers are particularly disturbed by how ungrateful she is towards her own mother. Very unobjective criticism of Ginny is also not uncommon on the platform.
Ginny divides the Netflix audience
As a flaw of the series, the sometimes awkward dialogues are mentioned first, with a user asking in disbelief: "Do teenagers really talk like that?" In this context, attention quickly falls on Ginny, who is insecure on the one hand, but obviously also carries strong aggression around with her. A comment on her reads:
"I like the show, but is Ginny possessed by the devil? I really can't stand her. She's such an unsympathetic, hateful child and extremely mean to her mother, her friends, the boys in her life, and so on."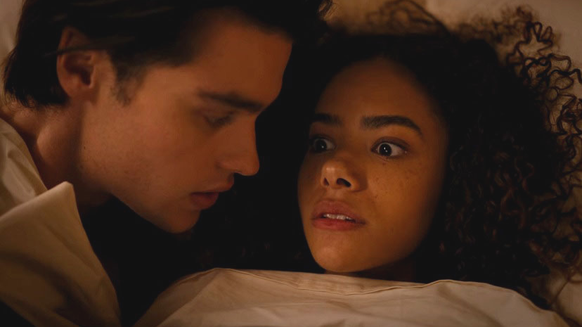 Ginny surprisingly has sex with Marcus on the show.image: netflix
Numerous users agree. "I wanted to give her some life lessons," says another. Sometimes Ginny is even treated with expletives on "Reddit", with which the corresponding users clearly overshoot the mark – after all, in the end it is a purely fictional character that nobody should get too involved with.
However, some defend Ginny, noting that she does not yet have a settled personality and that moodiness is normal at this age. Grouchy_Tap_8264 elaborates, "Ginny's story describes what it's like to be a teenager better than many others do. Her insecurities about her looks, having sex with the first boy who wants to be her boyfriend, or whatever generating attention at the wrong moments just to get that validation feels 'real'."
Fans defend Ginny
Ginny is far from perfect, and apparently that's what makes her special in a positive way in this user's eyes. Finally, the "Reddit" author draws a comparison to other current productions for the young target audience and adds: "I'm tired of watching shows that portray teenagers as seasoned lovers who could just as easily be in a perfume or clothing commercial."
"Adventuresintheworld" isn't quite so strict about Ginny either, saying: "Ginny may be bad, but let's be honest: She doesn't make noticeably worse decisions than characters from other teen dramas." "All American" and "One Tree Hill" are named as corresponding negative examples.
Incidentally, leading actress Antonia Gentry has already admitted that Ginny's behavior on the show doesn't always make sense. In the character's situation, for example, she would not have agreed to have sex with Marcus. However, the 24-year-old had in an interview with "Refinery 29"Also an explanation ready: "She's also her mother's daughter. She wants to feel all of these things. She wants to have friends, including a boyfriend (or crush). She just doesn't know exactly how. I think it was very impulsive for her."
(ju)