The artist Christo, who also covered the Reichstag building in Berlin 25 years ago, is dead.
He died in New York at the age of 84, as reported on his website and confirmed his office to the German Press Agency on Sunday evening.
Anyone who believed that Christo saw any deeper meaning in his silver-coated Berlin Reichstag or his bright yellow, floating jetties on a lake in Italy was wrong. "It's totally irrational and pointless," said the Bulgarian-American packaging artist in 2014 about his work.
But the beauty of his buildings and landscapes transformed into abstract objects fascinated millions. Now Christo died on Sunday at the age of 84 in New York.
Stations from life and work
Open the text boxClose text box
1935: Christo was born in Bulgaria on June 13.
1953-1956: Studied at the Sofia Art Academy.
1958: Christo goes to Paris and meets Jeanne-Claude.
1960: Her son Cyril is born.
1961: First project – covered stacks of barrels in the port of Cologne.
1964: Christo and Jeanne-Claude settle in New York.
1968: Veiled Kunsthalle Bern.
1976: Running Fence – a nylon mesh fence from northern San Francisco to Bodega Bay on the Pacific, California / USA.
1983: Surrounded Islands – eleven islands in Florida / USA are lined with pink fabric.
1985: Veiling of Pont Neuf, Paris.
1995: Veiled Reichstag, Berlin.
1998: Covering the trees in the park of the Fondation Beyeler (wrapped trees)
2009: Jeanne-Claude died on November 18 at the age of 74.
2013: Big Air Package – a 90 meter high air package in the Gasometer Oberhausen. Christo's first project without his wife.
2016: Floating piers – yellow floats in Lake Iseo, Italy.
2018: The London Mastaba – stacked oil barrels in the shape of an Egyptian mastaba that Christo wanted to build in Abu Dhabi can be seen in small form in London's Hyde Park.
2020: Jeanne-Claude and Christo had been planning to cover the Arc de Triomphe in Paris since 1962. The implementation, originally planned for April 2020, was initially postponed to September / October and is now due to take place in 2021 due to the Corona crisis.
2020: Christo died in New York on May 31 at the age of 84.
It was always a game of form and color when the artist, born on June 13, 1935 as Christo Vladimiroff Javacheff in Gabrovo, Bulgaria, covered another piece of the world with plastic sheets.
One of the most famous of his projects realized worldwide was the saffron-colored gates in New York's Central Park ("The Gates"), the floating, nylon-covered walkways on the water of Lake Iseo in Lombardy ("Floating Piers"), which can be seen in the Ticino wanted to clone, as well as the Berlin Reichstag covered in 1995 and the packed Pont Neuf in Paris.
The installations, some of which were visible from a distance of several kilometers, such as the "Valley Curtain" in Colorado or the giant yellow and blue parasols in Japan and California ("The Umbrellas"), soon only emerged as a team.
With his wife Jeanne-Claude, with whom he has always been a duo since the 1990s, Christo fought for several decades, from the first plans to the implementation of a project. Born in Casablanca in Morocco and born on the same day as Christo, Jeanne-Claude died in 2009 at the age of 74 in New York from a cerebral hemorrhage.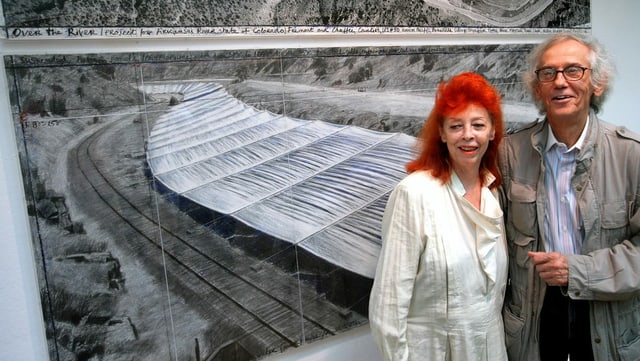 Not even for 100 million
The marriage of the two was also one of socialism and capitalism: Christo, who was trained in Marxism in Bulgaria and who neither accepted money from sponsors nor government subsidies, was only able to realize free art for millions through his wife's entrepreneurial spirit. In 2005, they declined a bid from a $ 50 million financier for Central Park's 7,500 orange gates and fabrics. Christo is said to have said to the offer: "I would not sell it for 100 million."
Because of this, and also because of the visual impact of the works, which was visible over kilometers, the couple was thrilled. The Berlin Reichstag, which is wrapped in silver fabric and tied with blue ropes, is especially unforgettable in Germany.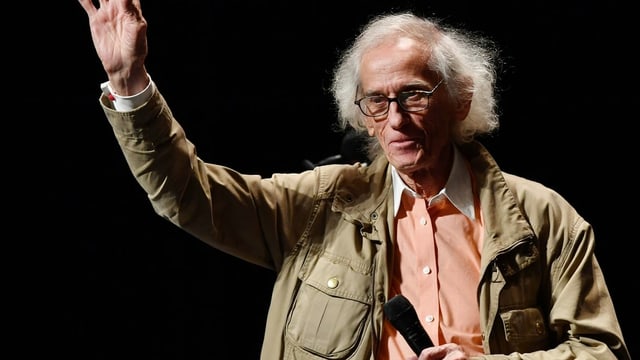 In protest against Trump
The financial independence gave Christo a lot of freedom in his years of efforts to implement a project partly against resistance from environmentalists and despite the requirements of building authorities. In 2017, he gave up the job "Over The River" in the state of Colorado in an open protest against US President Donald Trump, in which he had invested around $ 15 million over 20 years. He should have rented the one on the Arkansas River from the US government under Trump.
The transience of the large temporary installations always reminded one of the volatility of life itself. "It is somehow naive and arrogant to believe that this thing will stay forever, forever", Christo observed at the time of the Reichstag veiling.