Hertha BSC coach Bruno Labbadia recorded it on Saturday for his players, who cheered heartily after the goals scored against Hoffenheim (0-3 win). According to the debuting coach, the strict guidelines should be expanded somewhat.
"Celebrating a goal is part of the game," said Labbadia, who was appointed during the corona break after the game ended at the press conference. "We have now been tested six times and six times the result was negative. I think the players should celebrate their goals this way."
Competition organizer DFL had called on Bundesliga club players to keep their distance while cheering prior to the first round since the corona pandemic. Since this was only a recommendation, Hertha need not fear sanctions.
In almost all of Hertha's goals, the players looked up and hugged each other. Labbadia also hugged his assistant when celebrating one of the goals.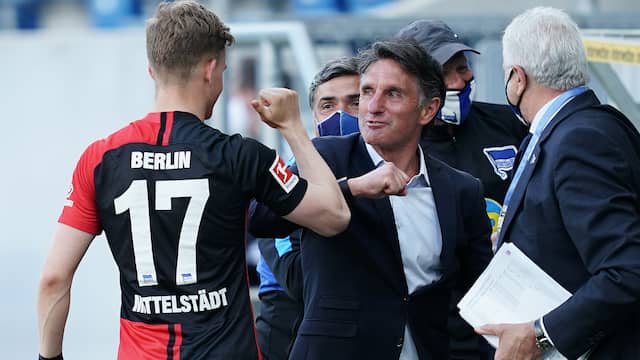 Hertha coach Bruno Labbadia understands how his players celebrated their goals. (Photo: Pro Shots)
"Hope People Will Understand"
"I hope people can understand this somewhat," continues Labbadia, who is already the fourth trainer at the Berlin club this season. "We were tested yesterday and after that we also had no contact with anyone else. As far as I am concerned, the players can show their emotions."
In the other games in the Bundesliga, the players did observe the DFL guidelines when celebrating the goals. Hertha climbed to eleventh place in the Bundesliga through the win. Trainer Alfred Schreuder's Hoffenheim got stuck in ninth place.
Follow the latest developments around the virus in the sports world in us live blog.
.