Tottenham Hotspur's Son Heung-min © AFP=News1
The Japanese media expressed surprise at the humility of Son Woong-jung, the father of Son Heung-min (Tottenham).
Heung-Min Son scored 23 goals in the English Premier League (EPL) last season and shared the title with Mohamed Salah (Liverpool) as the top scorer.
Son Woong-jung, who has been a cool coach for Son Heung-min since childhood, said in 2018, "Son Heung-min is not world-class," and said that even after he became the top scorer in the EPL this season, his view did not change.
This remark became a hot topic not only in Korea but also in Japan across the sea.
On the 14th (Korea time), Japanese football media 'Football Zone' said, "Heung-min Son is the first Asian player to win the Premier League top scorer, but his father still doesn't see his son as world-class." "Even though he gave up, his father's thoughts did not change."
He continued, "I have scored a lot of goals this year, but there is no guarantee that I will perform like that next year. Only those who prepare properly can overcome difficulties," he said, citing an interview with Son Woong-jung. I think we need to prepare. This is a part where we can get a glimpse of his philosophy."
Finally, the media said, "Tottenham, led by Son Heung-min, will participate in the UEFA Champions League next season. If Son Heung-min shows a good figure here too, what kind of reaction will he have at that time? I'm curious," he added.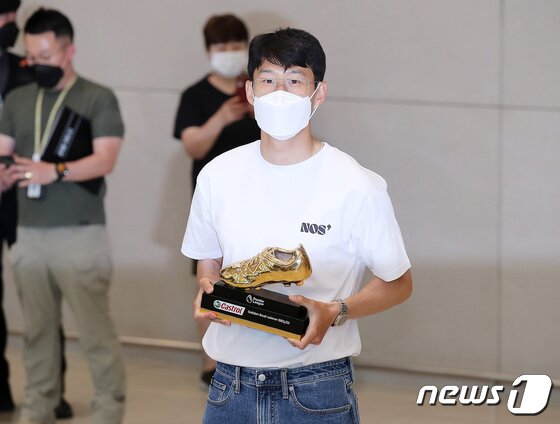 Heung-Min Son holding the Golden Boot (Most Points Award) © News1 DB