DecryptionSince the start of the pandemic, the president of the Patriots has changed his messages, both in substance and in form. Significantly expanding its audience in the process.
He now quotes Didier Raoult more often than General de Gaulle. Thanks to the Covid-19 health crisis, Florian Philippot, the most ardent defender of "Frexit", has become the spearhead of opponents of vaccines against Covid-19 and the health pass. He appropriates all the explosive themes that are linked to it, from the reconfinement in Austria to the violence in the Netherlands through the strikes in Guadeloupe, even if it means sometimes overtly pouring out disinformation and populism.
The president of the Patriots, regional councilor of the Grand Est and upcoming presidential candidate, has modified his far-right speech, to better seduce the fringe of anti-restrictions that he finds every Saturday in demonstrations across France, but also on social networks, Facebook, YouTube and Twitter where he is very active (more than 6,000 tweets from him since the start of the pandemic), with a marked audience research strategy.
We have studied the messages written by Florian Philippot on Twitter since the health crisis, and in more depth during the last month, to analyze the shift in his message and its plunge into disinformation.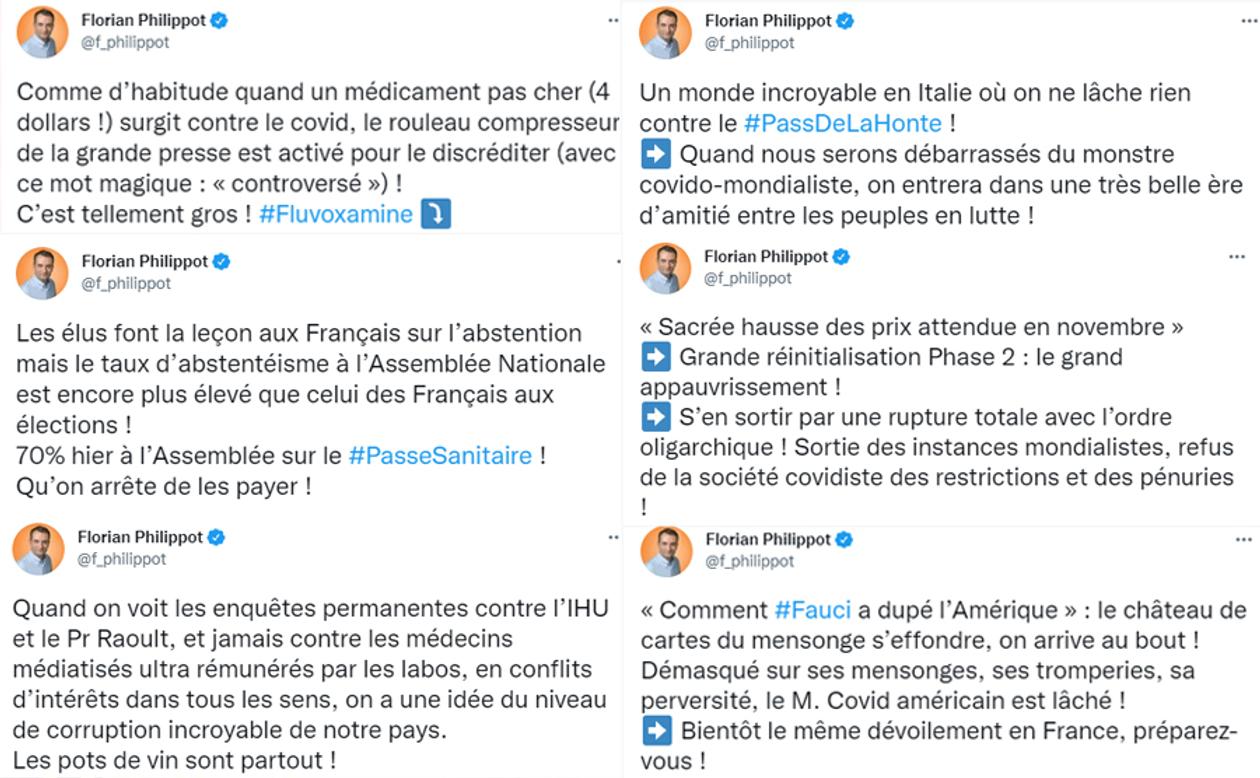 Antivax and anti-restriction messages with big audience success
Over the period from October 9 to November 9, Florian Philippot totaled 413 publications on his Twitter account, which we have classified by major themes and whose content we have analyzed (information, intox, self-promotion message, etc.).
First evidence is the anti-restriction and anti-vaccine sensitivity that drives its dynamics. Moreover, the former right-hand man of Marine Le Pen spoke only three times about immigration in a month, leaving the field to Eric Zemmour, whom he almost never mentions. "I speak of immigration in a non-obsessive way. We are not on the same register. explains Florian Philippot, interviewed by The world. The first emergency is to get out of the collective madness into which we have entered. "
With success, since its sanitary anti-restriction messages are the ones that generate the most shares. On the month studied, his most popular message shows a reception in which Emmanuel Macron participated, where he is indignant that "The staff, alone, [soit] subjected to the mask " : a discourse that interweaves criticism of the elites and criticism of health policy.
He surfs with some gusto on anti-vaccine activism and Twitter's algorithmic propulsion to gain exposure. Indeed, through cleverly chosen hashtags (since January 2020, he has used 220 different ones, some of which are deliberately outrageous, such as #ApartheidSanitaire #Passdelahonte or #ReconfinementMoiJamais), which he invites to share en masse, his themes are regularly found in the list of current topics of conversation, « trending topics ». An effective way to gain visibility by taking advantage of the biases of how Twitter works.
You have 76.94% of this article to read. The rest is for subscribers only.