Although it became known on Tuesday that Jair Bolsonaro has been infected with the coronavrius, the Brazilian president has always dismissed the severity of the corona crisis. Even now he seems anything but impressed by the corona virus. This is how the 65-year-old head of state acted so far:
After announcing that he had been infected with the virus, the President stepped back, took off his mask and said to the journalists present, "Look at my face, I'm fine. I'd like to take a walk now to make, but that is not allowed. "
He also said that he is taking the controversial drug hydroxychloroquine, an anti-malarial drug of which it is not yet clear what effect it has on COVID-19.
Apparently, the president is not concerned with his own health. In late March, he said that his history as an athlete would protect him from the virus and it would feel like a "flu" if he caught it.
President "in the line of fire" keeps shaking hands
Brazil is the second most severely affected country in the world by the corona virus. More than 1.6 million of the 210 million Brazilians became infected and more than 65,000 inhabitants died from the effects of the virus.
Despite this, Bolsonaro has continued to seek out the crowd in recent months and has not shied away from shaking hands with his supporters. "I am president and I am on the firing line. I like to be among the people. Given my busy activities, I actually expected that I would catch the virus earlier," said Bolsonaro on Tuesday.
Bolsonaro did not want to know about a mask, and he therefore did not feel it necessary for Brazilians to wear it. He even started one in March campaign against "unnecessary" distance and strict corona measures in his country.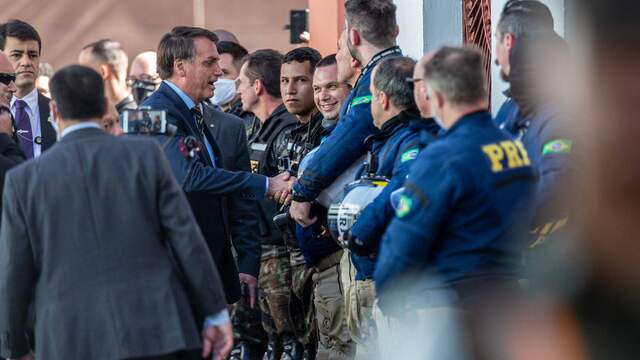 Bolsonaro shakes hands with Brazilian military personnel in Porto Alegre on April 30. (Photo: Pro Shots)
"Life goes on, the economy has to run"
Bolsonaro repeatedly said that 70 percent of the population cannot be prevented from getting sick. "People just die once. We are sorry for all the deaths, but this is everyone's fate," he said with a shrug.
According to the president, the measures taken by local authorities to shut down the economy cause more misery than if you let the virus take its course. Several times he insisted that the economy should run again in his country and argued thereby with everything and everyone.
"Life goes on. Brazil has to produce. You need to accelerate the economy," he said.
Highest right whistle Bolsonaro returns
On June 9, Bolsonaro whistled back by the Brazilian Supreme Court. It again forced the Brazilian government to publish information about the corona crisis in the country, after the Ministry of Health decided shortly before that to remove figures on the total number of infections.
According to Bolsonaro, these figures "did not give a good picture of the country's situation". The Court disagreed with this and ruled that all data should be made public again immediately, because otherwise the government could not be controlled.
Facebook and Twitter removed late March videos of the Brazilian leader for spreading false information about the coronavirus.
Bolsonaro Celebrates American Holiday Despite Virus Symptoms
Bolsonaro has now canceled a planned domestic trip for next week due to his infection. He has promised to work from home and only receive people if he has to sign something.
Bolsonaro already showed symptoms of the virus last weekend. He was tested and had a scan of his lungs.
Nevertheless, he still celebrated American Independence Day with the American ambassador to Brazil on Saturday. On social media, the president shared photos in which he was close to the ambassador, several ministers and assistants. Nobody wore a face mask.
.