Publicity
Chinese company Huawei just announced the release of a new wireless speaker, la Huawei Sound. In partnership with Devialet, this new model was eagerly awaited by music fans. Indeed, in 2019, Huawei and Devialet had already collaborated to offer the Huawei Sound X. It is moreover this enclosure which had democratized high-end audio and acoustics among all music fans.
Huawei Sound: compact design and powerful sound
This new version of living room speaker offers a rather small design, compared to anything you can find on the market. Equipped with four loudspeakers, this technological feat symbolizes the success of the association between Huawei and Devialet. Thus, at the heart of Huawei Sound, we find a 4-inch woofer with a power of 40W, to which are added three speakers of 5W each. This combination allows the speaker, in opposition to its discreet design, to deliver pure sound of up to 90 dB, without suffering any distortion.
360 ° sound throughout a room with Devialet SPACE ™
With a particular internal arrangement, where each loudspeaker covers an area of ​​120 °, the new Huawei Sound is capable of delivering 360 ° sound in order to offer an even more immersive sound experience.
This technology is improved by Devialet SPACE ™, which provides the necessary sound corrections in order to optimize this high quality ambient sound.
Publicity
A simple connection system between all devices
The new Huawei Sound also incorporates a " tap-to-transfer« . This makes it easy to get sound from a phone to the speaker in a snap.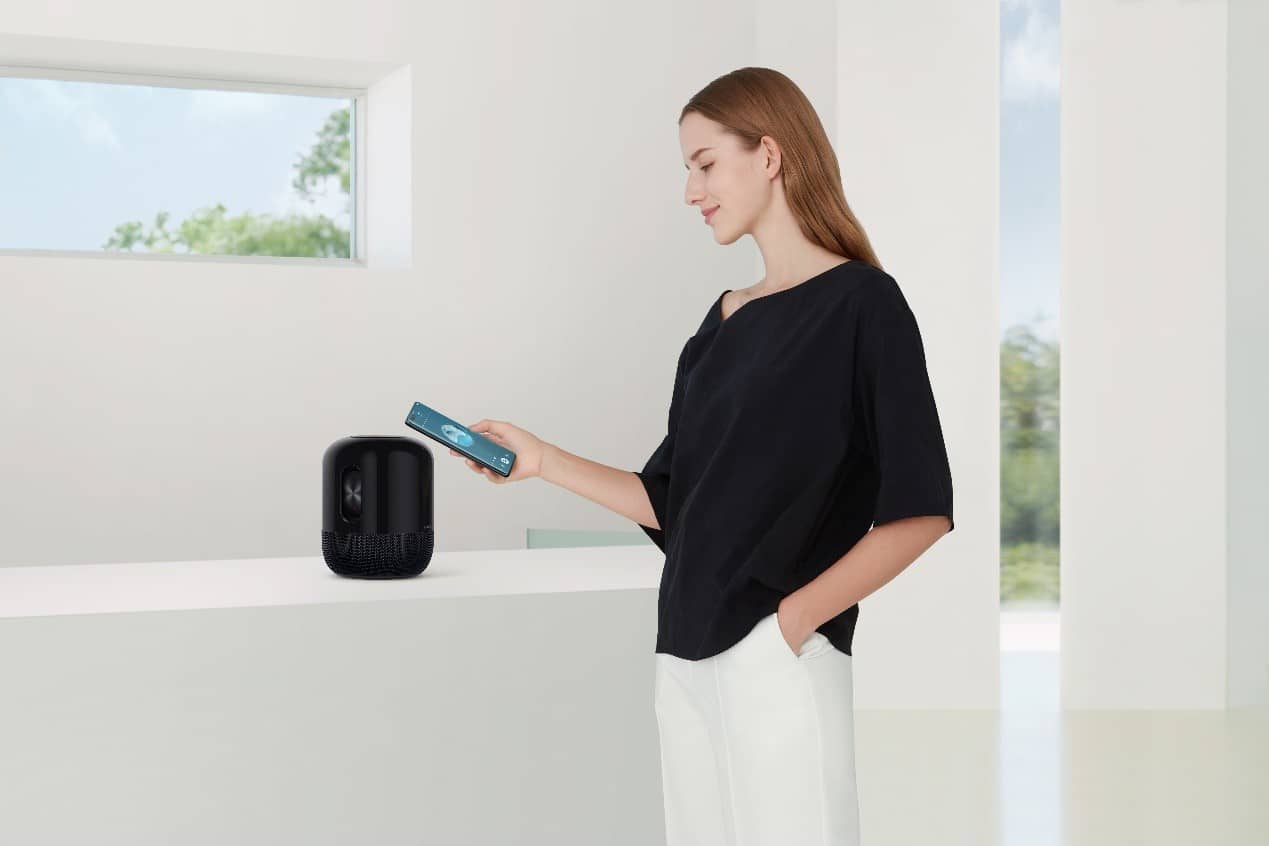 Indeed, this new technology of " tap-to-transfer » offers the possibility to "tap" the Huawei Sound with its device in order to connect it to the speaker and thus automatically launch sound playback on the Huawei Sound. With a Bluetooth connection in LDAC, up to 990 kbps, the speaker will guarantee very high quality sound without any problem!
Publicity