2023-05-24 12:27:22
Einstein incorporates HUGO in its robotic park, an unprecedented equipment from Medtronic in Brazil
Einstein is the first hospital in Brazil to incorporate and use Hugo, a new robotic-assisted surgery system from Medtronic, a global leader in health technology. With modular arms that allow flexibility in accessing different structures of the human body and a wide range of motion, the Hugo™ RAS system features an open console with a 3D screen that allows visualization of the area to be treated, greater ease of communication for the surgeon. with the team, in addition to ergonomic resources to ensure the comfort of professionals.
The first surgery with the Hugo™ robotic assisted surgery (RAS) system took place in early May
The Hugo™ RAS system arrives to complement Einstein's pioneering spirit in the field of robotic surgeries in the country, which in 2023 celebrates the 15th anniversary of its first procedure. Since 2008, the organization has performed more than 11,000 robotic surgeries. Between 2021 and 2022 alone, there was a 75% increase, from 1,200 to 2,100 surgeries.
Goiânia Unit
Last year, Einstein Goiânia also started performing robotic surgical procedures: so far there have been 500, including urological, gynecological, coloproctological, general, thoracic, head and neck surgeries. In addition to its private units, the organization allocated one of the robotic platforms at the Hospital Municipal Vila Santa Catarina – Dr. Gilson de Cássia Marques de Carvalho, in São Paulo, which is managed by Einstein. The unit is the first of the municipal hospital network in the country to have the technology.
Minimally invasive robotic surgery allows for a more precise procedure with less bleeding and offers patients a faster recovery with less pain, allowing for a quicker return to everyday activities.
robotics in medicine
"Einstein plays an important role in the health scenario in the country and this involves advances in robotics in medicine, which is an area that evolves quickly in terms of new equipment for different types of surgeries and devices. The organization has a Surgical Innovation area created especially to be this new radar, in which several criteria are evaluated in the incorporation of technologies. The Hugo™ RAS system arrives to complement our park, aligned with our purpose of delivering quality health and patient safety", says Dr. Sidney Klajner, president of Einstein. "And more than operating these technologies within our units, we are committed to disseminating practical knowledge of robotics, expanding the number of professionals able to perform this type of procedure. We are the first certifying center in robotic thoracic and head and neck surgery in the southern hemisphere, and we are already training specialists from all over Latin America and from other parts of the world in the modality", he says.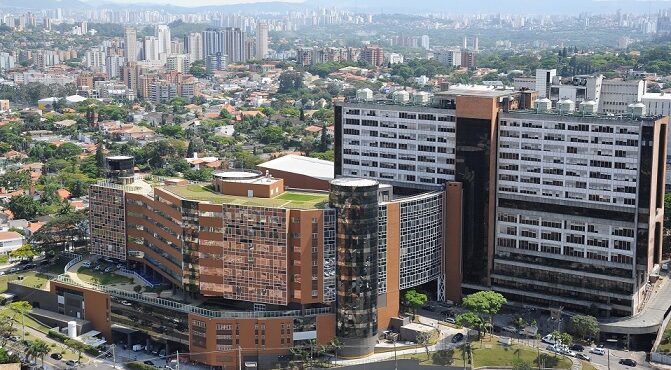 Training of surgeons totals more than 1000
Since 2020, Einstein has established itself as an Academic Center, being the first teaching platform in Latin America to adopt the full curriculum of robotic surgery in its medical residency, improvement and postgraduate programs, allowing them to be qualified upon completion. . To date, the Einstein Center of Excellence in Robotic Surgery has trained more than 1,000 surgeons, 10% from countries outside Brazil, including 15 from Latin America and India.
Hugo system reinforces robotic surgery capacity
"With the arrival of the Hugo™ RAS System, Einstein reinforces its therapeutic arsenal, reaffirming its role in robotic surgery, as well as its applicability together with the clinical staff and all its experience, humanization and constant updating. A set of actions that gives the organization solid performance", says Nam Jin Kim, medical director of Surgery and Robotic Surgery at Rede Cirúrgica Einstein and general coordinator of postgraduate courses in Robotic Surgery in Teaching.
"With a shared vision for the role of robotic-assisted surgery in expanding access to the benefits of minimally invasive surgery to more patients, we are proud to partner with Einstein," said Carla Peron, MD, chief medical officer and vice president of research. clinical and medical science for Medtronic's Surgical Unit. "I am especially excited about the opportunities this technology creates for patients in my country, always at the forefront of medical advances," says the executive.
Drawing on more than 60 years of experience, Medtronic has developed the Hugo™ RAS system in collaboration with surgeons and hospital leaders in different countries, with the aim of expanding access to minimally invasive surgery to greater numbers of people in different settings.
Modular system, Hugo combines wrist instruments, 3D imaging and Medtronic Touch Surgery™ Enterprise, a cloud storage solution that allows the capture of surgical videos, which has dedicated support teams specialized in optimization, service and training of robotics programs. Touch Surgery™ Enterprise is a first-of-its-kind AI platform that simplifies surgical video sharing and provides surgeons with a powerful new training tool.**
Hugo RAS system present in 5 continents
Today the Hugo RAS system is used in urological, gynecological and general surgery procedures in hospitals across five continents. In Brazil, for the time being, Hugo has been approved for urological and gynecological surgeries.
The Hugo RAS system is available in some countries. Regulatory requirements and status in individual countries and regions will determine the market availability of the Hugo RAS system and approved indications.
**Touch Surgery™ Enterprise is not intended to direct surgery or aid in the diagnosis or treatment of a disease or condition.
About Medtronic
Bold thinking. Bolder actions. We are Medtronic. The company is headquartered in Dublin, Ireland and is the global leader in health technology courageously tackling the most challenging health issues facing humanity by researching and finding solutions. Our mission – to relieve pain, restore health and extend life – unites a global team of more than 90,000 people in more than 150 countries. Our technologies and therapies address 70 health conditions and include cardiac devices, robotic surgery, insulin pumps, surgical equipment, patient monitoring systems and much more.
Fueled by our diverse knowledge, insatiable curiosity and desire to help those in need, we deliver innovative technologies that transform two people's lives every second, every hour, every day. Expect more from us as we empower insight-driven care, experiences that put people first, and better outcomes for our world. In everything we do, we are designing the extraordinary.
1684932633
#HUGO #Einsteins #robotic #surgical #equipment