Despite her long history, she still carries within her that child who started working from an early age. Her happiness was indescribable by obtaining the honor she had always dreamed of, and wished to obtain. It is her mother's dream and hope throughout her life and until her death. Therefore, the star Lebleba confirmed in her interview with Al-Arabiya.net that she wished that her mother would be alive, and that she would be present between the scenes so that she would be happy to be honored at the Cairo Film Festival.
And she confirmed that she is happy for this honor, despite being honored in many festivals in Luxor and Aswan, the Narrative Festival, the Film Society and the Alexandria Festival, and she hopes that she will always be at the audience's good expectation of her.
* Honoring you at the Cairo Festival had a different meaning?
** Indeed, I have been honored in many festivals in Luxor and Aswan, the Narrative Festival, the Film Society and the Alexandria Festival, but honoring the Cairo International Film Festival is different and comes at a very appropriate time. And I was happy because the audience met me very nicely, and there was a state of sincerity when I met people, so I did not arrange what I said, so what I felt I said, and when I started talking about my mother, I found them affected, and their eyes teared, so I said I cannot leave them with tears in their eyes. I loved to make them laugh, so I told how my mother gave birth to me in the cinema so that I would leave them a smile, and everyone drowned in hysteria of unexpected laughter. Also, I cannot forget the good days that I lived in the festival, and I hoped for the success of the festival. Indeed, the festival succeeded, the people were happy, the level of the films was very great, and there was a beautiful system.
How did you feel when you were on stage?
** I had a feeling of fear the moment I entered the stage, and I was greeted with applause and a warm reception, but I felt people's love and appreciation for my career, and I felt after 3 seconds "that the audience is in my lap", and based on this situation, I will not forget this day throughout my life. For the first time, people share my joy on my birthday, and I usually do not celebrate this occasion for years, especially since the death of my mother, who was celebrating it with my relatives, and the truth is that I am happy with the feelings of my colleagues towards me, and I left the venue of the party, which is "heated" in the language of the theater.
Do you miss the presence of your mother in your life?
** Yes, when the artist Hussein Fahmy informed me of the news of my honor on the phone, I flew with joy, and I had different feelings at the time, but my mother was the first to come to my mind, and I recalled my memories with her from childhood, and how I used to look at her after I finished filming any scene, to know her opinion . I remember that the director, Hassan al-Imam, spoke to me during the filming of "My Story with Time," saying: "Why do you look at your mother when I say stop?" I replied, "Until I see whether she is satisfied or not?" He said, "I am the director, by the way." And the truth is. My interest in knowing my mother's opinion is due to her extreme honesty with me, as she used to tell me her opinion clearly about my performance.
* Lebleba's appearance in art festivals is always different and distinctive.. How do you see art festivals?
** Art festivals are a different life and full of interesting events, good works, and most of the stars are keen to be there in order to benefit from watching works and cultural exchange, and I love the Cannes Festival very much, and I am keen to attend it for many years to develop myself and my work. I made a trip to the festival the first time when I was 18 years old, and I used to see films from different countries, and I used to play different roles, because I love cinema and art, and I wanted to educate myself in all films, and my trip to the Cannes Festival benefited me very much.
* What about your new business in the coming period?
** I am currently filming a new cinematic work with both Mona Zaki and Mohamed Heneidy, and I have a number of scenes left to finish filming all the scenes of the work, and I play the character of the mother of the artist, Mohamed Heneidy.
* How did you find working with Mohamed Heneidy after an absence of 15 years, and for the first time with Mona Zaki?
** Working with Mohamed Heneidy is good and different, and the first cooperation between us was 15 years ago in the movie "Wish Icrim." Heneidy did not differ in the comedy he presents. I describe Mona Zaki as a great artist, and the work is shared by both Ahmed El Saadani and Reem Mustafa, then Aser Yassin. , Ahmed Halawa, Arefa Abdel Rasoul, and Tara Emad, and its events take place in a comic framework, directed by Islam Khairy, and written by Omar Taher.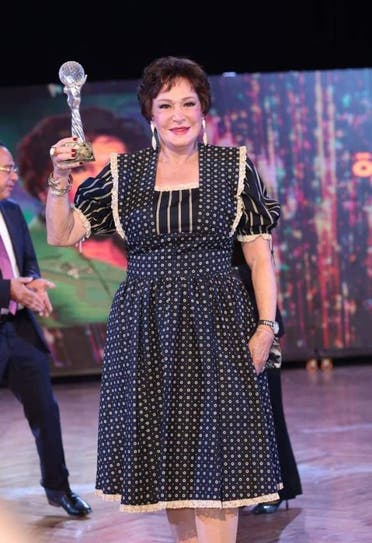 The artist Lebleba
What about theater in Lebleba's life?
** The theater went through a difficult period that affected it somewhat, but it returned again to its splendor in the last period, and some theatrical works were able to achieve high revenues, and they have great fame, and I consider theater a large part of my life, and all my artistic beginnings were through it.
* Would you agree to a theatrical work if it was offered to you?
** If the theatrical work is distinct and different from the rest of the theatrical work, why not?, I agree to present it, and I consider theater as schools, each one different from the other, and there are a number of young people in the current period presenting good and beautiful works on the stage that must be taken care of.
Is there still a character that Lebleba dreams of presenting?
** I wish to present a film for children, and my role will be small, and the children are the heroes, as Anwar and Jedi did with me. I also hope to present the role of "disabled" people with special abilities because I love them and for a large period of my life I used to visit them and always meet them and know the extent of the difficulties they face and the challenges they face. The year 2018 was the year of people with special abilities, according to the initiative of President Abdel Fattah El-Sisi, who really cared about them, and therefore I hope to provide them with work that expresses them.
* A career full of successes and distinguished works in cinema, drama and theater as well. How do you evaluate yourself?
** Frankly, what I have presented throughout my artistic life and so far I consider it only half of my artistic abilities, and I have many talents that have not been discovered yet, because every artist is governed by the roles that are offered to him, and the works that he presents, but there must be roles and personalities that I wish to present, And if you offer me, I will agree to present it immediately.