To stay up to date on African news, subscribe to the "Monde Afrique" newsletter from this link. Every Saturday at 6 am, find a week of current events and debates treated by the editorial staff of "Monde Afrique".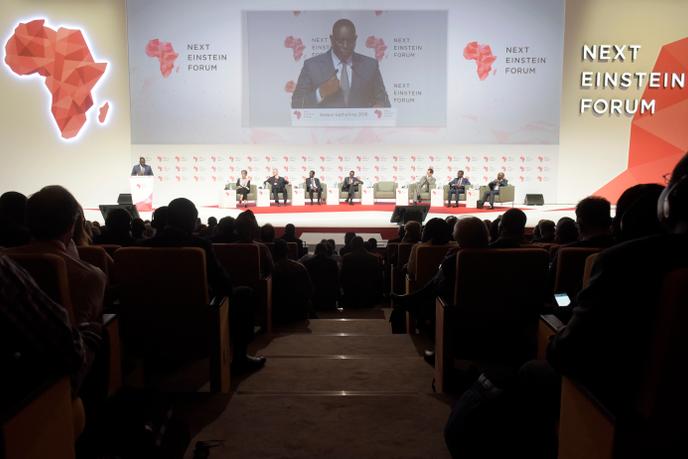 Samiratou Ouédraogo still remembers the click. It was in 2016, the Women in Global Health movement, launched in the United States, publishes a list of global health researchers which gives pride of place to scientists from developing countries. A doctoral student in health in Montreal, the young woman and her colleagues are faced with the evidence that "Only 5% of women are French-speaking", she says today.
Two years later, they jointly launched the French version of the list, but the observation continues that English speakers are keeping their pace. If we focus on sub-Saharan Africa, Unesco, in its report on science, highlights this delay. Women represent on average 26.9% of African researchers in English-speaking countries, against 20.9% on the French-speaking side. With many disparities between countries, Senegal and Madagascar in particular pulling the average upwards.
Episode 1
In Africa too, women prefer medicine to engineering sciences
Why is it even more difficult to focus on science in French-speaking lands than in English-speaking Africa? Should we postulate that, in the days of the colonies, the universities under construction drew a little too much inspiration from the Sorbonne and the Latin Quarter to develop literature and the humanities more than the hard sciences? This could explain why 80% of students entering university today in Senegal rush into these sectors.
In addition to this weight of heritage, there is the increasingly high cost of laboratory installations in many scientific disciplines. Even if many collaborations and exchanges try to rebalance the situation. This difference, the Cameroonian immunologist Rose Leke also considers it due to the language. At the bilingual University of Yaoundé where she teaches, the latter sees her French-speaking students leave with an additional handicap. "Francophones often do not have sufficient command of scientific English to read specialist journals", regrets the one who took advantage of American universities at the start of her career.
Two worlds, two speeds
This gap would even tend to widen over the careers for those who do not have the chance to switch to the English-speaking side. Because the two worlds do not evolve at the same speed. "Anglophones are more active in building networks, Samiratou Ouedraogo analysis. And they do not hesitate culturally to cooperate between universities. "
This dynamism can be seen through more successful South / South partnerships, in particular thanks to South Africa, and North / South, which have difficulty breaking free from old colonial relations.
Episode 2
Faouziath Sanoussi, the science of good nutrition in the skin
The problem is also referential, according to Youssef Travaly, founder of the think tank All Sights Africa, responsible for promoting science on the continent. "Whether in English or French speaking Africa, a scientific article is considered good when it is published in Nature or Science, two American journals. There is no African reference, although research there is different from the Western world, more focused on impact for a society. There is a lack of a platform to promote African publications, and why not in French ", he specifies.
If the scientific breeding ground is globally different between the English-speaking and French-speaking areas, African women must, on both sides, confront the patriarchal barrier, which they have sometimes integrated at their expense. A Congolese physicist even speaks "Self-censorship".
Overcome the barriers
"There is a problem of confidence among the students, who are prohibited from certain subjects considered difficult. Myself being young and passionate about mathematics, I was sometimes told: "Deep down you must be a man if you like it" », she still annoys today. And this gender disparity persists throughout a career according to Unesco, since women scientists are confined to subordinate positions, with few possibilities for advancement.
Contrary to this vox populi, an understanding family can be a springboard. If Francine Ntoumi, specialist in malaria, succeeded in building the second largest laboratory in Brazzaville, it is, according to her, thanks to her parental model. "I was born while my parents were still students and grew up watching them climb the social ladder with their degrees. Subsequently, they always urged me to continue my studies, on a par with my brother ", observe the one who saw in them models to copy.
Read also
These women who work for the scientific influence of Africa
Francine Ntoumi, Rose Leke and Samiratou Oueadraogo all campaign for the place of women in their French-speaking world. "We must go to the young girls, believes Francine Ntoumi, the first African woman to have won the Georg-Forester Prize, which rewards researchers for work carried out in their country of origin. Young girls must be shown that there are role models. "
"There have always been barriers, continues Samiratou Ouédraogo. You have to learn to deal with it. " In 2019, while the famous British scientific journal The Lancet wondered about the place of women in the scientific world, the Burkinabe woman gave avenues for "Depatriarchalize science for French-speaking women", for example by proposing the introduction of gender policies in French-speaking universities.
"The next Einstein will be African"
In Cameroon, Rose Leke, via the Higher Institute for Growth in Health Research for Women (Higher Women) Consortium that she created in 2015, developed a mentor / protégé type program. Each scientist with less than five years of experience can benefit from the expertise of one of his peers, his networks, his advice to carry out research work and be published.
"Once a year, we hold a seminar to assess progress. There is this important moment when we organize conversations around campfires. All problems can be tackled there. For example, one of our sisters was expecting a child: we helped her put together a logistics plan and plan a schedule so that she can continue working ", she specifies. Support that translates into private life, since husbands are invited to certain meetings to be made aware of the realities of their wives' profession.
Read also
Being a woman in Africa: "We must always prove that we are capable"
The network remains one of the strengths on which the women of the continent can rely. As such, initiatives are multiplying. The Next Einstein Forum was created in 2016 with the ambition to believe that "The next Einstein will be African. "
The platform connects scientists from all over the continent, across language barriers, often young people, and half of them women. "We have succeeded in creating a scientific community, wants to believe Youssef Travaly, his former vice-president. Synergies become possible. "
Anyway, over the years, Francine Ntoumi has seen the emergence of a less complexed generation: "It's a silent revolution, which is being done step by step. " But this remains a real political choice everywhere, one more urgency for the already drained national budgets. Because when we devote less than 1% of national budgets to research, as is the case everywhere on the continent, it is obviously too little credit for women to get started.
Follow our new miniseries "In Africa, feminine science"
Woman, scientist and African … In 2020, this triptych is still complicated to bring to life. Despite the advances of recent years, of the few names that are beginning to emerge, putting these three words together is still not obvious on a continent which more than the others needs science to move quickly, with its own patterns, towards Development.
Even more in French-speaking Africa than in the English-speaking part of the continent, even more in mathematics or physics than in medicine, getting into science remains a real adventure when you are a high school student, despite multiple initiatives to encourage young people. African women to dare these choices.
With the proliferation of science weeks in countries with scholarships offered to the most talented scientists, Africa is on the move but needs examples, models that remind us that it is possible and important for the entire planet.
Episode 1
In Africa too, women prefer medicine to engineering sciences
Episode 2
Faouziath Sanoussi, the science of good nutrition in the skin
Episode 3
Daring science remains more complicated in French-speaking than in English-speaking countries