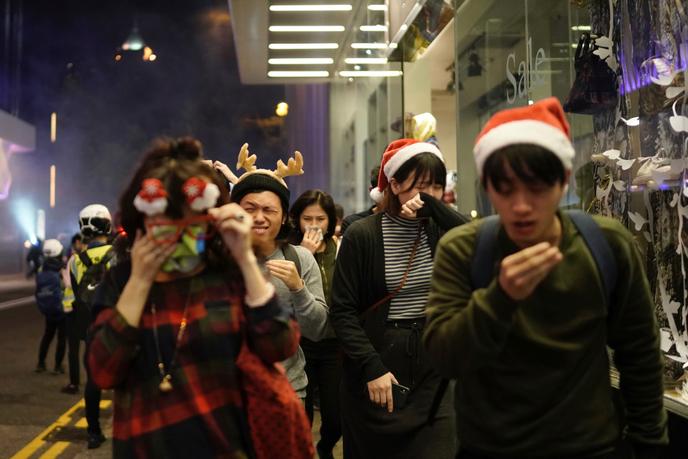 Violence resumed in Hong Kong on December 24, 25 and 26, mainly in shopping centers in crowded areas like Causeway Bay, Mong Kok, Tsim Sha Tsui or around shops deemed "pro-Beijing" by the demonstrators. The police again used pepper spray and tear gas to disperse the demonstrators. A total of 310 people were arrested. Carrie Lam, the chief executive, accused the protesters of " ruin " Christmas celebrations.
In addition to new flashmob operations decided at the last moment, the coming days should be marked by a new mobilization: the Civic Front for Human Rights, the organization which calls for most major anti-government actions, is organizing a new demonstration on Wednesday 1st January in Victoria Park, the traditional place for mass gatherings in Hong Kong.
Article reserved for our subscribers

Read also
2019, "annus horribilis" for Xi Jinping
The relative calm which followed the massive victory of the pro-democracy candidates in the local elections of 24 November seems to be over. More than six months after the first major protests on June 9 and 16 against a bill allowing extraditions to mainland China, the conflict seems to be at an impasse. Although this project was withdrawn at the beginning of September, a large majority of the population continues to support the three main demands of young people: democratic elections, the launching of an independent investigation into police violence and amnesty for arrested persons ( whose number has exceeded 4,000).
Reinforced role of Beijing
For her part, Carrie Lam seems to have only an extremely limited room for maneuver. In this special administrative region managed since 1997 by the principle "one country, two systems", the role of Beijing has not ceased to strengthen. Contrary to several assertions by Carrie Lam and her entourage, testimony published in December by the Reuters agency shows that it was mainland China which pushed the government of Hong Kong to prepare the extradition bill which put powder fire.
Article reserved for our subscribers

Read also
Police attack funding for activists in Hong Kong
For several weeks, Chinese leaders have not missed an opportunity to remind Carrie Lam that they expect her to restore order to this territory of 7.4 million inhabitants. But, instead of accepting any new concessions, they urge it to promulgate article 23 on national security. This article, which was provided for in the Constitution but never entered into force – due to the opposition of the Hong Kong people in 2003 – would facilitate repression, and in particular to prohibit any support by foreign NGOs for the demonstrators. For Chinese leaders, the law passed in December by the United States, which could call into question each year the special status of Hong Kong vis-à-vis the international community, is proof of the manipulation of Hong Kong opponents by the Americans.