EU leaders meet next week in Brussels in search of a common response at European level to the economic consequences of the corona crisis. The Netherlands does not want billions to be transferred to Southern Europe just like that, but is increasingly alone in this. Is there still a goat path for Prime Minister Mark Rutte?
Already in March, the strict Dutch course was set that every euro must be repaid and that conditions and emergency assistance go hand in hand.
Finance Minister Wopke Hoekstra did it preliminary work in the Eurogroup and it is up to Rutte to further develop this line. Is there still room to move for the Prime Minister now that he has gradually lost his loyal ally Germany?
Mathieu Segers, professor of contemporary European history and European integration at Maastricht University, thinks so. "Despite all the dust clouds, Hoekstra also said that the Netherlands wants to be constructive," says Segers.
In the proposal The European Commission is talking about subsidies of hundreds of billions for countries that have been hit hard by corona and now need to get the economies working again. That is mainly the south. "Grants are not gifts," Segers emphasizes. "You can attach conditions to subsidies. This is an emergency package so that the internal market can keep working. That's what it's all about."
Thoughts go back to the euro crisis
"It's always a bit of give and take," said Amy Verdun, professor of European politics and economics at Leiden University. "Rutte creates space to negotiate. Ultimately, there will be a compromise this month or after the summer, I am convinced. Of course Rutte will not get his way, but in the end everyone agrees."
Europe and emergency funds. Thoughts quickly go back to the euro crisis in 2010. Greece, among others, was saved from destruction under strict conditions. Not so much by the European Commission, but especially by the European Central Bank (ECB) and the International Monetary Fund (IMF). The three of them formed the controversial and so hated Troika in Greece.
"At the time, too little was done to really solve the crisis," Segers says. The Netherlands felt comfortable in that position and, as always, worked together with Germany on socio-economic issues.
But from the south, resistance to this tough approach is now strong. And more important for the Netherlands: Chancellor Angela Merkel has turned in this area. "Germany is now leading the way. That is really a game changer. The country was always waiting for this," says Segers.
Rutte is therefore searching in Europe, Verdun also sees. "The Netherlands and Germany are often on the same page, but Merkel in particular has now gone in a different direction, without consulting Rutte. The Netherlands was a bit out in the cold."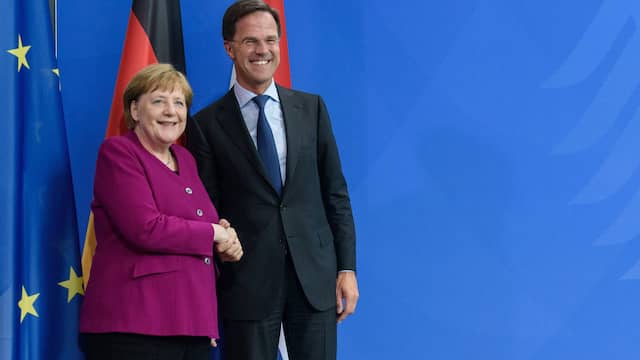 Merkel and Rutte at a meeting in May 2019. (Pro Shots)
"Politics should not let problems be solved by ECB"
According to both professors, the turn has to do with the fact that Germany will be EU president for the next six months. Merkel is keen to conclude an agreement during that period.
But according to Segers, it is also important that the Federal Chancellor wants to prevent a repeat from 2010. "Political responsibilities were then outsourced to technocratic institutions such as the IMF and the ECB. Merkel now also sees that this is not a real solution."
In addition, the German politicians are forced by the Constitutional Court to take matters into their own hands. The highest German court recently made comments on the legality of ECB buy-back programs. Segers: "There the shore turns the ship. You can't pass everything on to the central bank."
This is how all these issues come together: an external crisis and politicians who must take responsibility through legal rulings.
"This is an important test for politicians," said Segers. "You have to know when to make a decision or not. You have to recognize that moment and Merkel has seen that. That is what is happening now. Corona is in a way separate from that, but has accelerated that process."
'Temporality of measures crucial for Rutte'
The question now is when Rutte will join. Last week, the prime minister said that an agreement at the upcoming summit for him "no need" is.
That is negotiating tactic, Verdun believes. "Other heads of government must now meet Rutte." She warns that you should not push your sentence too far. "It is looking for the right balance. It will not help anyone if they can't work it out together."
Whether or not there will be an agreement next week, Rutte will have to explain the results in the Netherlands without giving up any of his 'thrifty promise'.
"He'll figure it out," Verdun suspects. "Think of loans with very long repayment terms or subsidies for temporary projects that only combat the consequences of corona. You can think of anything."
It is crucial for Rutte that the measures, whatever comes up in Brussels, are temporary, says Segers. The corona crisis will pass once, no structural solutions are appropriate. In that discussion, Rutte Merkel finds him again.
The Maastricht professor knows that temporality can only become permanent. "That is what the negotiations will be about. Northern European countries will prefer the strictest possible measures with an end date."
.