Song Min-kyu stepped on the Taegeukgi during a group photo shoot
Netizens flooded social media with criticism
"I was so happy that I didn't know I stepped on it" and finally apologized
While Korea accomplished the splendid feat of securing a ticket to the World Cup finals for the first time in 12 years since the 2010 World Cup in South Africa, national team member Song Min-gyu (Jeonbuk), who was criticized by some netizens for stepping on the national flag after the game, finally bowed his head.
On the morning of the 3rd (Korean time), the Korean national team, led by coach Paulo Bento, defeated Portugal 2-1 in the final Group H match of the 2022 Qatar World Cup group stage and advanced to the round of 16 as second in the group. South Korea, which allowed Portugal the opening goal 5 minutes after the start of the game, laid the foundation for a reversal with Kim Young-kwon's equalizer in the 25th minute of the first half, and succeeded in reversing with a 'theater goal' by Hwang Hee-chan, who was substituted in the 46th minute of the second half.
The players who enjoyed the joy after the game, such as holding a ceremony, took a commemorative group photo. At this time, Song Min-gyu stepped on the Taegeukgi on the ground while moving his seat. Some football fans raised a point about this.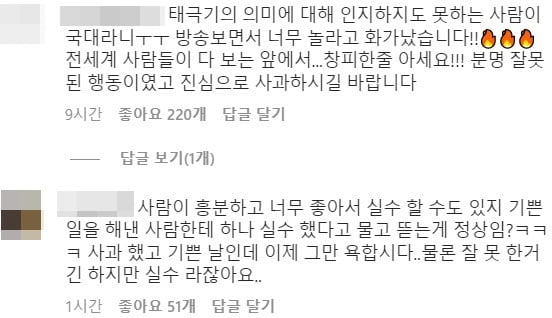 One netizen said, "I was so surprised and angry watching the broadcast that a person who does not even know the meaning of Taegeukgi is a national team member." In addition, netizens left negative comments such as "It's really embarrassing that a person named Gukdae is stepping on the Taegeukgi" and "He has no common sense."
On the other hand, there were also responses such as "It's a happy day, let's stop swearing at it", saying, "People can make mistakes because they're excited and they're so good.
When the controversy intensified, Song Min-gyu posted on his Instagram, "After the game, I was so happy that I didn't even realize that I had stepped on the national flag." I'll be careful," he apologized. However, despite Song Min-gyu's apology, some netizens are raising doubts about the sincerity of the apology given that he posted an apology on 'Story', which disappears 24 hours after being posted.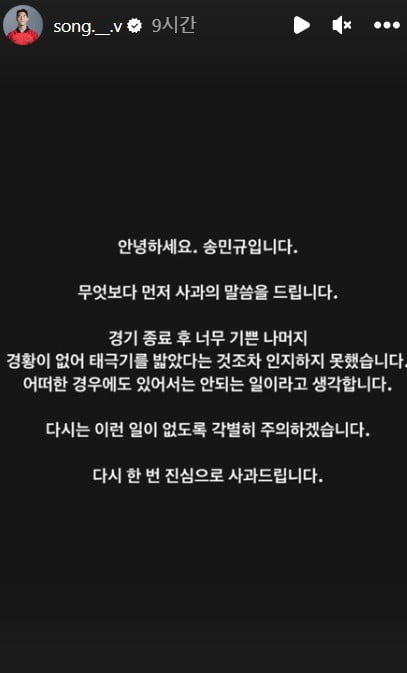 Hong Min-seong, Hankyung.com reporter [email protected]