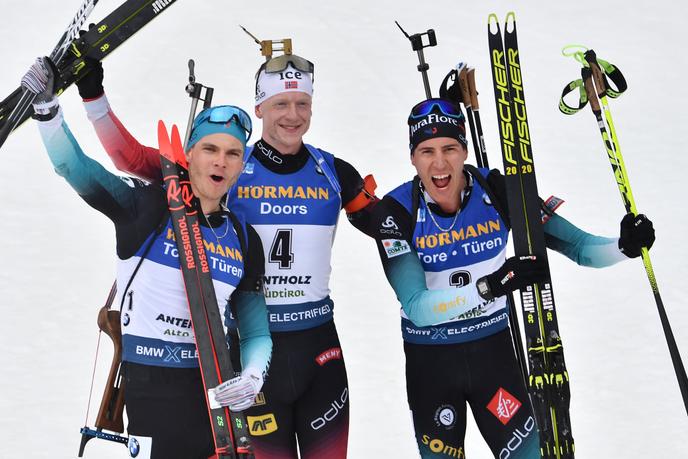 He hadn't yet won the individual world championships. Sunday February 23, Johannes Boe remedied all this by winning the last World Cup event, the mass start in Anterselva (Italy) in front of two Frenchmen, Quentin Fillon Maillet and Emilien Jacquelin.
Author of a flawless shooting, the Norwegian ran from start to finish and was never worried. Faster on skis today, Quentin Fillon Maillet quickly returned to the leading group of three Norwegians (Johannes and Tarjei Boe and Johannes Dale) after an error on the first shot. But his foul in the third standing shooting session brought him back to the penalty ring again and allowed Boe to go solo for the world champion title. A third fault by the Frenchman on the last shot put an end to any possible recovery.
Read also
Biathlon worlds: Johannes Boe wins ahead of Fillon Maillet and Jacquelin in the mass start
"I came to get the gold medal, but I will be happy with the money. Johannes Boe was very strong today ", summed up Quentin Fillon Maillet on arrival at the L'Equipe channel. "I gave him the chance by making three shooting mistakes. I am happy with my race management because, even with three faults, I finish second. "
Emilien Jacquelin snatches the bronze
But if the first two places were quickly known, there was, despite everything, suspense on this last lap. Emilien Jacquelin came out in third place a few seconds after the fourth and last shot, and saw Tarjei Boe quickly come back on him. But as in the pursuit, where he had played perfectly against Johannes Boe to win the world title, he managed this return and was able to attack at the right time in the last meters to take the bronze medal.
The last two French contenders did not deserve it. Simon Desthieux finished in fifth place, ahead of the Austrian Felix Leitner. Quite imprecise compared to these last weeks, Martin Fourcade (17/20 in shooting) is seventh.
Read also
Biathlon Worlds: Martin Fourcade's return to the top
With these two new medals, the Blues left the Italian Worlds with eight medals (three in gold, two in silver, three in bronze). In addition, Martin Fourcade maintains his first place at the top of the general classification of the World Cup with 788 points. Quentin Fillon Maillet is still second at 76 points, and Johannes Boe takes advantage of his victory to return to less than a hundred points (98) from Fourcade.