BTS (BTS) Jungkook poses at the photo wall event in the digital music division of the '35th Golden Disc Awards with Curaprox' held on-tact at KINTEX, Ilsan, Goyang-si, Gyeonggi-do, on the afternoon of the 10th. (Provided by the Golden Disc Awards Secretariat) 2021.1.10/News1 © News1 Reporter Jinhwan Kim
It is known that Jungkook, a member of the group BTS, donated an apartment worth 4 billion won to his older brother.
On the 16th, Biz Korea reported that BTS Jungkook donated an apartment on the 17th floor of Yongsan City Park to Seobinggo-ro, Yongsan-gu, Seoul in December of last year to his brother Jeong-hyeon Jeon. The mortgage was set at '0 won' and 100% cash. Jungkook bought the apartment in July 2019 for 2.98 billion won.
According to the media, when Jeong-hyeon Jeon received the apartment as a gift from her younger brother Jeong-guk, he had an address on the resident registration certificate in the apartment.
Jungkook's older brother, Jeon Jeong-hyeon, was born in 1995 and is a famous figure among the BTS fan club 'ARMY' by drawing pictures of BTS members while working on Instagram under the name 'Sir,'.
The media said that it is not known whether Jungkook and his brother lived in the same apartment, and there is still no confirmation on how Jeon Jeong-hyeon raised the gift tax.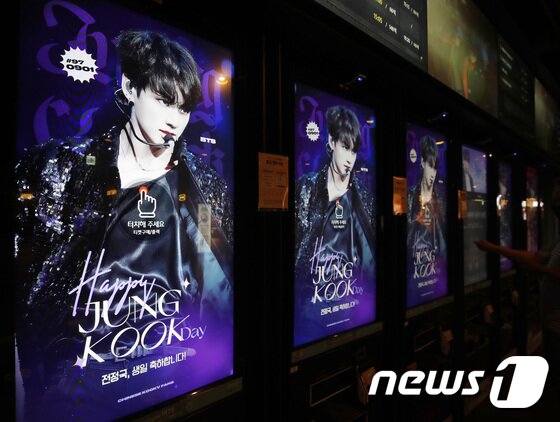 On the afternoon of the 30th, at the ticket box of the CGV movie theater in Yongsan-gu, Seoul, an advertisement for the birthday of BTS Jungkook, who will be celebrating his birthday on September 1, is displayed. The fan account 'MADE IN 1997' will open the 'Jeonjeongguk Pavilion (5 halls)' at the Yongsan I'Park Mall 'CGV' from the 5th to the 4th of September to commemorate Jungkook's birthday. 2021.8.30/News1 © News1 Reporter Hyunjin Kwon
The apartment given by Jungkook is in a station area close to Ichon Station on Subway Line 4 and Gyeongui Jungang Line, as well as Yongsan Park and the National Museum of Korea. Former golf player Pak Se-ri and model So-ra Lee also live in this apartment.
The apartment consists of a living room, kitchen/dining room, 4 bedrooms and 2 bathrooms, and the monthly maintenance fee is said to be about 800,000 won. The sale price of this apartment is currently estimated to be close to 4 billion won. Real estate experts also evaluated Jungkook's gift as "reasonable tax savings."
Jungkook previously purchased a 21-pyeong apartment in Seongsu-dong, Seongsu-dong, for 1.95 billion won in July 2018, and sold it for 2.05 billion won in October last year.
Meanwhile, Jungkook, the youngest member of BTS, was born in 1997 and is 25 years old this year. Debuting as a global boy group BTS in 2013, he ranked first on Twitter in 2017 and 2018 in 'Korea's Most Retweeted People', 2019 in 'World's Most Retweeted Tweet', and in 2020′ It was also ranked #2 on the world's most retweeted tweets.