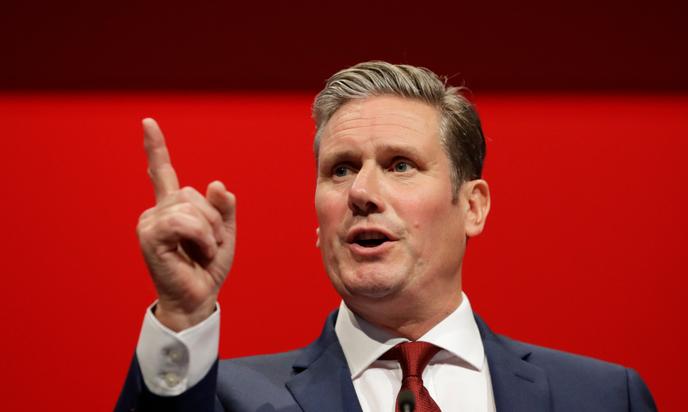 The announcement should have been made at a special conference in central London. A big mass bringing together probably thousands of Party members. There is obviously no longer any question of all this, in the midst of an epidemic caused by the coronavirus. It was therefore on the Labor website that the name of Jeremy Corbyn's successor was announced on Saturday, April 5 at the end of the morning. Unsurprisingly, as he started as favorite last January, he is Keir Starmer, a 57-year-old lawyer.
The former "Secretary of State for the Exit from the European Union" in the shadow cabinet of Jeremy Corbyn was appointed by 56.2% of the votes of the 580,000 members of the Labor Party, an impressive victory, leaving far behind its two competitors, Rebecca Long-Bailey and Lisa Nandy. "It is an honor and an immense privilege" he said in a long message, posted Saturday noon. The former human rights lawyer, who entered politics only five years ago, chose a solemn and frankly rallying tone, certainly welcoming his "Friend and colleague" Jeremy Corbyn, "Who led the party in difficult times", but hastening to "Ask forgiveness on behalf of the party" for the hidden anti-Semitism, which has raged internally in recent years, and in part discredited its leadership.
Gather a party undermined by divisions
The task ahead is immense. Keir Starmer must assemble a party undermined by the divisions, which has not governed for ten years and suffered a historic fiasco in the general elections of December 2019. He must also succeed in making it exist, faced with a largely majority government and for the moment carried by public opinion, gathered behind it to face a historic crisis. Will this man, always dressed to the nines, youthful face, thick hair and piercing blue eyes, have his shoulders broad enough? Will he choose to raise the political bar in the center, after five years of "corbynism" very to the left of Labor traditions?
Article reserved for our subscribers

Read also
United Kingdom: After the Labor Debacle, the Estate of Jeremy Corbyn is Launched
Not easy to answer: Kier Starmer was excessively cautious during the interminable campaign for the replacement of Mr. Corbyn (it lasted three months), insisting especially on "Unity" party. And its journey is less legible than that of its predecessor. Entering Labor at the age of 16, Jeremy Corbyn distinguished himself very early on with his radical anti-capitalist and alter-globalist convictions. A member of Parliament since 1983, he has continued to campaign on the streets, in unions, in the House of Commons.