Latvia 's first electric car sharing service (+ video) presented
Today, Fiqsy unveiled its electric car sharing service. A total of 100 Renault Zoe electric cars will be available. Trying an electric car has never been so easy!
There are 30 Renault Zoes in the Dome Square so that the invited people can try the Fiqsy electric car sharing service before everyone else. In Estonia and Lithuania, such a service has been available for a long time, and now in Latvia, people can try an electric car even more conveniently than ever before.
We see that people's habits and openness to services are changing, which allows you to save time and money and plan your daily life more efficiently. At the same time, the issues of reducing the environment and air pollution, more efficient and greener transport and mobility solutions in cities are becoming more and more important. This provides an opportunity to develop both shared and electric car services. We hope that with this new service we will be able to change people's habits and break the myths about stereotypes related to both sharing and electric cars.

Maris Avotiņš, Fiqsy manager and co-owner
Until now, the Latvian company Fiqsy was known for public transport buses and electric scooters, but from July 8, an electric car will also be offered. In total, there will be 100 available on the Fiqsy sharing service Renault Zoe, which are available to Latvian residents and guests. With one such jerk, Latvia total number of electric cars rises by more than 10%.
Given the current COVID – 19 crisis and the serious environmental challenges, we are convinced of the importance of offering additional mobility solutions. We pay special attention to electric transport with a self-service option, which would be both accessible and sustainable. We are pleased that in parallel with our electromobility projects in Paris and Madrid, we can also implement the project in Riga. We are convinced that Renault ZOE will promote the popularity of electric cars in Latvia and the Baltics.

Renault Baltic Regional Manager Marcin Kurkiewicz
Renault Zoe is a very suitable car for sharing. It is neither large nor small and has enough autonomy not to run every day to charge it. Definitely a good thing is that this is one of the few electric cars that can take 22 kW of power from AC power. It would suffice for 2.5 hours at the respective charging station and the car is charged.
The use of the electric car sharing service is similar to that of shared scooters (standing clothes) – opens the application, select the most convenient for you, starts the service and drives. Before that, you will need to enter the payment card data, driver's license and two self-reports. It is important to keep in mind that these machines are only available to those with at least 2 years of experience.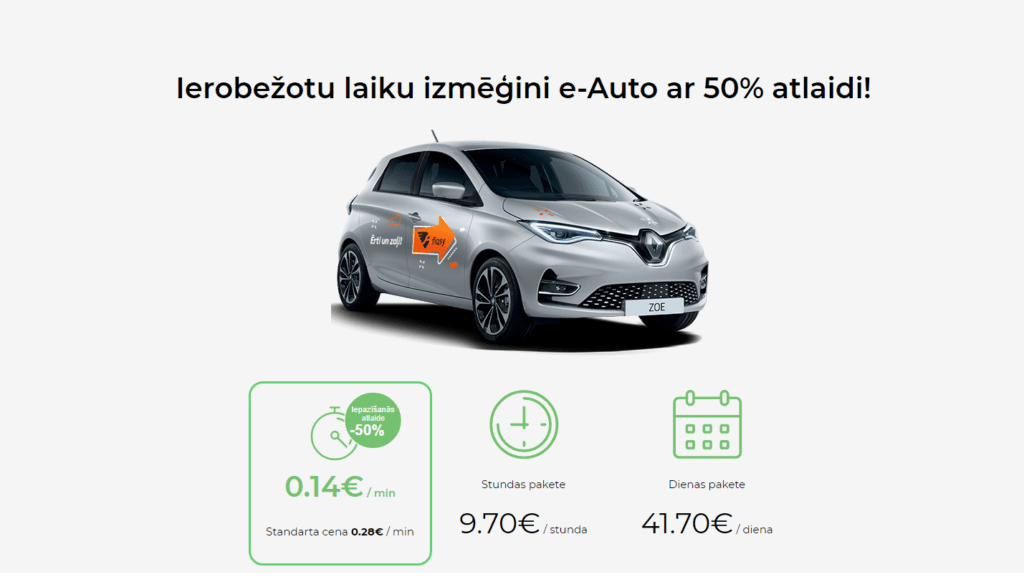 Personally, I really needed this service. Because I get tired of having to use an internal combustion vehicle to get around, life has been more difficult for me in some situations. But now I can move large pieces without pollution their machinesusing this service for an entire day or even several days.
There will soon be a Renault Zoe review, but until then you can rejoice about Volkswagen e-up!, BMW i3, Audi e-tron and others inspections.