The Red Gourmet Bible
Micheln stars awarded in Moscow for the first time – top chefs are supposed to attract tourists to Russia
Russia's dazzling metropolis Moscow is now part of the Olympus of top gastronomy. For the first time, restaurant experts from the French gourmet bible are awarding Michelin stars in Europe's largest city. But the cooks also have problems.
After years of struggle for international recognition, Russia's national cuisine is now on its way. The famous soup borscht, pelmeni and beef stroganoff, along with delicacies such as Kamchatka crabs, caviar and sturgeon, have long been the epitome of Russian national cuisine. The gourmet nation France is now celebrating gastronomy in the largest country in the world in terms of area for the first time with its red restaurant guide "Guide Michelin".
"The Russian capital is a culinary jewel that reveals a splendid variety of national and international cuisine," says Gwendal Poullennec, the international director of the Michelin guides, in Moscow. The red French restaurant guide Michelin honored top chefs for the first time – and immediately honored nine restaurants with at least one star.
For five years, the professional testers worked anonymously, for example checking the quality of the products, aroma and taste, says Poullennec. Russia is now the 35th country with a "Michelin Guide". "Twins Garden" by the twins Ivan and Sergej Beresuzki was honored as the best restaurant. The brothers speak of a "historic event" for Russia. "Moscow is now on a par with other world metropolises in culinary terms," ​​says Ivan Beresuzki.
He and his brother now not only have two Michelin stars, but also a green star as an organic restaurant and an award for the best service. The chef Artjom Jestafjew ​​("Artest-Chef's Table") also has two stars. One star each goes to Anatoli Kasakow ("Selfie"), Evgeni Wikentjew ("Beluga"), David Hemmerlé ("Grand Cru"), Vladimir Muchin ("White Rabbit"), Ekaterina Aljochina ("Biology"), Alexej Kogaj ( "Sakhalin") and Andrei Shmakov ("Savva").
You have to try these classics of Russian cuisine


9 pictures
For Vladimir Muchin from the "White Rabbit" restaurant, this is a longed-for victory after a long and difficult journey. "It is recognition for Russian cuisine, an accolade for me and my team, a step, a motivation that we are still developing," says the 38-year-old overjoyed.
He recalls that in Soviet times, among the communists, people cooked according to a cookbook with strictly regulated standards – without creativity. His goal today is to make Russian culinary art known internationally. The restaurant has long been considered the first address in Moscow for anyone who likes Russian cuisine in a modern style.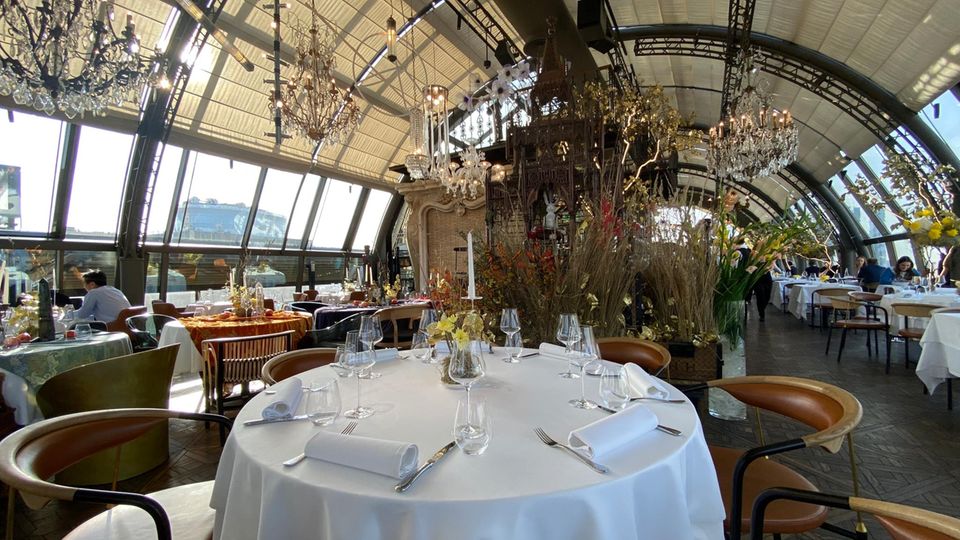 At Muchin, for example, braised white cabbage meets a creamy sauce with red caviar or forest mushrooms meet cod. "We live a lot on seasonal products," he says. It annoys him that there has been a Russian embargo on food from the EU for years. "I think it's bad that I can't buy French cheese here," says the chef, who also studied in France.
Import ban on meat, dairy products and fruit

Russian President Vladimir Putin has banned the import of meat, dairy products, fruit and vegetables in response to sanctions imposed by the EU and the US on the country for its aggressive policies in Ukraine. However, many Russian farmers have now learned to make cheese like in Italy or France, says Muchin. The search for good ingredients is time-consuming because of the import ban. Overall, however, there is no sign of a shortage economy in Russia as it was during the Soviet era.
"We now have a few private farmers who grow carrots, tomatoes, cabbage and everything we need organically and without pesticides, as befits a kitchen of this quality," he says. For a long time it was like "Russian Roulette" to find reliable suppliers. "The success of a restaurant depends 70 percent on the good quality of the products," says Muchin.
Moscow, the largest city in Europe, relies on passionate and innovative chefs. Mayor Sergej Sobyanin sees good Russian cuisine next to sights such as the Red Square with the Kremlin as a magnet to attract visitors from all over the world. "The Michelin Guide shows our city to tourists and Muscovites themselves in a different way," he says. After temporary closure due to the corona pandemic, the restaurants in the metropolis with its more than 12 million inhabitants are packed again.
15,000 dining establishments in Moscow

In the past few years, several food courts have opened in huge market halls in the capital, offering everything from sushi to Uzbek and Caucasian cuisine to pizza. 30 years after the collapse of the Soviet Union, Moscow is now the first city with Michelin stars in the area of ​​the first communist state in the world, says Sobyanin. The city has long since embarked on a new era and today has more than 15,000 restaurants.
But it is also clear that the vast majority of Russians can hardly afford food in the stars that have now been awarded the Michelin stars. Monthly wages are a few hundred euros, pensions around 200 euros. However, the head of the Michelin guide Poullennec emphasizes that there is something for every budget in the new restaurant guide. In an international comparison, Moscow offers a good price-performance ratio – 15 restaurants, in which there is a meal for less than 25 euros, received praise.