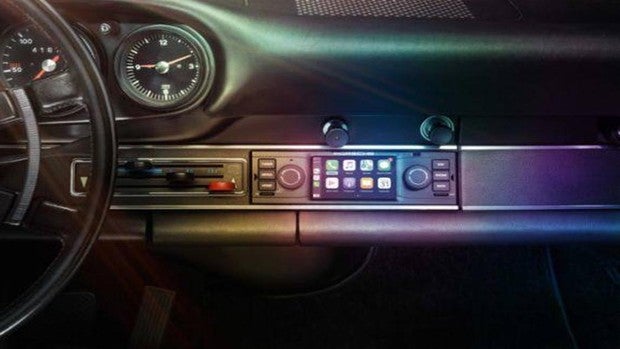 Few pleasures there are comparable for motor lovers are similar to those of driving a classic vehicle, in which the sensations at the wheel are completed by the rest of the senses, including that of the ear. But times have changed, and the old road maps have given way to Google maps, for which a mobile with an internet connection is essential, and its corresponding support to put it in the car in an area where it is visible, or a multimedia system that hardly fits with the classic aesthetics of the vehicle.
Since Porsche have decided to get down to work to meet the driving needs of their classic customers, and finally have achieved the system called PCCM. Developed in two variants, it can accurately replace original units built with 1-DIN or 2-DIN dimensions. Both infotainment systems offer a high-resolution touchscreen and modern features like DAB + and Apple CarPlay, as well as on-board navigation. The new PCCM systems can be ordered through the Porsche Classic online store or at the Porsche Centers.
The Porsche Classic Communication Management is an evolution of the previous radio and navigation system that existed for the classic sports cars of the brand. Like this system, the new PCCM fits exactly into the 1-DIN gap, which has been a standard for decades for Porsche sports cars. The PCCM is operated by two rotary controls, six integrated buttons and a 3.5-inch touch screen. As with the previous model, it includes a navigation function with search for "Points of Interest", but in an improved version. The optional route guidance is shown with the representation of a simple arrow in 2D or 3D views. The corresponding maps are included on a separate SD card, which can also be ordered from the Porsche Classic online stores or from the Porsche Centers.
The PCCM can now also receive digital radio stations with DAB +. Another highlight of this device is the Apple CarPlay integration. For the first time, all iPhone users from version 5 can now also use their mobile applications for multimedia playback, navigation and phone use while driving. Another possibility for audio playback is through an SD card, a USB port, an AUX socket or via Bluetooth®. The PCCM integrates harmoniously into the dashboard of classic Porsche cars thanks to a black finish surface and the shape of its controls. It bears the Porsche logo and is valid for sports cars of generations ranging from the 911 models of the sixties to the last nineteen with air cooling, the 993 series of the early nineties. It can also be used in early front or center engine vehicles. .